Is Loulé the perfect Portuguese town for overseas property buyers? With an attractive medieval old town, a busy weekly market, affordable property price and, surprisingly, fewer crowds than much of the Algarve. Cool off in the summer heat at the many nearby beaches. Tempted? Come with us as we explore the best places to buy property.
Living in Loulé: the basics
Loulé itself is a town with lots of history. There are attractive medieval streets, a castle, and a gothic church. Loulé's also home to one of the Algarve's most well-known markets. You can purchase fresh fish, meat and produce daily, and every Saturday the town is a hive of activity thanks to the weekly "gypsy market." This is the busiest in the area.
Although these attractions bring tourists to the town, they are primarily day trippers. Loulé isn't a resort town. For many overseas residents, this is part of the appeal!
If you're ready to buy in Portugal, contact the Property Guides Resource Team to plan your next move. We can introduce you to a trusted estate agent or lawyer, or talk to you about currency. Call us on 020 7898 0549 or email

[email protected]
When people refer to living in Loulé, they don't necessarily mean the town itself. Loulé is also name of the municipality, which incorporates several other surrounding towns and villages. There are many luxurious and secluded villas in the surrounding area. These provide tranquility and space, but remain just minutes away the the area's amenities. It's fair to say these amenities are plentiful.
Luxury living in Loulé
One of the newest additions to the Loulé area is Designer Outlet Algarve, which opened in late 2017. This luxurious new mall carries brands such as Gucci, Guess and Calvin Klein. It's immediately next door to another huge shopping centre, which is part of the area's huge IKEA complex.
If the shopping leaves you with an appetite, most of the Algarve's finest restaurants are within easy reach of Loulé. Willie's in Vilamoura, and Henrique Leis and Sao Gabriel, both in Almancil, boast Michelin stars. Another high-end local favourite is Parrilla Natural, a stunning Uruguayan steakhouse. A Chateaubriand in their extensive gardens is an unforgettable experience.
Most of the Algarve's finest restaurants are within easy reach of Loulé. Willie's in Vilamoura, and Henrique Leis and Sao Gabriel, both in Almancil, boast Michelin stars.
Leisure activities around Loulé
If you're a golfer living in Loulé you are spoiled for choice, with some of the Algarve's finest courses just a short drive away. There's also a brand new golf resort, the Ombria, opening in 2020. As the first completely new course to spring up in several years, it's sure to become a hotspot – and it's just five miles from Loulé town centre.
We're in a period of economic and political volatility – so you need to plan how to protect your money from sudden exchange rate changes when making transfers. Speak to our trusted partner, Smart Currency Exchange, ranked #1 on Trustpilot for money transfer.
In the meantime, other local options include the legendary Old Course in Quarteria, where standard green fees begin at around €140.  There are also numerous choices around nearby Quinta do Lago.
Quinta do Lago and neighbouring Vale de Lobo also excel when it comes to other luxury amenities. This is a land of health spas and tennis clubs. One spa definitely worth checking out is the one at the stunning Conrad Algarve hotel. It has infinity pools, oxygen therapies and VIP suites. When you book treatments, you have the choice of using a treatment room or a private outside cabana.
Just in case you still fancy a little shopping, you'll find the designer boutiques and luxury restaurants of Quinta Shopping nestled among these facilities.
Properties in the Loulé area
For sport and relaxation
While Loulé is right in the midst of world-class sporting facilities, you have plenty of exercise options without even leaving the grounds of this luxurious six-bedroom villa.
In addition to a stunning pool, this home offers a tennis court, boule court, volleyball court, football pitch and basketball court. There's a play area for children, and adults who still have an appetite for exercise also have a fully-equipped gym.
The gardens here are beautifully landscaped, and backed with extensive mountain views. There's also a dedicated au pair suite. Loulé town centre is just a few minutes' drive away.
On the market at €1,150,000.
Moorish elegance
If you like the idea of a property that reflects the history of the area, this Moorish-style villa could fit the bill. It's conveniently located between Loulé and nearby Santa Barbara de Nexe. It has four bedrooms and four bathrooms, and many of the rooms enjoy stunning views of the Algarve coast.
Outside, the landscaped multi-level grounds include a swimming pool, a zen garden, fishponds, a jacuzzi and a signature teahouse. A connected annexe increases the flexibility of the space. This annexe is perfect for staff, or for hosting guests and ensuring privacy for all.
This home is just 4km from Loulé town centre, and is on the market for €990,000.
A perfect space for families
This detached three-bedroom villa is a perfect place to spend the summer. It's also a shining example of how living in Loulé can mean having plenty of personal space, whilst still remaining within easy reach of the Algarve's finest amenities.
The home has an attractive garden and pool area, all on a sizeable secluded plot. Indoors, the bedrooms are en-suite, and there's a central garden room, as well as a study and pantry. All in all, this adds up to plenty of space for family and visitors. Like everything of the Loulé area, this home is easy to reach from the airport. There's also the benefit of proximity to the local train station.
On the market at €640,000.
Golden visas and tax benefits
If you like the idea of living in Loulé and plan to buy a luxury property, it's well worth looking into Portugal's Golden Visa program. This offers an easy route to full Portuguese residency for overseas buyers willing to make a significant property investment.
As the criteria involves spending over €500,000 on property in Portugal, any of the properties mentioned above would fit the bill.
Make sure your purchase is properly structured, including in terms of inheritance, by speaking to a good, bilingual solicitor. We can provide you with recommendations – let us know what your requirements are and we'll be in touch.
For many new residents, the non-habitual resident tax scheme also make for substantial savings in income tax. It can also result in some foreign-sourced income being exempt from tax for up to ten years. Find out more about planning for tax in Portugal here.
Living in Loulé and the surrounding area takes some beating, The amenities are truly world-class, and there's a wide choice of stunning homes. It's little wonder plenty of discerning foreign residents already choose to call this area home.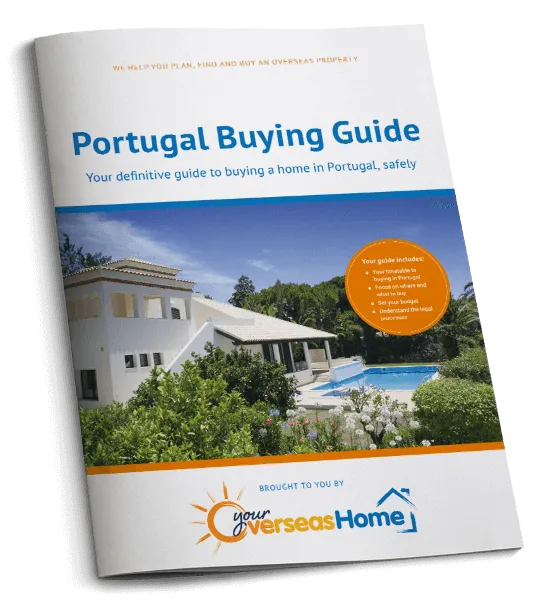 The Portugal Buying Guide is designed to support you through each stage of buying property in Portugal, providing relevant, up-to-date information and tips from Portugal property experts and expats who have been through the process themselves. It helps you to:
✔

  Ask the right questions
✔

  Avoid the legal pitfalls
Download your free guide to buying abroad