Christian Louboutin, more commonly known as the creator of the fashion world's iconic heels and sneakers, identifiable by the scarlet-red sole, has just opened a hotel in Melides, Portugal.
The boutique hotel is called Vermelho and is in the gorgeous town of Melides in southern Portugal's Algarve. This got us thinking, what is it about Melides that has attracted such luxurious clientele? Let's take a look…
Medlides village
Melides is a quaint village with cobblestoned streets, hearty restaurants run by families and a golden beach. The village has lots of artisan shops, which the boutique hotel will hopefully bring business to.
The hotel is expected to attract a stylish crowd but it's the designer's love of Portugal that attracted him to the area. Speaking to Vogue Magazine, Christian Louboutin has owned homes in Lisbon and Comporta. He came across the beautiful village of Melides when driving home after a short stay in hospital. He loved what he saw so much, he bought a fisherman's house on the shore, which he visits twice yearly.
The magazine cited Louboutin hopes to preserve the tranquillity of Melides and share its raw beauty with newcomers who wouldn't have come across it otherwise.#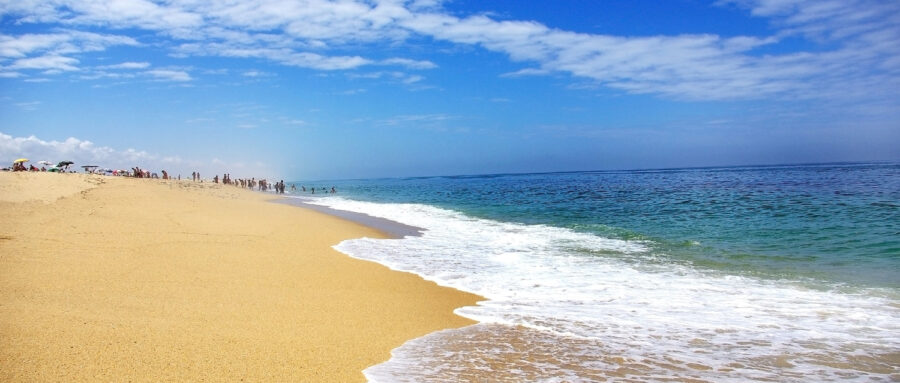 The secret Portuguese beach spot
In 2021, Conde Nast Traveller cited Melides as "the secret Portuguese beach spot to know." It was also named as one of the magazine's top destinations to visit in 2021. But what makes the quaint village of Melides so popular with some of the world's most credited travel writers?
Well, Melides village dates back over 500 years and for most of that time, it was a small, one could say ignored, hamlet. Prior to the earthquake and tsunami of 1755, the village operated as a small port town, but the disaster ruined the river mouth and harbour.
Since then, the locals of Melides went about their usual business, day-in-day-out without notice, until the 21st century. Today, I suspect Melides is in the process of a stylish reinvention. The white-cobbled central square is surrounded by low, red-roofed cottages that look like something out of a story book.
New contemporary villas line the hills around the village, providing a beautiful view of the old town from among the trees.
An international favourite
Melides is home to many famous names, who have discovered the backwater and made it their own. Conde Nast Traveller reveals French designer Philippe Stark has a house there, as does German artist Anselm Kiefer, British painter Jason Martin and Belgian architect Vincent Van Duysen.
Speaking to the magazine, Jason Martin, who has lived in Melides since 2007, said, "All artists use self-appointed exiles in remote locations to be able to focus on ideas. There's a real positive in solitude – it gives us a place to be inventive.
I was deliberately looking for somewhere that was non-gentrified. This is an exotic corner of Europe – I feel like I'm living in a micro paradise."
View this post on Instagram
The Vermelho hotel
Christian Louboutin's Vermelho Melides is already an operational hotel and it's only 150 yards from the village centre. There you can expect to be treated like a real celebrity while surrounded by Louboutin-designed interiors that match its five-star rating.
The facilities include an outdoor swimming pool, a spa and wellness centre as well as a la carte dining. Rooms are available this month from £336 per night for two guests.
Sources used include Time Out, Conde Nast Traveller, Vogue and Booking.com