For many people, Portugal's Algarve is all about shimmering beaches and fresh seafood. However, there's a whole inland section of the region with plenty of charms of its own. If a market town with mountain vistas appeals to you more than a coastal resort, it could be a great idea to retire to Monchique.
What is Monchique like?
Monchique is a well-known Algarve town at the foot of the region's highest mountain, Foia. At 2959 feet, Foia is few hundred feet shorter than England's Scaffell Pike.
Mochique is an historic town surrounded by pine and eucalyptus forests. Although it's a popular place for tourists to visit, it remains authentic. This isn't a destination that feels anything like a resort. With a permanent population in the region of just 6000 people, Monchique retains a laid-back feel. Most visitors are day trippers. They enjoy the cobbled streets and low-key cafés, shops and restaurants.
If you need a help raising money to buy in Portugal, read our new guide, How to pay for a Portuguese property.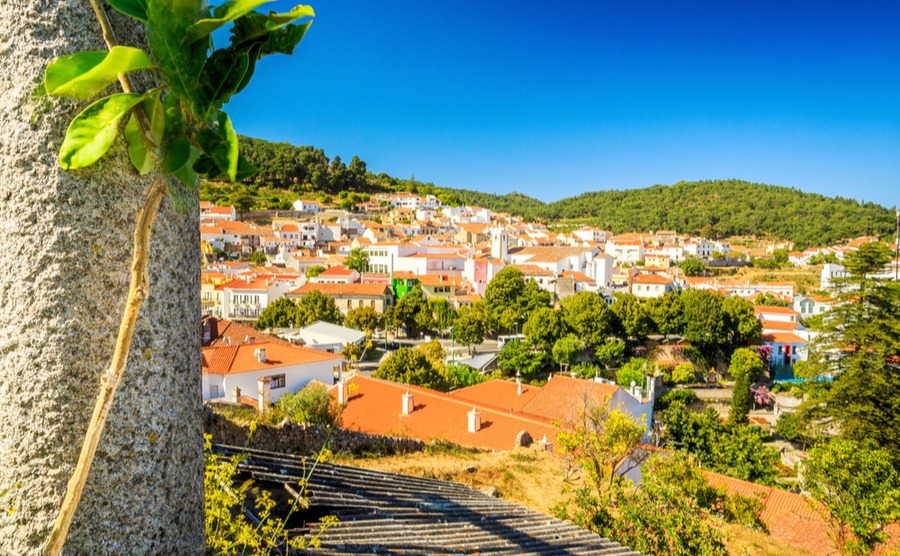 A few miles away from the main town, you will find Caldas de Monchique, a Roman spa town.  Several high-end spa complexes now provide a modern way for locals and visitors to enjoy the waters from the local springs.
Monchique is also known for its local crafts and artisan food products. Its cured ham (presunto) is prized across Portugal. The local spirit, medronho (sometimes known as "firewater") is also extremely popular. However, it's fair to say that it's not for the faint of heart!
How's the weather?
If you'd like to retire to Mochique, you'll be pleased to know that the local climate is described as "mild and generally warm." There are certainly some seasonal extremes, especially in the peak heat of the summer.
This is definitely a place where you can enjoy the outdoor life all year round. Average daily highs don't drop below 13.5 degrees Celsius, even in the depths of "winter." The summer is long, and consistently warm.
What to do when you retire to Monchique?
Monchique is a perfect destination for an active retirement. This is natural hiking territory. There are both challenging mountain walks and less demanding ambles around the local countryside. The terrain is also perfect for mountain biking.
Get the right price for your perfect property in Monchique by staying in control of negotiations. Read our guide, How to Negotiate Abroad, for all our insider tips.
You'll find golf courses within easy reach, with both the Morgado and Alamos resorts around 25 minutes away. Just a little further and you'll reach the multitude of famous courses on the Algarve coast.
For relaxation, the obvious choice is to head to one of the spa resorts in Caldas de Monchique. You can enjoy massages, treatments, and serene views of the mountain ranges. However, it's equally tranquil simply sitting outside a quiet café in the town itself.
If you retire to Monchique, you'll have no problem meeting other overseas residents. However, this isn't a place that feels like an expat "hub." For many, that is no bad thing! One notable local group is A Nossa Terra, a local environmental association – ideal for anybody who enjoys horticulture and country living.
Four spots to consider
Monchique Town
Monchique's historic town centre is a magnet for day trippers. It's a wonderfully authentic place with cobbled streets and small independent shops. It's perfect if you're seeking a community feel and the ability to while away the days in cosy cafés and bars.
In the town itself you'll find plenty of townhouses with bags of character. Renovation projects are a possibility too.
Caldas de Monchique
Caldas de Monchique is the spa area, and feels like the outskirts of the town itself. Here, in the foothills of the mountains, you will find larger country-style properties – both new and old.
Despite a scattering of high-end hotels and spas, Caldas de Monchique retains a rural feel. Life here is slow and peaceful, and the views are phenomenal.
Life in the hills
Some people move abroad seeking total seclusion. For that "off grid" feel, it's worth looking for country properties in the mountain areas surrounding Monchique.
A car (or even a 4×4) is definitely a requirement! Total peace and quiet is guaranteed, and there's the potential to find a lot of property for your money. Despite the isolated feel, Monchique is within relatively easy reach, as is Aljezur (on the Algarve's west coast), when amenities are required.
Surrounding villages
If you like the idea of rural seclusion but would prefer to have a small community around you, the villages of Marmelete and Alferce are an option. They have populations of just 787 and 441 respectively.
It's definitely worth practising your Portuguese to integrate in villages like these. Do so, and you'll likely soon be sharing local honey, cured meats and firewater with your new neighbours.
What's the property market like?
Monchique is definitely becoming increasingly popular. Lots of rural houses have hit the market after being renovated to a modern standard, but there's also the chance of taking on such a project yourself.
After a long period of house price growth, the Portuguese property market is in a state of healthy calm at the time of writing. If you'd like to retire to Monchique, you should have time to explore potential homes without feeling an undue sense of pressure.
Example properties
This rural villa is a fabulous blank canvas, and enormous for the price. It's close to Monchique and has five bedrooms, a pool, and a considerable amount of land and expansion potential. As well as being suitable for a large family, it also offers lots of tempting possibilities as a rural tourism business. On sale at €265,000
A true luxury home, this four-bedroom new build in Caldas de Monchique offers modern living in an authentic setting. There's underfloor heating and an infinity pool offering sea views. On sale for €850,000.
Would you like to retire to Monchique? For more information on buying a home in Portugal, check out this guide.