A dark cloud spread over British expats in Portugal back on 5th February 2014 – and it was nothing to do with the weather. British TV was switched off! Fortunately there are ways around the problem
A satellite switchover resulted in the loss of most English TV channels for expats who had long been able to watch British TV using dishes pointed at UK satellites. Ever since, expats have been scrambling around for alternative ways to make sure they don't miss "Bake Off" or "The Apprentice," often with much frustration involved in finding something that works – and, just as importantly, keeps working.
This article lays out the five principle ways of watching British TV in Portugal. Before we start, however, we should emphasise that British TV is intended for the use of people in Britain. As irritating as licensing and copyright laws are, they do exist, and your choice of how to access British TV will often depend on how comfortable you are with ignoring or "selectively interpreting" those laws. As such, we must politely remind you that this article is intended for informational purposes, and that we highly recommend that you are confident of your legal position.
"BBC iPlayer is exclusively intended for UK TV licence holders. But if you've already paid for a licence in Britain…?
1. FilmOn
FilmOn is a controversial streaming website that allows you to watch live British TV, as well as streams from other countries, via a web browser.
The service has faced a stream of legal challenges, but has so far managed to keep working, even though the legality of watching British TV from abroad (particularly BBC channels without a TV licence) is legally questionable.
While the use of FilmOn may initially seem like the ultimate solution, it's not perfect. It won't work on all web browsers, so may tie you to a laptop screen instead of the big one in your living room. The free version is also paid for by adverts, which will interrupt your viewing. Furthermore, the service often struggles at times of high demand, as plenty of bar owners in Portugal discovered during the World Cup and Grand National!
If you are planning a trip to Portugal to look at property, download our free Viewing Trip guide to help keep you on track and well organised.
2. IPTV Boxes
You won't have to look far in Portugal to find people marketing and selling various "IPTV Boxes" to expats.
You won't have to look far in Portugal to find people marketing and selling various "IPTV Boxes" to expats.
On the face of it, these often seem like an amazing bargain. However, it's wise to utilise some critical thinking; If a full Sky TV subscription, complete with sports and movies, costs the best part of £100 per month in the UK, is it really feasible that something legal would offer all of this and more for €20-30 per month in Portugal?
That's because they're not really legal. They tend to make use of shady services that rebroadcast these channels. These services often go offline, requiring someone to reconfigure the box to make it work again.
Even worse, this industry is filled with "fly by night" operators who are nowhere to be seen when the boxes stop working. Many people who've started off delighted with these boxes end up bitterly disappointed a couple of months later.
3. VPN Services
VPN services allow you to "spoof" your global location, so that the websites and services you access think you're located elsewhere in the world. In TV terms this means you can appear to be in the UK, which means "hello" to services like iPlayer, ITV Player, UKTV Play and All4.
Again, there are legal grey areas. BBC iPlayer, in particular, is exclusively intended for UK TV licence holders, and as such the BBC plays something of a "cat and mouse" game with VPN providers and tries to block people connecting with them. However, if you do still have a UK TV licence, it's fair to say the BBC shouldn't really have any objection. As most other UK TV services make money from adverts, they're unlikely to make much fuss either.
The best way to choose a reliable service, and one that's winning the cat and mouse game, is to use a reliable VPN list such as www.bestvpn.com/best-vpn-services/. There are hundreds of providers in this industry and many are unreliable or have questionable business practices – so it's important to choose well.
4. Smart DNS
For a time, Smart DNS looked to be a fabulous solution for watching British TV in Portugal and elsewhere. Unfortunately, the cat and mouse game referred to above applies here too, with broadcasters typically having more luck blocking these services than VPNs.
That said, Smart DNS does have one clear benefit over VPN, in that it works on practically any device, including Smart TVs, games consoles, and set-top boxes like the Apple TV. It's therefore easier to watch British TV across all your devices using Smart DNS than VPN, which will require you to use a computer unless you or a friend are technical enough to set up your router so your entire property is configured to appear as if it's in the UK.
For the best of both worlds, there are some VPN providers, including Express VPN, who sell a combined VPN and Smart DNS service. Something like this will give you plenty of options.
"For the best of both worlds, try a combined VPN and Smart DNS service."
5. Portuguese Satellite / Cable
We end with the easiest and most obviously legal option. Simply subscribe to a Portuguese TV service, such as MEO, and make do with the British TV offered through it.
There's more than you might expect. While BBC output is limited to World News and BBC Entertainment – the latter option offering good but woefully out of date content – you'll find most of your US-produced favourites on the Portuguese Fox and AXN channels – and they're all in English with Portuguese subtitles. Other channels such as Food Network are present too.
Which of the above options you go for will depend on just how important British TV is to you and your family, and how much you're willing to technically tinker with your gadgets to make things work. It's worth mentioning that a good VPN service, such as the one mentioned above, will provide excellent support and instructions – so you should be able to get up and running even if you're not a technical genius!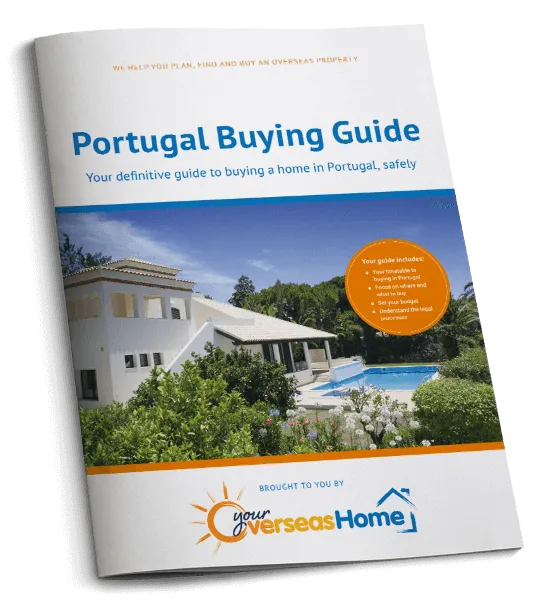 The Portugal Buying Guide is designed to support you through each stage of buying property in Portugal, providing relevant, up-to-date information and tips from Portugal property experts and expats who have been through the process themselves. It helps you to:
✔

  Ask the right questions
✔

  Avoid the legal pitfalls
Download your free guide to buying abroad