Portugal has been unavoidably impacted by Covid-19, but it has been praised for how its contained the crisis, and the Prime Minister sees it bouncing back to a 'golden era' as lockdown restrictions begin to lift.
April 25th marked the 46th anniversary of Portugal's independence from dictatorship. Nobody could have predicted how the country would celebrate in 2020. The muted festivities took place against the backdrop of a lockdown and an official state of emergency.
The latest news from Portugal is – unsurprisingly – a mixed bag. However there are plenty of positive signs that the country is turning a corner. Like many European countries, Portugal is beginning to address the "new normal." The government is also working on how Portugal's lockdown will be eased in the weeks to come.
With lockdown restrictions slowly being eased, start planning ahead for your move. Find out your options for financing a home in Portugal in your free guide, How to Pay for a Property in Portugal.
"Swift action" from Portugal
Like everywhere, Portugal has been hit by COVID-19. There have been over 20,000 infections and 900 deaths at the time of writing. However, the country is widely viewed to have fared better than most of its European neighbours. Many pundits have praised the "swift action" of Portugal's government. Steps included closing schools when the country had just over 100 recorded cases of Coronavirus.
There have also been plenty of stories of kind and altruistic behaviour from Portugal's community. In this article, we look at some of the latest news from Portugal. We celebrate some of the positive developments,  and consider whether the country can expect a "sharp recovery" of its economy, as considered by Bloomberg.
Tales from lockdown
Stoicism is a trait often associated with the Portuguese. The country's citizens– native and expats alike – have endured a long lockdown with little complaint. Portugal's authorities have been extremely proactive about containing Coronavirus. A good example of this is how they restricted travel between municipalities over Easter. This is planned again for the May bank holiday.
Across the world, people have been finding innovative ways to entertain themselves. It's been no different in Portugal. English-speaking theatre group, The Algarveans, put on their first virtual performance this month. Chris And Melanie Winstanley completed an online reading of "September in the Rain" by John Godber. The theatre company is encouraging others to create similar works from their homes.
Meanwhile, in Faro, most city centre residents live in apartments. They are being encouraged onto their balconies to watch film screenings. Movies are being projected onto walls in the city by Faro Film Club.
The initiative began with a screening of shorts to celebrate the birth of Charlie Chaplin. More events are planned, and everybody is encouraged to contribute ideas for future screenings and screening locations.
A spirit of giving
Right across Portugal, there are heartwarming tales of people helping those forced into hardship by Coronavirus.
In the East Algarve, the Walking Football Club has organised a network of food donation points across the region. The initiative, in association with Olhão council and football club, makes essentials available to families in need across the area. As well as foodstuffs, people have been donating cleaning products and baby essentials.
On the other side of the Algarve, residents' association Friends of Vale da Telha has been collecting and donating fresh fruit and vegetables. These are destined for households in the Aljezur area that don't have the land to grow produce of their own.
Businesses and schools to reopen
Portugal's Prime Minister, António Costa, has already announced three dates (4th May, 18th May and and 1st June) when residents can expect to see some lockdown restrictions lifted. Firmer details are expected on the 30th April. Costa has made it clear that backtracking may be required "if things go wrong."
Don't be put off by worries about healthcare – find out how you can get medical attention when you move abroad in the Guide to Healthcare.
Considerable thought is being put into how businesses can open in a safe way. Widespread use of face masks is expected, and thousands are being made available by local councils.
The 18th May date is also anticipated to be when a small number of students, those in years 11 and 12, will return to school. As things stand, June is being touted as the month when nurseries can reopen.
News from Portugal on tourism
Unsurprisingly, rebooting the tourism industry is of huge concern in Portugal. The country plays host to millions of visitors every year. When it comes to tourists from outside the country, Portugal is largely at the mercy of external decisions on border openings. British tourists, for example, will be unable to visit Portugal until Schengen borders open, which may be some time away.
Portugal is responding to this uncertainty in various ways. Firstly, the country is introducing an innovative voucher scheme to encourage those who can't visit in 2020 to hold out for 2021 instead. The tourist board hopes people will accept a voucher, rather than cancelling their break.
The scheme is extensive, covering hotels, Airbnbs and travel agency bookings. There will be refunds available in 2022 for those unable to complete their travel.
Meanwhile, hotels are preparing to reopen, even if their main market for this year may be tourists from elsewhere in Portugal. It's expected that hotels will receive their first guests in June or July. The authorities are working on "protocols" intended to allow establishments to prove that they are safe and healthy environments.
If you're ready to buy in Portugal, contact the Property Guides Resource Team to plan your next move. We can introduce you to a trusted estate agent or lawyer, or talk to you about currency. Call us on 020 7898 0549 or email

[email protected]
The opening of city hotels is a little further off, with those not expected to reopen until September.
As is the case everywhere, bouncing back from Coronavirus is going to take some time. Despite talk of hotels opening and tourists starting to circulate again, the reality is that the "new normal" is going to take some time to define.
Furthermore, until such time as there is a vaccine or treatment, it's unlikely that any public environment will look as it did this time last year.  Restaurant owners in Portugal are already thinking through processes that include temperature checking diners and reducing occupancy to keep people well spaced apart.
However, there are definitely reasons for positivity. Portugal's decisive action has seen the country minimise the impact of this outbreak. This further backs up Portugal's "safe haven" reputation. Prime Minister Costa predicts that the country will bounce back and enjoy another "golden" era. It's hard not to get on board with that thinking.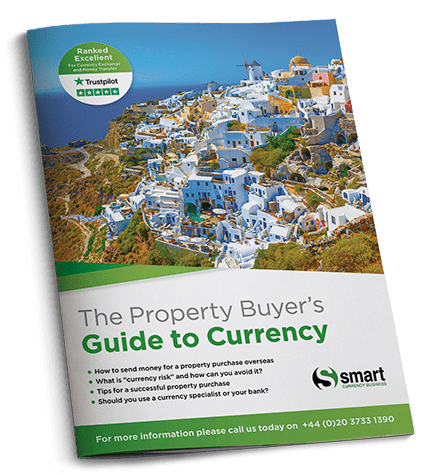 The Property Buyer's Guide to Currency will help you:
✔

  Understand the currency markets
✔

  Protect your property budget
✔

  Use a Currency Specialist
✔

  Learn from other overseas property buyers
Download the Property Buyer's Guide to Currency