Tops tips for settling in to life in New Zealand
We offer guidance on how to smooth the transition into your new life in New Zealand
Although undoubtedly exciting, moving to New Zealand is a huge life change that is likely to take some getting used to. For this reason, we can't stress enough how important it is to give yourself a break, and take your time when settling in. On the surface the UK and New Zealand are very similar, but in reality you can expect to encounter small differences that take a little getting used to. Here are our tips for settling in…
1 – Do your research
It's important to understand the history of the country, the culture and customs, and how things operate in your local area so that you don't encounter too many surprises.
Before deciding to move to the other side of the world, you need to know it's the right decision. As well as visiting prior to the move, conducting in-depth research into New Zealand could make all the difference. It's important to understand the history of the country, the culture and customs, and how things operate in your local area so that you don't encounter too many surprises. Make this a fun task and involve all the family – plan which places you'd like to visit and which activities you'd like to try. This way, you can understand what to expect, and can get excited together.
2 – Embrace unfamiliarity
Accept that it will take a little while to get used to your new home. Rather than allowing this to frustrate you, enjoy the experience of having to figure it out. If it ever starts to get on top of you, stop for a second and remind yourself that you emigrated for a fresh start – this period of uncertainty is part of the process. Relax and enjoy the adventure!
Get yourself fully prepped for your move to New Zealand by downloading your free Emigration Guide today!
3 – Get involved!
What activities do you enjoy doing? And which did you visualise yourself trying when you arrived in New Zealand? Get out there and do them! If there's something you enjoy doing, you need to seek out those activities and make them part of your routine. These are the perfect occasions for meeting like-minded people.
4 – Be friendly
It's easy to lock yourself away while you're settling in, telling yourself that you'll get out there and meet people just as soon as you feel a little more comfortable. This is no time to be shy! You've already proven you're brave by moving to the opposite side of the world; don't be afraid to get talking to people now you're here. We recommend chatting to anyone and everyone as you never know who you'll meet. Seek out expat groups, strike up conversation with fellow parents, chat to the crowd around you at sports matches – it's these likeminded people that often turn into friends. Remember – Kiwi's are known for being friendly!
5 – Stay connected with loved ones
When you find yourself feeling homesick more often than not it's the people that you're missing rather than the place. For this reason, it's so important to remain in touch with loved ones back home. Set up a Skype account and add WhatsApp to your phone – both allow you to keep up-to-date, to chat for free, and to text or send videos as though you're just down the road.
Finding tradespeople
If your New Zealand property requires a little work that you're not qualified to complete, you're going to need to source a tradesman. Where possible, we always recommend seeking the services of someone local, as they will know which materials work best for the climate, and what regulations need to be complied with. An added bonus of finding someone local is that it demonstrates a commitment to your new community. To find the right person for the job, look in local newspapers or on public noticeboards, or ask a neighbour or fellow parent at your children's school. In the UK you'd usually opt to act on the recommendation of a friend – there's no reason not to do the same in New Zealand.
Find out how you can get healthcare abroad once you move in our free guide –

download your copy today

.
Work and income
Many of you will be relocating to New Zealand for a job opportunity, in which case, where you search for property will be dictated to you. If you are moving and hope to find work upon arrival, you will need to research potential employers to know for sure that you're choosing the best spot. A remote location in the wilderness of the South Island might be just what you want in terms of peace and quiet, but if you can't find work to help you fund your new life – sadly, it won't last for long. Where possible, reach out to potential employers before you arrive. They may even be able to assist you with your visa application if they want to employ you.
If you are moving and hope to find work upon arrival, you will need to research potential employers to know for sure that you're choosing the best spot.
If you are hoping to pick up work when you arrive, ask around to see where local job listings are posted, and get out and network. You never know who you might meet that might have the perfect job up their sleeve. If you don't tell people you need work, and about all of the skills you have to offer, these potential employers won't find you by magic. Be prepared to put in the groundwork to establish the life you're seeking.
Connecting to utlilities
If you're renting whilst you search for your perfect property, as many do, it's highly likely everything will be connected for you and you'll be ready to go. However, if you've made the purchase, you'll need to get connected to the utilities as soon as possible upon moving in.
Electricity
In most areas you will have a choice of electricity providers, so it's important to compare their prices and service to ensure you find the best deal. To set up your account you'll be asked to provide ID, and some form of proof that you own the property or are the legal tenant. Meters are read every couple of months. If this is inconvenient you'll find a couple of providers offer the option of an advanced meter that can be read remotely.
Gas
In built-up areas gas is usually supplied by the same companies that supply electricity. If you're living in a rural location, you could end up being limited to bottled gas. This won't present any problem if your property is easily accessible, as the company will be able to deliver it, but if it's tricky to deliver – you may be forced to make your own arrangements.
If you're connected to the gas mains, you'll pay a fee for the line, as well as the price of the gas you use. If you go with the bottled gas option – you'll likely pay to rent the gas cylinder, and will have to front for the cost of refilling it each time it's necessary. A family of four should expect to use between 6-20 cylinders per year.
Water
If you're in a built-up area, you'll be connected to mains water. Only in particularly rural locations might you need your own water tank. Most properties in New Zealand have water meters, which only charge you for the water that you use. The local authority will supply your water so there's no need to worry about choosing between suppliers.
Internet and TV
We recommend shopping around a little to find the best deal on Internet and TV as they often come in packages. If you're living in a city or town, you'll have some choice, but the more rural you get, the more important it becomes to ask around to see which providers are preferable. If you're living rurally, we recommend wireless or satellite services.
Transporting your Pets
If you want to bring your cat or dog with you from the UK, things shouldn't prove too tricky as long as you have the right paperwork, and you comply with the right regulations. You will need to use a transport kennel that has been approved by the International Air Transport Association, and can expect your pets to be in quarantine for 10 days upon arrival. You must also ensure your pet has all the necessary vaccinations, is micro-chipped and that they are treated for parasites and tested for hookworm prior to departure. All animals will have to arrive into Auckland where a vet will examine them, and check all of their health certificates before they can be released into the quarantine facility. You will be charged for this examination.
In terms of paperwork, you need an Export Health Certificate issued by DEFRA, and an Import Permit from New Zealand's Ministry of Agriculture and Forestry, which you can download from their website.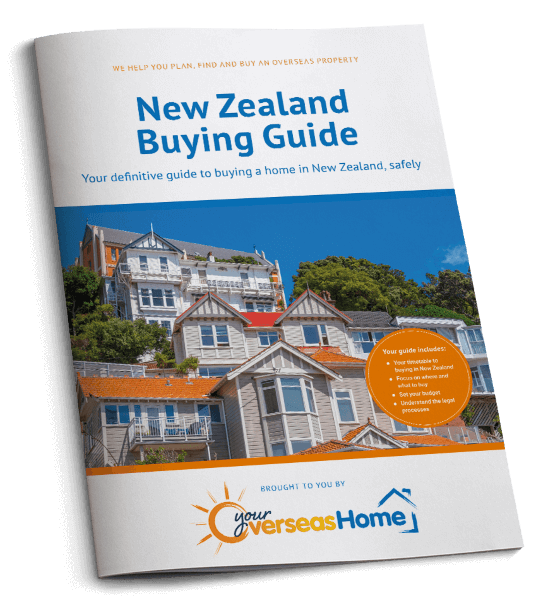 Get all of the key information and advice you need in our online guide to buying a house in New Zealand. You can also download it in PDF format for offline reading or printing. Fill in the form to the right to get your copy.
✔

  Ask the right questions
✔

  Avoid the legal pitfalls
Download your free guide to buying in New Zealand