If you're guilty of enjoying a little idle gossip every now and then, you may wonder which Irish celebs will provide the fodder you're after. Today we discuss Ireland's most notorious celebs.
The Irish may have more sense than to worship at the celebrity altar like some other nations we could mention, but of course there are a few personalities that spark more interest than the rest. If you love nothing more than curling up with a cup of tea and a gossip rag, you won't be left disappointed when you finally make the move to the Emerald Isle. Today we take a look at the most famous people in Ireland and who usually graces the front pages, so you'll know who people are gossiping about when you first arrive.
It seems the allure of the Hollywood A List and The Kardashians transcends both land and sea!
Most famous Irish celebrities
If you like celebrity gossip, the good news is that most of the people you'll be gossiping about should already be on your radar. It seems the allure of the Hollywood A List and The Kardashians transcends both land and sea! Ireland has given us James Bond (Pierce Brosnan), Batman's nemesis (Cillian Murphy), World War II heroes (Liam Neeson), and Shakespearean protagonists (Kenneth Branagh). In the world of music, we of course have U2 and whether you love or hate Bono, you'll no doubt find yourself reading what he's been up to every once in a while. Other music acts that find themselves in the tabloids include old favourites like Sinead O'Connor and Shane MacGowan (and his new teeth), to more current acts including The Coronas, Brian Deady and Nathan Carter.
Where to source your gossip
To get your fix of sensationalised news, look to sources like the Irish Mirror, RSVP Magazine, and VIP Magazine. Most newspapers have a gossip section, and if you like to watch TV programmes all about celebrities, we suggest you check out E! News.
Political rumours
Ireland's politicians attract their fair share of attention from the Irish public. As with most politicians, it'll be impossible to avoid forming an opinion – especially as politics is likely to be a hot topic of conversation down your new local pub. Those making the press most regularly over the last few years include, Enda Kelly, leader of Fine Gael and Taoiseach (Prime Minister) since 2011, Micheal Martin (Fianna Fail leader), Gerry Adams (Sinn Fein leader) and Brendah Howlin, leader of the Labour Party.
Reality TV
Dancing With the Stars is incredibly popular in Ireland, and is presented by Nicky Byrne (Westlife) and Amanda Byram, who started her presenting career in the UK on The Big Breakfast. There's also The Voice Ireland which births a whole new set of reality TV stars each and every series, and is judged by Kian Egan (Westlife), Una Foden (The Saturdays), Rachel Stevens (S Club 7) and Irish rock star Niall Breslin, or 'Bressie' as he's more affectionately known. First Dates Ireland has just hit the screens and is proving very popular.
Sports stars
The Irish hold their sporting heroes in very high regard, until they set a foot wrong of course – George Best is a prime example! Whether debating the behaviour of lippy mixed martial arts star, Conor MacGregor, or the love lives of sporting heroes like Brian O'Driscoll and Rory McIllroy, you'll find you're regularly updated on what your favourite Irish sports stars have been up to when they aren't on the pitch.
The Irish hold their sporting heroes in very high regard, until they set a foot wrong of course
TV celebs
Fair City is a popular soap opera shown on RTÉ One that is set in the fictional Dublin suburb of Carrigstown. The show has been on air since 1989, and is widely followed across the country, as are the (sex) lives of its stars. As UK soaps like Emmerdale, Coronation Street and Eastenders are all shown in Ireland (often at the exact same time that they are screened in the UK), you'll be able to chat about the plots of those too.
If you have any questions at all about making your dreams of moving to Ireland a reality, give the Resource Centre a call today on 020 7898 0549.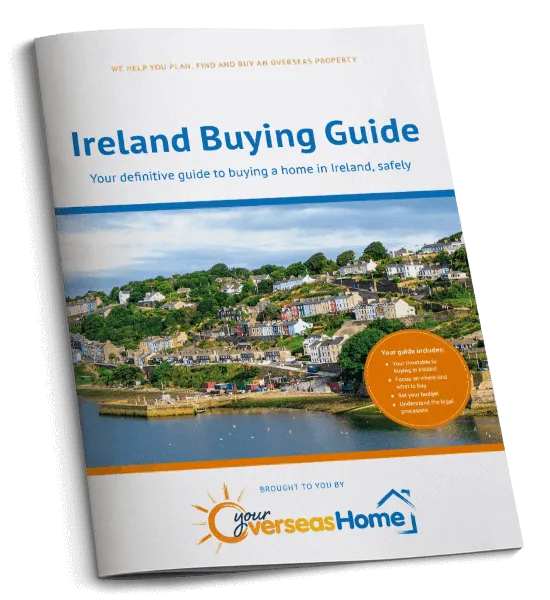 The Ireland Buying Guide takes you through each stage of the property buying process, with practical recommendations from our experts who have been through the process themselves. The guide will help you to:
✔

  Ask the right questions
✔

  Avoid the legal pitfalls
Download your free guide to buying in Ireland