We run through need-to-know information about Ireland's education system and how to get your children into a school that's right for them.
When you make the move to Ireland, choosing a school for your children is an important decision. You want them to feel happy in Ireland and school will play a major factor in how quickly your kids (and you) settle in. Today we're looking how education works in Ireland, so that you'll know what to expect when you make the move.
Ireland's educational system is considered excellent.
Ireland's educational system is considered excellent.
Good news – Ireland's educational system is considered excellent. Last year, the nation was ranked sixth in the World Economic Forum's Global Competitiveness Report in a list of countries that offer their children the best education. While government spending on education did fall by almost 15% at the height of the financial crisis, things are clearly back on track.
Essential info
School is compulsory in Ireland between the ages of six to 16 and every child has the right to free education. English is spoken in schools and all expat children are eligible to attend. While Gaelic is taught in many Irish schools, studying it is not compulsory for children from overseas.
Your child is legally obliged to begin school at six, but many start as young as four, meaning many Irish schools actually cover the pre-school (nursery) years too. Every person has a constitutional right to home school their child if they so wish – although you'll find it isn't very common. All state-funded schools follow the Irish National Curriculum, which has received considerable criticism for being too exam focused.
When does the academic year start?
The Irish academic year is exactly the same as in the UK. It runs from September until July, allowing the longest holiday to fall during summer. If your children are taking exams, these will take place during the month of June.
Primary school
Primary school in Ireland runs from ages four or five up to 12 or 13. The first two years of school are called infant classes, they then progress to year one and then up to year six by the time they are 12 or 13.
Irish primary schools tend to be managed by denomination, the majority of which are Roman Catholic. The number of primary schools that are either non-denominational or multi-denominational has risen considerably over the last few years, however.
If you are the particular religion of the school you'd like your child to attend, it's likely you'll be given priority admission. Having said that, it's very rare for a child to be turned away. If you have reservations about your child being taught religion, it's very common for people to opt out of those specific classes or out of assemblies.
Secondary school
After primary school, the majority of children continue on into secondary school. There is also the option to attend a private school, a community or comprehensive school or a vocational school. Most Irish secondary schools are privately owned (but free of charge) and run by religious orders, although you'll find that the majority of teachers will be non-religious.
If your child opts to attend a vocational school, a community school or a comprehensive – these are free too. There are a number of fee-paying private schools and international schools mostly located in and around Dublin.
Secondary school education runs from the ages of 12 to 17. In that time, your child will take two important state exams to ensure they're on track. After completing the first three years of secondary education, children have the chance to take a Transition Year. This is their chance to explore non-academic interests, but does tend to be related to the world of work. It gives them a chance to establish where they might like their careers to go before they start the senior cycle, which is akin to the UK's sixth form college.
At the end of senior cycle, your child will take their Leaving Certificate. There are three different Leaving Certificate programmes to choose from: the Traditional Leaving Certificate, the Leaving Certificate Vocational Programme, or the Leaving Certificate Applied Programme. The Vocational and Applied Programmes are more focused on technical and practical abilities rather than the academic subjects of the Traditional Certificate.
It's important to choose your child's secondary school wisely and to involve them in the selection process. Many Irish schools have particular strengths, so it pays to attend a school that's in line with their interests and ambitions. Some schools are particularly strong in music and the arts; others are excellent when it comes to languages or science.
It's important to choose your child's secondary school wisely and to involve them in the selection process.
Further education
In order to progress into higher education each child needs to score enough points on their Leaving Certificate exams. Things operate on a points system. Your child will be awarded points for their best six grades. More often than not, pupils opt to study seven subjects. Much like the UK, the number of points required will depend upon the subject they wish to study and which university they would like to attend. For competitive course like law or medicine, your child will need to score over 500 points. 600 is the absolute maximum score.
How easy is it to get in?
Each school operates a different admissions policy so always remember to enquire about that when scouting schools. Most primary and secondary schools give priority to children who live in the correct area, or who come from particular primary schools.
A little forward planning can pay off – if you have a particular secondary school in mind, always check whether there is a primary school that is given priority!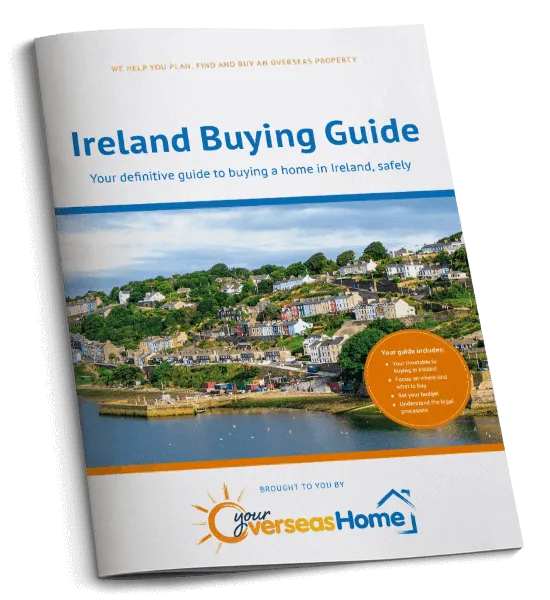 The Ireland Buying Guide takes you through each stage of the property buying process, with practical recommendations from our experts who have been through the process themselves. The guide will help you to:
✔

  Ask the right questions
✔

  Avoid the legal pitfalls
Download your free guide to buying in Ireland