Meet one British couple who are moving to the Emerald Isle to live their dream of running a rural B&B
Steve and Sonia Clinch are looking forward to the New Year more than usual, as 2017 marks the year they are swapping Kent for a new life in Ireland.
The Clinches own a six-bedroom house with an acre of land near Ballinamore in County Leitrim, in the north of the Emerald Isle. They purchased the property five years ago, and have since converted it into their dream B&B, which they plan to move to in February 2017 and open for business in April. In the meantime, they have sold their family home in Maidstone and been living in rented accommodation.
"The house, in a village called Fenagh, had three bedrooms when we bought it for €265,000 in 2011," said Steve, who recently handed in his notice after 31 years at the same firm. "We've since added another three en-suite rooms, which will be for guests. We've also laid new floors, put in geo-thermal heating, changed the kitchen and redecorated throughout."
Steve and Sonia, who have two adult children and five grandchildren, had been visiting Ireland and County Leitrim, mainly on fishing trips, for 30 years before they decided to move there. Their B&B, called Abbey Lodge, is less than five minutes' drive from fishing lakes.
"County Leitrim offers fantastic fishing," continued Steve. "People come from all over the UK and Europe to fish here. Just in the Ballinamore area, we have more than 40 lakes all within a 30-minute drive, then there is the River Shannon, joined via a waterway with the River Erne. It's predominantly coarse fishing and because there is winter pike fishing, the season is around 48 weeks a year."
Steve and Sonia, who have two adult children and five grandchildren, expect to get much of their business from visiting fishermen. County Leitrim has helped grow its popularity in recent years with the help of Ryanair flights into Ireland West Airport at Knock.
"There are local events going on here too," said Steve. "For example, we have an annual Country and Western show, which we imagine will bring us guests too. Not to mention a pint of Guinness is just €3.80 in the pub at the end of our road!"
The Clinches used currency specialist Smart Currency Exchange to send euros to Ireland when they purchased their home in Ireland. If you are considering a property purchase in Ireland, download Smart Currency Exchange's free guide to see how they could also save you time and money on your currency transfers.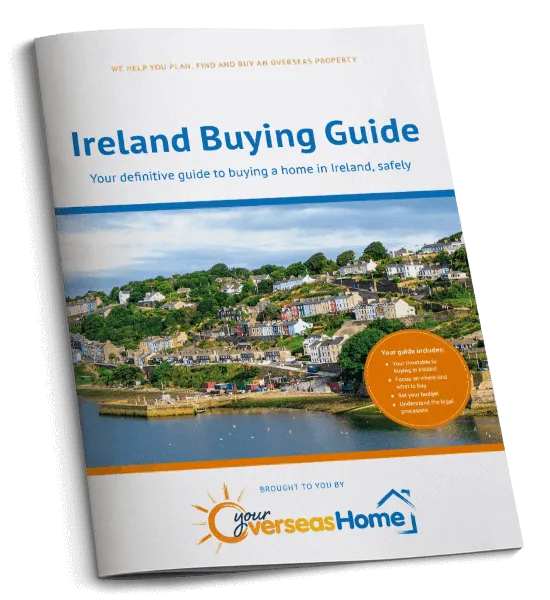 The Ireland Buying Guide takes you through each stage of the property buying process, with practical recommendations from our experts who have been through the process themselves. The guide will help you to:
✔

  Ask the right questions
✔

  Avoid the legal pitfalls
Download your free guide to buying in Ireland