Which are Ireland's least and most expensive counties and how fast are prices rising? A new report from the Irish government has all the answers.
Recent figures released by the Central Statistics Office (CSA) reveal how property prices have risen over the past year. The report showed that in the year to August 2017, property prices across Ireland have risen by an average 12.2%.
The county of Dublin saw apartments increasing in price by 11.6% and houses by 11.7%. Property within Dublin City saw growth of 13.4%. Elsewhere in Ireland, the highest growth of 15.4%, was seen in the west of the country, and the lowest was in Ireland's mid-west region where growth was recorded at 9.6%.
Prices nationally remain 25% lower than they were at their highest rate just before the crash
These figures help us to understand how the Irish property market has recovered since the 2007 crash. Prices nationally remain 25% lower than they were at their highest rate just before the crash, and in Dublin, they are 26% lower than during their February 2007 peak. Since their lowest points at the start of 2013 and February 2012 respectively, national prices are up by 67.5%, and in Dublin by 83.5%.
The median property price in Ireland is now €215,000 (£189,400). In Dublin, the average price is far higher at €337,000 (£297,000).
If you're buying within the Dublin region, the administrative area of Dún Laoghaire-Rathdown is the most expensive with a median price of €510,000 (£450,000), and Fingal was the least expensive, with a median price of €301,000 (£265,000).
Longford offers wide-open space, interesting history and great opportunities for walking, cycling, angling and kayaking.
If you're planning on buying outside of Dublin, the biggest bargains can be found in the Border region, where the average price is €123,570 (£109,000) and in the Irish midlands in County Longford, where you can snap up property for an average price of just €95,647 (£84,300). Longford may not be one of Ireland's hottest spots, but it offers wide-open space, interesting history, and great opportunities for walking, cycling, angling and kayaking. Roscommon, in Ireland's central north, is also known for its bargains. The average property price here is just €85,000 (£75,000).
Wherever you wish to buy in Ireland, knowing how to negotiate for your property should get you a little more house for your money! Download our guide: How to Negotiate Abroad.
The priciest of Ireland's counties after Dublin is County Wicklow just to the south, within commutable distance to Dublin's business district. The region is known for the Wicklow Mountain Range, the Wicklow Way long distance walking trail, and for its lakes, including Lough Tay, Lough Dan, Lough Brae and the Lakes of Glendalough. Popular towns and villages include Bray, Blessington and Annamore. County Wicklow offers an attractive rural lifestyle within easy distance of Ireland's biggest city.
County Kildare, just to the west of Dublin, is another popular spot. It offers residents the chance to enjoy country living – it is Ireland's racehorse breeding area – but also to be able to commute into Dublin. The average price of property in the County is €265,000 (£233,500).
The values in pounds we show here are based on the interbank rate at the time of going to press. This is not available to the general public, but click here for a free, no-obligation quote from Smart Currency Exchange and a friendly chat about exchange rates in general. You could also download the Property Buyer's Guide to Currency, packed with insider tips.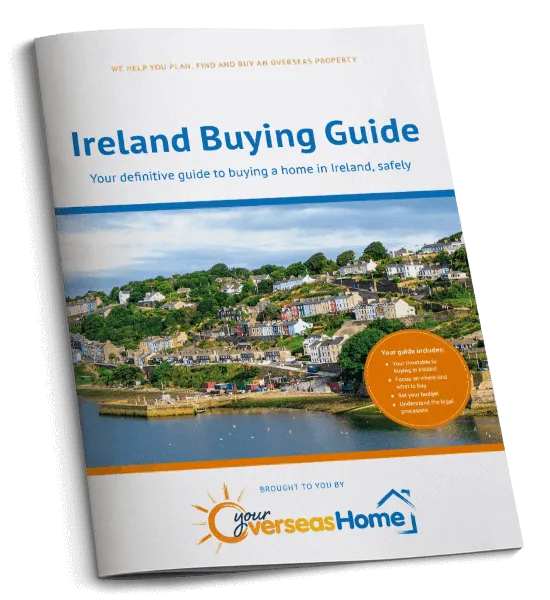 The Ireland Buying Guide takes you through each stage of the property buying process, with practical recommendations from our experts who have been through the process themselves. The guide will help you to:
✔

  Ask the right questions
✔

  Avoid the legal pitfalls
Download your free guide to buying in Ireland