If you're moving to Ireland, either to start a new life or returning to the old country, securing work will top your to-do list. The good news is that Ireland is booming, unemployment falling, and it's the perfect time to be seeking opportunities there.
It will be a weight off your mind when moving to Ireland if you know there's a job waiting for you. That way you can budget, apply for a mortgage and get the kids into school knowing where you will be based. Irish unemployment is around 6.4%, slightly above the UK, but falling fast, from above 8% last year, so there are plenty of opportunities if you go about it the right way. Here we answer your Irish employment queries.
If you hold a professional qualification, one of your very first steps should be checking that it is valid within Ireland.
Can I work legally in Ireland?
Although it's impossible to predict what might happen post-Brexit, for now, all European Union citizens have the right to live and work in Ireland. Should you need to work when you move to Ireland, it would seem wise to act before Britain officially withdraws from the EU and moving there becomes trickier. An excellent resource for those wanting to move within the EU is the EURES portal, which matches skilled workers with opportunities around Europe.
Will your qualifications be recognised?
If you hold a professional qualification, one of your very first steps should be checking that it is valid within Ireland. NARIC is an organisation that offers advice on foreign qualifications that are recognised in Ireland. Another resource, which allows you to enter where you're from and your profession and tells you whether or not your qualifications stand in Ireland, is the EU Single Market regulated professions database. Alternatively, you can get in touch with the Irish branch of your relevant professional body, and they will be able to advise you directly.
The job search
Once you've established that you can work legally and that your qualification is accepted, you'll need to conduct your job search in the same way that you would in the UK. Hone your CV to each individual job posting, search for companies that interest you, and apply speculatively. Then, of course, there are the job listings sites you'll find online. Here are some of the most popular:
Indeed.ie
Jobs.ie
Irishjobs.ie
Monster.ie
What about casual work?
Ireland has certainly signed up to the "gig economy", those casual jobs such as Uber driver, where you can choose your own hours but lose many of the protections of full-time work. If you will need to earn cash, but don't want to take on a full time job, it is possible to wait until you've made the move to Ireland and then seek out opportunities. Agencies and the internet are the most obvious sources of casual work, but don't forget word of mouth too. Don't be shy about chatting to your new neighbours and telling them that you're on the hunt for a few hours of paid employment. You never know who might need staff and the Irish are a helpful and welcoming nation.
If you have a trade, and want to secure work with a local business, you should get in touch prior to the move to see whether they have any opportunities open. Most will tell you to pop in and see them when you arrive, but at least by letting them know that you're coming, and sending over your information, you'll put yourself on their radar, hopefully meaning that you'll be able to secure work faster.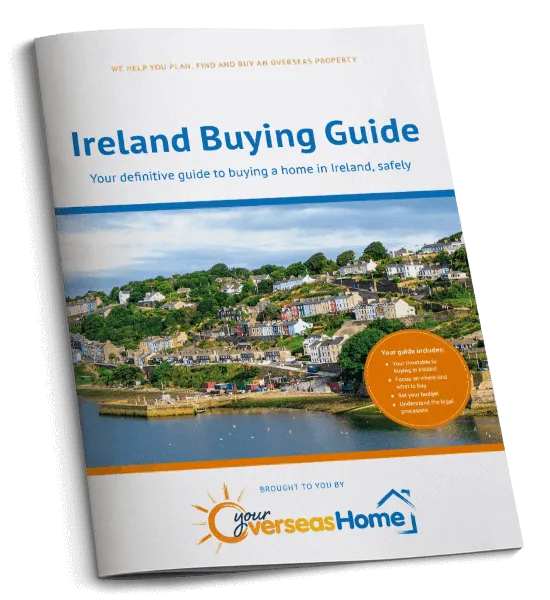 The Ireland Buying Guide takes you through each stage of the property buying process, with practical recommendations from our experts who have been through the process themselves. The guide will help you to:
✔

  Ask the right questions
✔

  Avoid the legal pitfalls
Download your free guide to buying in Ireland