If you think Christmas in the Irish Republic will be just the same as in the UK, let us introduce you to santy, spiced beef and the Wren Boys!
With barely two weeks to go until the big day, if you haven't got your Christmas decorations up by now, you really need to buck your ideas up – especially as this could be your last Christmas in the UK if you're planning on moving to Ireland! Although the Irish celebrate Christmas much the same way as we do in the UK, there are some slight differences. Just think, this time next year you could be planning your very first Irish Christmas. Now isn't that a lovely (festive) thought!
When do the festivities begin?
While in the UK it's rather unclear when Christmas 'officially' starts, especially as it seems to get earlier and earlier each year, in Ireland the 8th of December is traditionally seen as the start of Christmas. On the 8th or soon after people will begin putting up their trees and decorations, and will commence their Christmas shopping.
Most employers allow their staff to knock off by lunchtime on Christmas Eve
If you'll be working when you move to Ireland, you'll be pleased to hear that most employers allow their staff to knock off by lunchtime on Christmas Eve, or perhaps even a few days beforehand. It's also not uncommon for offices to close completely from Christmas Eve to 2nd January, but shops will usually be open from the day after 26th December.
Religious significance
As Ireland is a predominantly Christian country, with 84 percent of the population identifying as Roman Catholic, religion plays a key role in the Irish Christmas. On Christmas Eve and Christmas Day many people attend church services, and Midnight Mass in particular is a popular choice with the Catholic community. This time of year is also a time to remember loved ones that have passed away, and many will decorate graves with special Christmas wreaths.
Many families will also have a crib in their homes that they will place Baby Jesus into on Christmas morning
When it comes to religious decorations, most will place a tall candle in their windowsill after sunset on Christmas Eve. This is a symbolic gesture to show that they have space for Mary and Joseph. Many families will also have a crib in their homes that they will place Baby Jesus into on Christmas morning.
Fancy a dip?
If you want to really 'dive' into Irish Christmas time, you'll need to take a festive dip come Christmas morning. Although this tradition that takes place all around the country, the main spot for brave swimmers is Sandycove in Dublin where hundreds turn out, mostly in aid of charity, to brave icy seas. Rather them than us!
Time for Turkey!
You'll be able to enjoy Christmas dinner with all the trimmings over in Ireland. Turkey is the standard meat of choice, but some families also enjoy ham, goose, or even spiced beef. This is a particular favourite in County Cork, and is a kind of salted beef cured with spices, which is then parboiled in water and a bit of Guinness before being baked.
Spiced beef, a particular favourite in County Cork, is salted beef cured with spices and baked in Guinness
If you've still got room after your main course (which let's face it, we all do!) then the usual desserts enjoyed in Ireland are the same as in the UK – Christmas pudding, Christmas cake, mince pies, or perhaps a Yule log. Traditionally, every member of the household is baked a round cake full of caraway seeds – but this custom isn't as common as it once was.
Christmas traditions
If you're moving with your family, then come Christmas Eve you'll need to leave Irish Santa, often referred to as 'santy', the fuel you'd expect him to need – Guinness! As well as a carrot or two for Rudolph of course.
Another popular Irish tradition that takes place well before the big day is the annual Late Late Toy Show. This TV show is a seasonal special of The Late Late Show, which is a live chat show, screened every Friday night, and involves the host, Ryan Tubridy, showing off an array of potential Christmas gifts. In the days beforehand you'll find your neighbours jokingly speculating about what (usually awful) Christmas outfit Ryan will be wearing this year. Although it's essentially just a show advertising Christmas gifts, the fact that it's live, anything can happen, and it's an Irish institution means that it receives some of the highest viewing figures for the entire year.
St. Stephen's Day
Celebrations continue into St Stephen's Day (Boxing Day) with big horse racing meets, and important football fixtures being scheduled for the day after Christmas, when they know most of us don't like to move too far. One much older tradition is the Wren Boys Procession, which dates back thousands of years to the days when a real wren was killed and paraded around town in a holly bush. Nowadays no animals are hurt in the name of the tradition. Instead, young men and women get decked out in costumes and go from house to house wielding long sticks with holly bushes attached to the top, singing, "The wren, the wren, the king of all birds. On St. Stephen's day was caught in the furze", or they ask for money, 'for the starving wren". Occasionally the procession will be accompanied with live musicians playing accordions, horns and harmonicas. Although this is sadly no longer that widespread, you may still see it, especially if you're planning a move to Dingle in County Kerry.
The Feast of Epiphany
The Irish Christmas period traditionally lasts from the 8th December until 6th January, when the Feast of Epiphany is celebrated. This was once known as 'Women's Christmas', and involved women getting the whole day off, and the men getting stuck in to the housework and meal prep. Although no longer widely celebrated (shame!), some women still like to get together for food and drinks to celebrate the day.
If you're aim is to be in Ireland this time next year, give our Resource Team a call today on 020 7898 0549 to learn how to make your dream a wonderful (Christmassy) reality.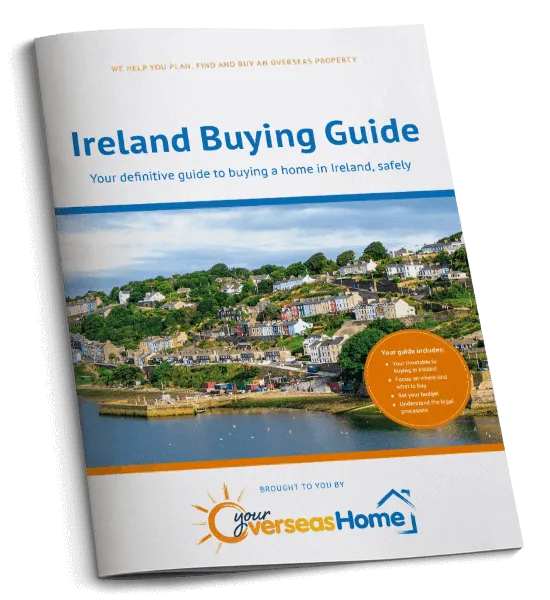 The Ireland Buying Guide takes you through each stage of the property buying process, with practical recommendations from our experts who have been through the process themselves. The guide will help you to:
✔

  Ask the right questions
✔

  Avoid the legal pitfalls
Download your free guide to buying in Ireland