If you're expanding your investment portfolio, now's the time to direct your search overseas? You won't be the first to take the leap – 'fly to let' investment in residential property is on the up. With advances in tech letting us search for investment property in Ireland from any corner of the world and speak directly to vendors, you can get started right away.
Renting out property has never been easier thanks to the likes of Airbnb and friends. Plus, the wealth of house price data available online takes a lot of the guesswork out of predicting capital growth. Many investors have their sights firmly set on buying property in Ireland. Today we're taking a look at the reasons why investing in Irish homes is a smart idea.
Dublin is a hotspot
In PwC's Emerging Trends in Real Estate Report 2019, they have ranked European cities in order of the strength of their real estate markets, factoring in overall investment potential and development prospects. Dublin takes third place as the most desirable place to invest in Europe, after Lisbon and Berlin. No surprise when you consider the city's tech growth, attracting giants like Google, Facebook, Accenture and more.
Excellent yields
The Irish properties offering the best rental yields are small apartments located in Dublin, and in particular, Dublin 1 – which is the very centre of the popular capital city. As a general rule, one-bed apartments offer the best return-on-investment, so to earn the highest returns, opt for the smaller units. If you were to opt for a one-bed apartment when you buy property in Ireland, something on the market for €200,000 (£179,480) in Dublin 1 can be rented for €1,380 (£1,240) per month, earning a gross yield of 9.35 percent.
Get your copy of the Negotiation Guide to make sure you get the best deal possible from your estate agent.
Out of the centre, there are plenty of areas of Dublin that are also desirable to investors looking to buy property in Ireland. In Dublin 7 for example, home to popular neighbourhoods like Stoneybatter, Phibsborough and Grangegorman, a one-bed apartment bought for around €180,000 (£161,515) can be rented for €1,300 (£1,166) per month, which amounts to a gross yield of 8.7 percent.
Growth in property prices
The latest report from Daft.ie reveals that the average cost of Irish property is now €263,000 (£235,900). This signals year-on-year growth of 3.7 percent. With prices in Ireland set to continue rising, investment property in Ireland is certainly an attractive option. According to the European Union's Eurostat house price data, all European countries, bar Italy, have seen growth in property prices over the last year. Furthermore, globally, prices are up everywhere bar six countries.
Low interest rates
Irish long-term interest rates hit a record low this month, and are now trading at 0.066 percent. If sustained, these low rates are expected to result in banks reducing existing fixed-term interest rates on mortgages. Additionally, if Christine Lagarde is elected to be president of the European Central Bank, experts are predicting Europe could enter a period of more relaxed monetary policy. In turn, this could lead to a drop in borrowing costs.
When buying investment property in Ireland that you plan to let out to the domestic market, it makes sense to have your mortgage in the same currency as the rental income you will accrue. Low central bank rates mean that mortgages are cheap. Also, if you're a UK buyer, purchasing property with a euro mortgage helps you to minimise exposure to poor exchange rates. There are major banks in Europe willing to lend to non-resident buyers. Typically, you will be looking at loan-to-values (LTVs) of up to 70 percent, with variable or fixed rates, for a term of up to 20 years.
Transport links
According to the PwC report, one of the most important factors when considering a location for investment is its transport connections. Ireland has five international airports. Most countries around Europe and further afield are able to fly in direct, and often for a bargain price with carriers like Ryanair and Flybe. This ensures plenty of footfall, which is ideal for those short-term rentals. Also, Ireland is connected to the UK by ferry.
Moderate taxes and capital gains
Another factor that makes Ireland an attractive investment option is its moderate capital gains taxes, and moderate taxes on rental income. Capital gains tax is charged at a flat rate of 33 percent, and rental income is taxed at 20 percent.
When you come to see your narrowed-down list of properties, make sure to keep in mind the advice from industry insiders in your free Viewing Trip Guide.
Buying costs are moderate in Ireland
Those looking to buy investment property in Ireland as an investment will be treated to relatively moderate buying costs. As a general rule, round-trip transaction costs work out between 4.94 percent and 13.205 percent of the property price. The investor will also pay stamp duty, which is 1-2 percent of the price, legal fees (1-1.5 percent of the price, plus 25 percent VAT). Also, they will have to front for fees relating to registration of the property.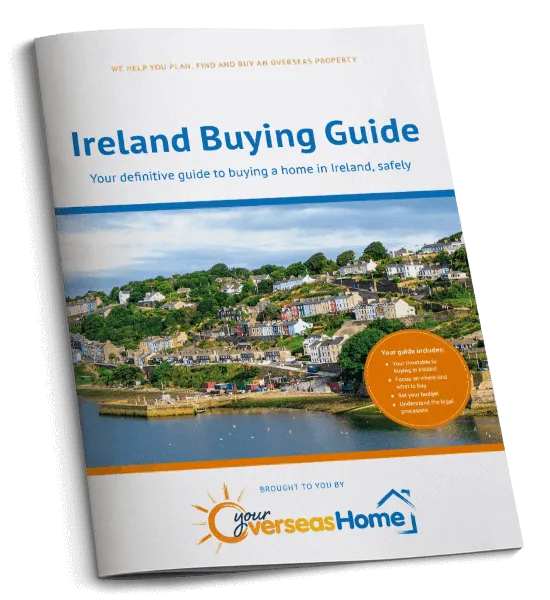 The Ireland Buying Guide takes you through each stage of the property buying process, with practical recommendations from our experts who have been through the process themselves. The guide will help you to:
✔

  Ask the right questions
✔

  Avoid the legal pitfalls
Download your free guide to buying in Ireland