If you're in the market for landscapes that take your breath away and a healthy dash of Irish culture on your doorstep when you move to Ireland, you should consider County Clare. Located due west of Ireland, above County Limerick and below County Galway, Clare is surrounded on almost all sides by water. Therefore, much of the County's most attractive property enjoys wonderful views, either of the River Shannon and its estuary to the south or Galway Bay to the north. Basically, the county is a nature lovers' playground. You can look forward to exploring The Burren or the shores of Lough Derg, and that's before you've even swung by arguably Ireland's most famous natural wonder – The Cliffs of Moher.
Today, we're taking a look at what County Clare offers to those who want to move to Ireland. We're considering its highlights, suggesting some locations you may like to begin your property search and seeing what types of homes (or businesses) are up for grabs.
Get your free Buying Guide to find out everything you need to know about moving to Ireland.
Natural beauty
Given that natural beauty is essentially County Clare's 'thing', let us start by outlining the highlights. In case you haven't heard of The Burren, it's a rather unique and incredibly beautiful limestone karst region that's home to some very rare flora and fauna. Therefore, it's a tremendously popular spot, particularly in the west and north. Twitchers visit, keen to catch a glimpse of the kestrels, guillemots, puffins and razorbills that nest here.
Elsewhere, Lough Derg, the third largest lake in the country, is well worth some exploration. Also, if you like nothing more than crossing a few peaks off your list in the name of earning those pints of Guinness, you can take on Molyussa – the highest peak in the county at 1,745ft. Molyussa is located in the stunning Slieve Bernagh mountain range to the east of Clare, where you'll be able to find many a hike to keep you busy.
The island life
The fun doesn't have to stop off-shore either. There are a number of islands of different sizes just off the coast for you to visit. Many are home to ancient ruins. The Aran Islands include Inishmore, Aughinish and Inishloe and are well worth a visit. Additionally, you might like to get acquainted with the pod of 100 or more dolphins that reside in the Shannon Estuary during the summer months.
Such is the beauty of your potential new home that Hollywood has sat up and taken notice. The UNESCO-listed Cliffs of Moher are a remarkable sight. Even Harry Potter himself agreed! The cliffs stretch for an impressive 8km from Hag's Head to O'Brien's Tower and are undeniably impressive. If possible, we recommend taking a boat ride to view them in all their mighty, looming glory. In addition, Clare's Loop Head Peninsula was a hit with the cast and crew of Star Wars: Episode VIII – The Last Jedi. Loop Head became a European Destination of Excellence back in 2010. It is consistently voted one of the best tourist spots in the country. It is also slap-bang in the middle of Ireland's Wild Atlantic Way – one of the most famous walks in the world.
The County Clare way of life
Aside from natural beauty, County Clare is the perfect choice for lovers of Irish culture, and Irish music in particular. The pubs of Miltown Malbay and Doolin are famous for their music sessions, and are therefore highly popular with tourists. Always arrive early to secure a good spot and be prepared to make the most of the inevitable lock in! Clare is also a history lover's heaven. You can visit Bunratty Castle and Folk Park as well as a veritable array of historic religious sites and ancient tombs dotted across the county.
If you're hoping to get a touch more active when you move to Ireland, County Clare is an excellent place to do so. In addition to the opportunities to hike in gorgeous locations, water sports are on offer in abundance…if you're not scared of a little icy water. Lahinch Beach is a favourite spot with the world's best surfers. In the Shannon Estuary you can try sailing, kayaking, windsurfing, canoeing and even scuba diving, if you have a seriously hardy wetsuit that is! If that all sounds a little too much like hard work, when the sun shines you can simply enjoy lounging in the estuary's horse-shoe shaped bay. It is one of the best (and safest) spots for bathing in the west of Ireland.
Last but by no means least for you sports fans.. Sport factors highly in the lives of Clare residents. Whether it's golf, hurling, rugby or Gaelic Football, there will always be someone to support and a fixture to enjoy.
Off on a viewing trip? Your free Viewing Trip Guide covers everything you need to know and look out for.
The climate of County Clare
When you move to Ireland, regardless of where you're located, you will experience a mild climate in most areas. Due to its location alongside the Atlantic Ocean, County Clare can prove a tad wetter than other counties, particularly in late autumn and winter. Plus, high winds can occur occasionally if storms happen out at sea. In general, it pays to be prepared for all weather when living in County Clare. Ireland is known for its highly changeable climate. We recommend being prepared for things to switch at the drop of a hat. Sunshine one minute…downpour the next. Keep layers on you, and always know where the nearest pub is so that you can quickly duck in, should the heavens open.
Getting there
Clare is an easy part of the country to access. Shannon Airport is one hour away, Kerry Airport two hours, and Cork, Knock and Dublin Airports are all three hours away. This means, you have plenty of options when it comes to snapping up low-cost flights to get you home after you move to Ireland. If you plan on driving over, or transporting all of your belongings when you move to Ireland, you can catch a ferry to Cork, Rosslare or Dublin with ease.
Best locations in County Clare
Ennis
Ennis is one of Ireland's last traditional boutique towns, which makes it popular with international visitors. It has some of the country's best nightlife and offers live music every night of the week. There are plenty of shops, restaurants and pubs for you to socialise in. The area surrounding Ennis is also rich in historical sites.
This gorgeous 19th-century coach house is located just 10km from Ennis and is on the market for €595,000. The property, named Castlefergus Lodge, was the former family home of the owners of nearby Ballyhannon Castle. In fact, you can see it from almost every window. The home has many of its original features, including wooden-beamed ceilings and internal stone walls. Five bedrooms means plenty of space for everyone! You're wonderfully located close to a range of historical sites including Quin Abbey, Knappogue Castle, Ennis Friary and Bunratty Castle.
Killaloe
Killaloe is another gorgeous Irish town located on the banks of the River Shannon. Here you essentially get two villages for the price of one. Killaloe is twinned with Ballina (County Tipperary), which it is connected to via a stunning 13-arch bridge. This is another historic spot, best-known as the birthplace of Brian Boru. He was the High King who ruled Ireland from the village back in the 10th century. The towns have a chock-a-block events calendar. There are also some excellent restaurants, and being close to both the water and the countryside ensures you have many opportunities to get active.
This fantastic lodge has a wonderful location right on the shores of Lough Derg. The six-bedroom, detached home features a large sitting room and further living room, with French doors admitting lots of light. The waterfront location is taken full advantage of, with your own mooring and boatshed. The beautiful, low-maintenance gardens have a decking area with a panoramic view. There are also extensive lawns and even a private orchard.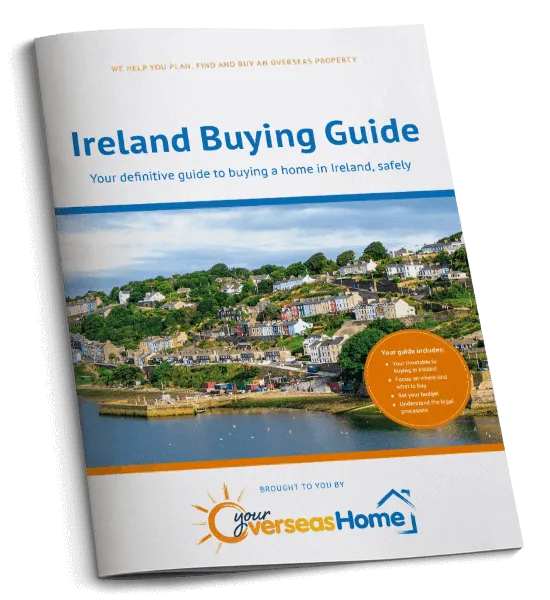 The Ireland Buying Guide takes you through each stage of the property buying process, with practical recommendations from our experts who have been through the process themselves. The guide will help you to:
✔

  Ask the right questions
✔

  Avoid the legal pitfalls
Download your free guide to buying in Ireland