When you move to a new country it can be tricky to know where to go to find the furniture and household items you need. Today we list Ireland's best spots for furnishing your home.
To ship or not to ship, that is the question (of today's newsletter)! If you're relocating to Ireland you'll need to decide whether to transport all of your furniture, or whether you fancy starting from scratch when you arrive. If you're buying a holiday home you will probably be buying everything locally to avoid shipping costs. The difficulty with deciding to buy everything upon arrival is not knowing where to source the best bargains, or where to even look in the first place. Fortunately this is where we step in. Today we consider the best Irish shops for furnishing your home.
Off on a viewing trip? Your free Viewing Trip Guide covers everything you need to know and look out for.
Some familiar faces
The advantage of being just a short hop across the channel is that many of the shops we know and trust have also made the leap. In terms of these familiar names, you'll find an Ikea just outside of Dublin, and sofa experts DFS can be found in Dublin, Cork, and Limerick. Debenhams, our trusty UK high street store, is also located in Galway, Limerick, Tralee, Dublin, Newbridge, Waterford and Cork. Although prices may vary slightly in the exchange to euros and Ireland's VAT is a little higher at 23 percent, most prices will still be broadly similar to the UK.
Online options
If it's bargains or more unique items that you're after for your new Irish home, your cheapest options will be online. Sites like One Living offer beautiful items and they price-match with their competitors. Whether you're in the market for a double bed, a cot, or a sofa large enough to accommodate your whole clan, you'll find interesting pieces at reasonable prices. Another fantastic option for those of who hate shopping from anywhere other than the comfort of their lounge is Homeline Furniture, which is just great for any bargain hunters. That means a sofa for as little as €600 (£520), reclining chairs for €180 and double beds from under €300. If you're happy to buy second-hand, check out what's available on Done Deal. This website is similar to eBay in appearance, and allows you to buy brand new or used furniture for incredibly reasonable prices. Although the stock changes all the time, at time of writing, I could have snapped up a brand new double bed with a memory foam mattress for €240 and a Danish Oak dining table for €225. If you're looking to keep costs down, you should definitely try your luck on this website. If you want even cheaper, both Freecycle and Gumtree operate in Ireland.
Arnotts is an Irish favourite when it comes to decorating your pad with tasteful and well made items
Similar to John Lewis?
If you've hatched a grand plan to stock up on everything you need in John Lewis before you leave, you might as well scrap that idea right away. Irish store, Arnotts now houses a John Lewis concession in its Dublin store. After you've browsed the concession, be sure to check out what Arnotts itself has on offer, as it's an Irish favourite when it comes to decorating your pad with tasteful and well made items. Their homewares section has all of the kitchen, bathroom, bedroom and lounge room items you can possibly need and if you're looking for bedding or towels that are a little more luxurious than those found in the above outlets, this is your spot. Harvey Norman is another useful option for furniture, electronics, and appliances, as is Limerick and Cork store, Casey's.
If you have any questions at all about moving to Ireland, give the Resource Centre a call today on 020 7898 0549.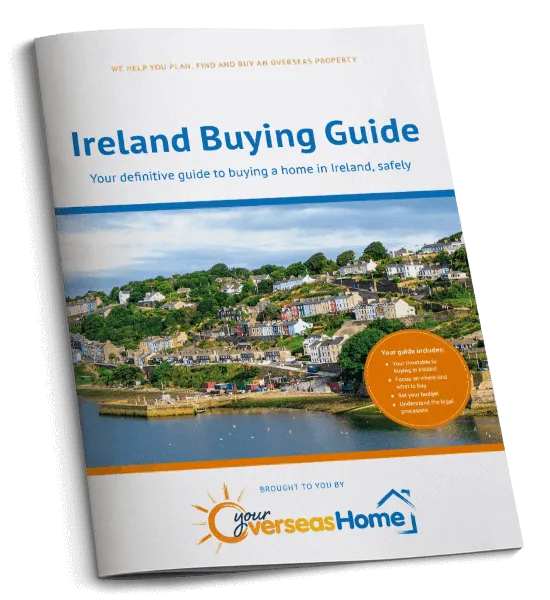 The Ireland Buying Guide takes you through each stage of the property buying process, with practical recommendations from our experts who have been through the process themselves. The guide will help you to:
✔

  Ask the right questions
✔

  Avoid the legal pitfalls
Download your free guide to buying in Ireland