It's not often that an April Fool's joke really gains much traction. However, this year a cheeky The Munster Express journalist fooled the good folk of Dunmore East that Theresa May would soon be in their midst…! Although just a caper, it got us thinking about what this lovely village has to offer those looking to move to Ireland.
County Waterford is a scenic, affordable county with excellent links back to the UK. Today, we're taking a closer look at what the village offers those seeking a new life, and what you can expect from this gorgeous corner of Ireland.
Where is Dunmore East?
Dunmore East is located in County Waterford, on the west side of Waterford harbour on Ireland's south east coast…or 'the sunny South East' as it's better known. Ask a local what you get when you buy Irish property in Dunmore East, and they will likely reply, 'a seaside village for all seasons'. Between April to September the fishing village is awash with tourist – both domestic and international. However, even when the last tourist has packed up their flip flops and headed home, there is still plenty to see and do in Dunmore East.
Don't let currency worries put your dream on hold – find out everything you need to know with the Property Buyer's Guide to Currency.
The village's major selling point of is without a doubt its beautiful coastline and harbour, which is a favourite summer hangout of yacht owners (and fanatics), and fisherman. Additionally, the village is home to championship golf courses, a rich Viking and Norman history and a sunny climate (300 more hours on average than the rest of Ireland). Plus, everything in Dunmore East is within easy walking distance. Also, the village considers itself a location for families. Therefore, the prices of accommodation, restaurants and drinks in one of the village's many traditional Irish pubs, remain refreshingly affordable.
Get active
If you want to move to Ireland to enjoy a healthier, outdoor lifestyle, Dunmore East has a lot to offer. Within the village, you can enjoy Dunmore East Beach – a sheltered cove, manned by lifeguards during summer, where you can swim, snorkel or sunbathe. Nearby Councillors Strand and Lawlor's Beach are also lovely. All three have coveted Blue Flag status, which means that the beaches are kept very clean.
The village's major selling point of is without a doubt its beautiful coastline and harbour, which is a favourite summer hangout of yacht owners and fisherman.
Those of you in the market for a new hobby might want to check out Waterford Sailing Club. Or you could go deep sea fishing, or try your hand at scuba diving – if you're happy to brave the chilly waters. Furthermore, golf fanatics will be delighted with this location. Dunmore East is an 18-hole golf course, overlooking the village. Revel in views of the Hook Peninsula and Waterford Harbour as you smash one down the fairway. Other highly-rated golf courses within 10 miles include Faithlegg Golf Club, Tramore Golf Club, Waterford Golf Club, Waterford Castle Golf Club and Williamstown Golf Club. Such a high concentration of golf courses in one place means you'll easily find someone to play a round or two with, which is an excellent way to make friends when you first move to Ireland.
Additionally, should you have indulged in a couple of pints too many the night before, a scenic coastal walk will really blow those cobwebs away. You can walk from Dunmore East Harbour to Portally Cove. This route is for walkers of all abilities. It takes in a number of red sandstone inlets, offers spectacular views of the Irish Sea, plus you might spot shags, cormorants, fulmars and seals if you come prepared with a handy pair of binoculars. You might also like to explore the Dunmore East woods. There are a number of clearly signposted trails, most of which won't take you move than 45-minutes.
Culture and cuisine
The best event on Dunmore East's cultural calendar is the annual Dunmore East Bluegrass Festival. The festival takes place at the end of August, and for the duration of the four-days every bar in the village becomes a music venue from 3pm until the small hours, with local and international bands playing bluegrass, honky-tonk, blues, rhythm and blues and country.
Given this charming spot is a fishing village, you can probably guess the favourite dish of the day in Dunmore East? That's right – freshly-caught seafood! The village is home to some of Ireland's best seafood restaurants including The Spinnaker, The Lighthouse, The Strand Inn and O'Shea's Fish and Chips.
Accessibility
Dunmore East is well connected and in an ideal location for people wanting to make a permanent move to Ireland, or to just hop over for short visits. The village is located just one hour from Cork airport (approx. £25 for a one-way ticket) and two hours from Dublin airport (from £12). Being so close to these two exciting cities means you can get your dose of city life easily any time you feel the need.
It's also nice and easy to hop on a bus to Waterford City to explore the city centre, to visit Waterford Crystal or Waterford Treasures in the Viking Triangle. You are also located just a short drive from neighbouring County Wexford, where you can visit the Hook Peninsula, Loftus House and Tintern Abbey.
Ready to visit Dunmore East to see some properties? Don't miss your free Viewing Trip Guide to find out everything you need to look out for in your potential new home.
You can catch a ferry to nearby Rosslare from Fishguard (three hours) or Pembroke (four hours). The ferry goes twice daily and costs around £170 with a car. Rosslare is an hour and twenty minutes from Dunmore East. Even if you're not hopping on the ferry, Rosslare is a great place to explore or to take the family when they come to visit you after your move to Ireland.
Costs
Despite Dunmore East's popularity, it's still possible to snap up a considerable bargain. You can find two-bed apartments starting from €77,000 and three-bedroom homes starting from €180,000. Also, it's worth noting that there is a range of property available to suit all budgets. In 2018, the most expensive house in Dunmore East sold for €900,000. The cheapest went for €11,186. The average cost for Irish property located within County Waterford, including Dunmore East, Waterford City, Lismore, Tramore and Dungarvon is €230,000.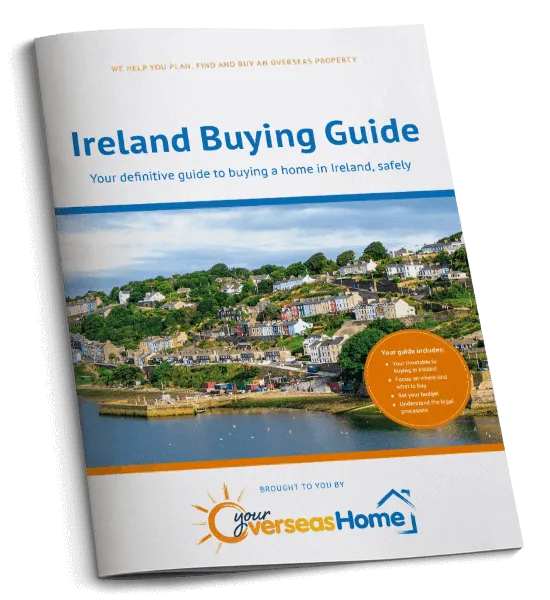 The Ireland Buying Guide takes you through each stage of the property buying process, with practical recommendations from our experts who have been through the process themselves. The guide will help you to:
✔

  Ask the right questions
✔

  Avoid the legal pitfalls
Download your free guide to buying in Ireland