There is a good business case for setting up your business in Ireland, whether it's an established business or still a gleam in your eye. Just look at Google.
Although there are concerns about how Brexit will affect Ireland, given that the United Kingdom is Ireland's biggest trading partner, the glass-half-full way of thinking about it is that opening a business in Ireland offers the possibility of continuing to trade from within the EU.
Opening a business in Ireland offers the possibility of continuing to trade from within the EU
Of course all this will be ironed out in the years of Brexit negotiations that are soon to start. One thing that seems to be clear, however, is that Ireland will remain a very positive environment for business. With companies considering jumping ship from London and moving their European headquarters to Ireland, there is a bright future beckoning for Irish business.
Why Ireland?
For the last few years, Ireland's economy has been growing at a consistent rate well above the European Union average, and has cemented its status as one of the best locations in Europe for business. Some of the biggest companies in the world have chosen Ireland as their base, and key sectors include electronics and engineering, computer software, financial services, pharmaceuticals and healthcare.
The Irish government remains committed to attracting investment, and to developing businesses. What awaits you is a favourable tax environment, highly competitive operating costs, a well-educated, English-speaking workforce and high-quality infrastructure offering support services for businesses.
Do I need a business visa?
Currently, as a national of the European Economic Area (EEA), you are able to come to Ireland to work and to open a business without restriction. How long this will stay the case remains to be seen. Non-EEA nationals are able to open businesses too, but first they will have to seek permission to do so by applying for either an Immigrant Investor Programme, or a Start-up Entrepreneur Programme.
Business permission
If you are ineligible for the Start-up Entrepreneur programme, or you intend on opening a business in the retail, catering, personal services or something similar, you will need to apply to the Irish Minister for Justice and Equality for permission. PLEASE NOTE: At present, applications for Business Permission are closed. When they will open again has not been stated.
When the time does come, you must include the following documents in your application:
• A valid passport or national identity document
• A registration certificate if you are already residing in the country
• A statement of character from the police authorities of each country in which you have resided for more than six months during the previous 10 year period
• A business plan, endorsed by relevant professionals and accountants
• Details of your skills and qualifications which make you suitable to undertake the business
• References from previous employers
• Original documents from your financial institution confirming you have at least €300,000 to invest in the business
• Details of where the business will operate.
One way around the business red tape is to claim Irish citizenship. See if you are eligible.
Steps involved in starting your own business
Step 1 – Planning
Your first step is to sit down and plan out all of the finer details of your proposed business. You'll need to make a detailed plan, conduct market research, investigate what regulations apply, where you can get funding and so on. Seek advice from experts who'll be able to clearly outline all the steps you'll need to take.
Step 2 – Business structure
It's possible to set up a business as a sole trader, a partnership, or as a limited company.. We recommend seeking the services of a solicitor and an accountant when considering how to structure your business to ensure you're making the right, and most financially beneficial choice. For more information on these structures and their regulations, you can visit Ireland's Companies Registration Office (CRO).
You could secure a business loan of anywhere between €2,000 and €25,000
Step 3 – Funding your business
On top of the finances you've accrued, you'll need to consider where you'll source additional funds. For example, you should check out Microfinance Ireland, which offers financial assistance to those with less than 10 employees, including sole traders and start-ups. Depending on how commercially viable your business is, you could secure a loan of anywhere between €2,000 (£1,700) and €25,000. It's also worth checking out JobsPlus, an incentive for employers who take on jobseekers from the Live Register. There are two levels of incentives: €7,500 for recruits that have been unemployed for more than one year but less than two, and €10,000 for recruits who've been unemployed for more than two years.
Step 4 – Tax liabilities
How your business is taxed will depend on whether or not it's an incorporated company. If you are a company, you will be liable to pay corporation tax, whereas if you are a sole trader and aren't incorporated you will pay tax under a self-assessment system. It's worth noting that new companies in Ireland get tax relief for the first three years of corporation tax. Each person and each company's tax circumstances will differ. To ensure that your liabilities are in order, we always recommend seeking the advice of an expert.
CTA: If you are planning on doing business in Ireland, speak to a specialist at Smart Currency Exchange to discuss your currency requirements both for business and your living/housing expenses.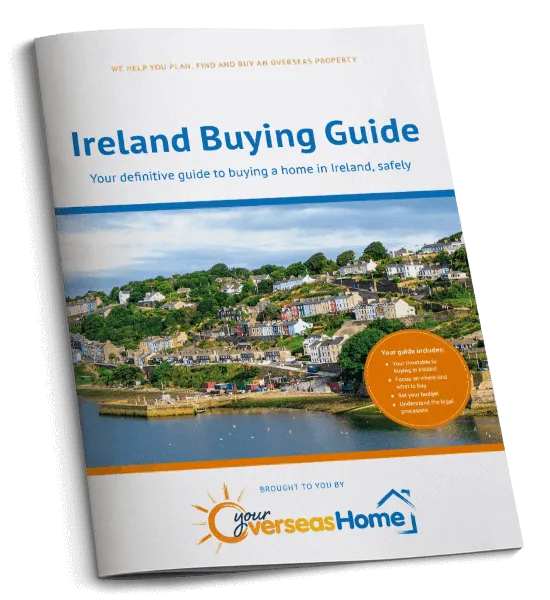 The Ireland Buying Guide takes you through each stage of the property buying process, with practical recommendations from our experts who have been through the process themselves. The guide will help you to:
✔

  Ask the right questions
✔

  Avoid the legal pitfalls
Download your free guide to buying in Ireland