If you want to rub shoulders with the who's who of Ireland, where should you direct your property search?
With its proximity to the UK and mainland Europe, the peace and quiet it offers, and its incredible scenery, it's no wonder that many a celebrity turns to Ireland when in need of a little solace. But who lives where, who is house-hunting and which is the biggest Irish star of all?
Dalkey is one of the most exclusive areas in the country and is called home by many of Ireland's biggest names, including Bono and The Edge.
Dalkey
This seaside suburb of Dublin is one of the most exclusive areas in the country and is called home by many of Ireland's biggest names. Bono, The Edge and Van Morrison own lavish properties in the area. So does Enya, real name is Eithne Pádraigín Ní Bhraonáin, who bought a castle complete with high stone walls, timber doors and her very own panic room. Jim Kerr of Simple Minds lives in Dalkey, as does Lisa Stansfield. Irish writer Maeve Binchy, who chronicled Irish life so charmingly, owned property here, not too far from Neil Jordan, director of smash-hit movies Interview with a Vampire, The Crying Game, Michael Collins and The End of the Affair. Pierce Brosnan has also opted for Dalkey, and Frances McDormand, the American actress who starred in Fargo, is said to own a holiday home in the waterfront suburb.
With more time on her hands these days, could former First Lady Michelle Obama return to Dalkey? She visited in 2014 and would already know one of her neighbours personally, having been spotted out with her husband, President Obama, and Bono in New York City earlier this year.
County Donegal
Hollywood A-listers, Sarah Jessica Parker and Matthew Broderick are regularly spotted wandering around Kilcar in County Donegal.
The remotest corner of Ireland attracts plenty of stars looking for a little privacy. Hollywood A-listers Sarah Jessica Parker and her husband Matthew Broderick are regularly spotted wandering around Kilcar in County Donegal. Broderick shares a modest family holiday home with his sisters and likes to visit as much as possible with his family. The couple are said to be particularly taken with the laid back locals in the county who will chase off paparazzi any opportunity they get! Broderick revealed that his neighbour once chased a snapper away on his quad bike after he spotted him trying to photograph the couple with their children. Another celebrity who spent time in County Donegal is Liam Gallagher, who escaped for a surf holiday in the region after one of several crises in his personal life.
Wicklow Mountains
The Wicklow Mountains, which occupy the entire centre of County Wicklow, are a serene spot that attracts celebrities looking to get away from it all. Its most famous resident is Daniel Day Lewis, who has owned a 50-acre farm in the mountains south of Dublin for many years. Although notoriously private, Day Lewis has always spoken fondly of the area and said he would retire here permanently once done with the acting game. Having retired, the Oscar-winner has stayed true to his word and you'll find him enjoying a pint of Guinness or two in the pubs around his native Annamoe. Luggala is another peaceful spot – Michael Jackson spent several months here with his family back in 2006.
County Mayo
Hollywood superstar Julia Roberts first discovered County Mayo when she came to Ireland to escape the paparazzi after deciding to call off her engagement to Kiefer Sutherland back in the 90s. Upon landing in Ireland and explaining her predicament to her taxi driver, the friendly driver is said to have whisked her off to the safety of his family home! Nowadays Roberts and her brood are a regular sight around the county.
If you're ready to buy in Ireland, you'll have a few financial matters to sort out. For advice on getting the best currency deal, download the Property Buyer's Guide to Currency.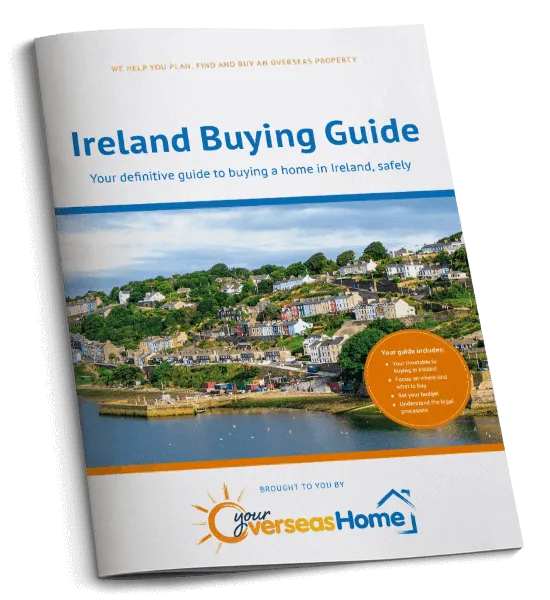 The Ireland Buying Guide takes you through each stage of the property buying process, with practical recommendations from our experts who have been through the process themselves. The guide will help you to:
✔

  Ask the right questions
✔

  Avoid the legal pitfalls
Download your free guide to buying in Ireland