For part two of our 'Building your own Home' series, we're taking a closer look at how to find a reputable architect in Ireland and what steps you need to take to obtain planning permission before you can break ground on building your dream home. If you missed part one, make sure to have a read of it to find out how to find the right plot of land.
Where can I find an architect in Ireland?
One essential ingredient you must have in place to build property in Ireland is an architect. In addition to their designs, a decent architect will help you set and monitor your budget, guide you through the planning process, seek quotes from and manage suppliers and building contractors, and administer the construction contract.
In Ireland, it is illegal for an individual to perform the work of an architect unless they are on the official Register of Architects, managed by the Royal Institute of Architects Ireland (RIAI). Finding someone who is registered means that they are bound by a code of ethics established by the RIAI, so they will have completed the necessary training, and have all the essential credentials. Taking this route guarantees you employ someone reliable, rather than a charlatan. To find someone decent in your area, you can consult their extensive database of almost 3,000 registered architects. The directory allows you to search by location or specific skill-set.
Get your copy of the Negotiation Guide to make sure you get the best deal possible from your estate agent.
Should you struggle to locate someone in your area, contact the RIAI directly with your address and details of the project and they will help you to find someone suitable. While you may have your heart set on an architect from out of town, an advantage of employing someone local is that they will be experienced working with planners in your area – which can help things go smoothly when it's time to apply for planning permission!
In addition to this directory, a lot of people seeking an architect in Ireland will ask around for recommendations. Word of mouth goes a long way, after all! Ask your neighbours and knock on the doors of houses you like the look of and enquire after their architect.
Once you select a shortlist of architects in Ireland, it's time to assess who is the best person for your specific project. Ask to see a portfolio of their work, and to see their finished properties first-hand. You must establish whether their designs are what you're after, and check the quality of their work. Good architects will be able to provide multiple examples of happy customers, and should be forthcoming about putting you in touch. Additionally, choose an architect that you gel with. Someone who understands your aims, listens to you, and responds in a fashion you know you can work with. You are going to be working closely together for an extended (and potentially stressful) stint – you want to be working with someone you not only trust, but also like! It's important you feel comfortable enough to voice concerns, give instructions and to change your mind. This process is a collaboration!
How much will an architect cost?
How much an architect will charge depends on your specific project and will be decided on a case-by-case basis. The more complex the project, the more it will cost. In some instances, architects in Ireland will charge based on a percentage of the total cost of the project, others might opt for a fixed price lump sum or on a time charge basis. Before you agree to work with an architect, always get a clear answer on how they will charge so that you will know what to budget.
How difficult it is to get planning permission?
Before you can commence building your home in Ireland, planning permission needs to be obtained from your local authority. No work can begin before this is in place. Fortunately, it's relatively straight-forward to obtain, as long as your plans aren't too bonkers! Prior to lodging any planning permission request, consult the development plan for your local area. This document, which is drawn up by the local authority, outlines how the area is intended to be used. From this, you will be able to establish whether your plans correspond with their intentions for the area. The more they do – the more likely you are to have permission granted with ease. You can consult the local planning authority before you lodge your application, which can be very helpful and save you time.
How long does it take?
As a general rule, the local planning authority are obliged to decide on the application within eight weeks of receiving it. However, if they conclude they need more time, or need to see more documentation – it can take longer.
When the local authority decide that they are going to grant you planning permission, you will receive a 'notice of intention to grant planning permission'. If no one appeals the decision within four weeks – you will receive a 'grant of permission'.
Get a free, no-obligation quote from Smart Currency Exchange today to know exactly how much your build would cost in pounds and euros.
One important thing to note is that you must notify the public about your plans. This is done by placing a notice in an allocated local newspaper (you can obtain a list of publications from the local authority) and by putting up a 'site notice' clearly stating your plans. Your application must then happen within two weeks of the notice appearing in the local press. Additionally, it's not uncommon for planning permission to be granted, 'subject to conditions'. In these instances, you will be required to make changes to the proposal. Should your proposal be rejected, you have four weeks to appeal the decision.
Finally, in Ireland planning permission is granted for five years – the project must be completed within this time.
How much does planning permission cost?
Although different fees apply to different types of development, for a house the application fee is €65. If you are only planning an extension or conversion of an existing structure, the fee is €34.
Who applies for the planning permission? Me or my architect?
Good news – your architect should apply for planning permission for you, but always double check that's the case before entering into a contract. A planning permission application can be a minefield for a lay person, whereas for an architect – it's part of their day-to-day. Doing it yourself can save money, but is likely to be more of a rigmarole.
What you might need to budget for the build cost of a house?
The cost of building your home in Ireland will depend upon the complexity of the project, the cost of the fixtures and finishes you decide on, and the location of the build. In some parts of Ireland, building materials are pricier than elsewhere, and this added cost can make a big difference to the final bill.
After the plot is purchased, you need to factor in the following costs:
Fees – for your mortgage, accountant, architect, builders, and planning permission.
Fixed costs – structural warranties, site insurance, furniture storage, the cost of renting while you build, selling costs of your current home, purchasing furniture for the house.
Infrastructure charges – the cost of connecting to mains water, electricity, sewerage.
Borrowing costs – how much interest will you be charged on any loans you take out to make the build happen?
Reports – Before you buy the land, there might be a number of reports you need to conduct on the land, i.e. a structural survey, soil survey etc.
This handy self-build calculator, or this one – which calculates the cost per square foot, will help you work out an estimate of the cost of building a home in Ireland.
Last year, The Society of Chartered Surveyors Ireland (SCSI) published their report on 'The Real Cost of New House Delivery', which looked at the cost of building a home in the Greater Dublin area. For the physical construction of the property, they worked out the cost to be €150,251. And, for the soft costs, i.e. fees, land, etc, the price is €180,242. This puts the total cost of building a home at €330,493.
What about added extras?
If you're building your dream home, you will want to ensure it has all the mod cons. If, for example, you're in the market for a swimming pool, how much it costs will depend on whether it is indoors or outdoors, and above ground or below ground. If you plan on going all out on an indoor pool in its own building, bear in mind it's likely to take around six months and can cost up to €70,000. An outdoor pool can cost up to €35,000, but it will depend on the design and work involved. You will also need to factor in the cost of heating and maintaining the pool into your overall budget.
Where is it possible to make savings?
A decent architect will be instrumental in helping you to keep costs down. They should be able to secure trade prices on building materials, but it's always worth conducting a little of your own due diligence to see whether you can secure the materials cheaper. They may, for example, have a trusty friend they always go to for timber, but down the road you might be able to snap it up at a reduced cost. Additionally, you can cut costs at the planning stage. An open-plan property is generally cheaper than a property with lots of rooms! Also, you can save cash by completing the jobs you're capable of doing – painting and decorating, interior design…perhaps you're a dab hand at tiling? Remember to be realistic about your abilities.
Where not to cut costs?
Unless you're a qualified electrician, plumber or gas technician, we wouldn't recommend taking those vital jobs into your own hands. Similarly, this is Ireland – don't scrimp on insulation! If you do, you will only end up racking up enormous heating bills that will have you wondering why you didn't just invest during the build. Sure, it might be a larger out-going cost, but overall it could save you thousands.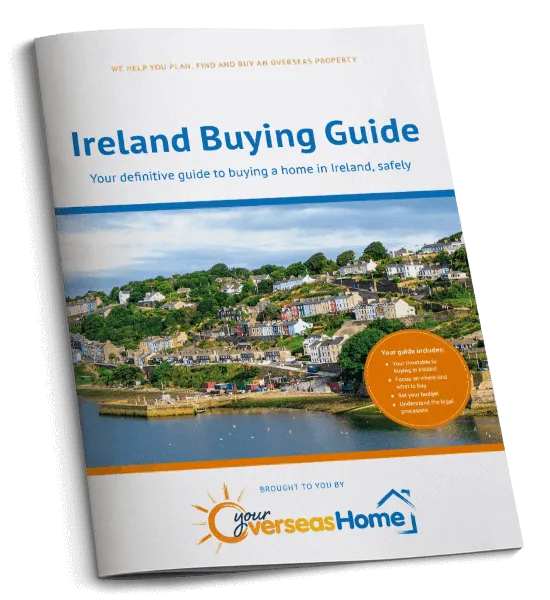 The Ireland Buying Guide takes you through each stage of the property buying process, with practical recommendations from our experts who have been through the process themselves. The guide will help you to:
✔

  Ask the right questions
✔

  Avoid the legal pitfalls
Download your free guide to buying in Ireland