Canada is the third most popular destination for British expats, according to the United Nations Population Division. And that doesn't look set to change any time soon, with a 7% increase in British citizens settling in Canada with permanent residency in 2017 compared to 2016. We look at what draws them to moving to Canada – and where their favoured spots are.
A popular place to call home for Brits
Canada has historically been a popular destination for UK expats, attracted by its quality of life, including pristine nature, large homes and a booming job market.
Moving to Canada usually means applying for any of a number of different work schemes. Most British citizens will either come on an international mobility programme (IMP), where they can stay in the country for a fixed period of time, or as permanent residents. The latter means they can stay indefinitely.
Growing numbers of UK expats moving to Canada
With Canada suffering from a skills shortage in a number of areas, there are plenty of opportunities for British citizens. And more and more of us are taking the chance. Government statistics show a 7% increase in British permanent residents arriving this year. 5,800 arrived in 2017, compared to 5,450 in 2016. Although permanent residents have increased, IMP numbers have in fact fallen, from 430 in 2016 to 405 in 2017.
With Canada suffering from a skills shortage in a number of areas, there are plenty of opportunities for British citizens
In other words, a higher proportion of British expats is qualifying as permanent residents instead of temporary – which is great news if you're moving to Canada.
Although statistics on occupation are only available by continent of origin and not country, it seems likely that most British citizens move to Canada either for work or retirement. The figures show Europeans are most likely to be aged either 15-24 or 65+.
If you're moving to Canada, make sure you're up on your finances with a free, no-obligation quote from Smart Currency Exchange.
Where are the most popular areas for Britons moving to Canada?
British people moving to Canada are relatively spread out across the country. However, there are a few areas that are particularly popular. Here are the top four, according to statistics from Citizenship and Immigration Canada.
Ontario
Ontario is by far the most popular destination, with almost 265,000 British residents. It's undoubtedly no surprise as it's home to both the capital Ontario and bustling Toronto. There are plenty of employment opportunities here. Toronto's the centre of Canada's finance industry, while manufacturing dominates the wider province.
Average house price: CAD$578,000
British Columbia
There are over 33,600 British people living here. It's another popular destination for moving to Canada, with pristine nature usually within easy reach of its cities. Whistler is one of Canada's most popular ski resorts. Of course, multicultural Vancouver is also a big draw. However, its housing market is especially expensive.
Average house price: CAD$730,000
Alberta
Alberta's home to 19,700 Britons. It's easy to see why: it's a fantastic place for a laid-back, outdoors lifestyle. Like Whistler, Banff National Park is famous for its skiing and its natural scenery. Additionally, you also have Calgary, the centre of Canadian rodeo. The Stampede in July attracts over a million visitors – even the Queen's been twice.
Average house price: CAD$387,000
Quebec
Quebec might be a more unexpected result. Most arrivals are from France and Haiti, but British people do still make up 12,900 of the population. It's probably the most distinctive of Canada's regions, with a proud French-speaking tradition and plenty of history. Quebec City's old town still has numerous old buildings, including its famous Chateau. On the other hand, Montreal is larger and more English-speaking – and has particularly affordable living.
Average house price: CAD$297,000
Quebec is probably the most distinctive of Canada's region, with a proud francophone tradition and plenty of history.
Thinking of moving to Canada?
If you're considering moving to Canada to take advantage of its great working culture and lifestyle, keep up to date with Canada Property Guides for information about finances, legalities and property purchases. Don't forget also to download your copy of the guide by filling in the form below.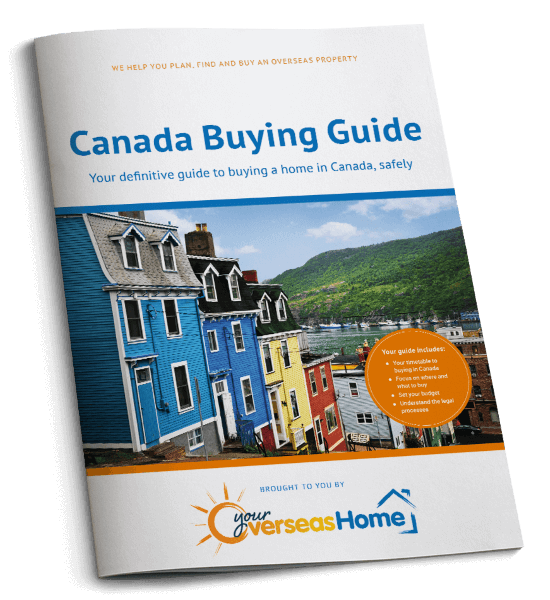 The Canada Buying Guide takes you through each stage of the property buying process, with practical recommendations from our experts who have been through the process themselves. The guide will help you to:
✔

  Ask the right questions
✔

  Avoid the legal pitfalls
Download your free guide to buying in Canada