If you've been considering buying a home in Australia but have been put off by the huge rises in prices since the pandemic, now might be the perfect time to think again. Prices are returning to more sensible levels, as a report from Core Logic highlights.
This information comes from CoreLogic's home value index. It shows every capital city in Australia (except Darwin) is in a housing downturn, after rising 29% in the run up to March 2022.
Nationally, values have come down 3.5% since then. Tim Lawless, research director at CoreLogic said, "We're seeing housing values falling faster now than what we saw during the global financial crisis and also during the early 1990s and early 1980s recessions."
The graph above from the National Australia Bank, CoreLogic, shows Australian dwelling prices indexed since January 2020. You can see that pandemic levels were significantly lower than they are now, but the prices do seem to slowly be decreasing.
What does this mean?
While 3.5% decline could seem like bad news to homeowners in Australia looking to move, it also means the properties on the market will have dropped too.  It's also fortunate for Brits who are interested in emigrating down under.
Australian property prices soared during the pandemic, so this drastic market change was bound to happen.
The result of the pandemic has had a lasting effect of the work/life balance of Australians. With more workplaces introducing options for remote working, 2021 saw a housing boom where lots of city-dwellers moved to lower-density areas as they were not needed in the office every day.
In price terms, the average property in Australia is A$623,000 (£368,000). This compares with the average UK price of £273,800.
How do these rates compare with the UK?
While this may seem rather expensive, it's worth noting that wages are typically higher in Australia and cost of living is higher in the UK. The below table is taken from Number's Property Prices Index 2022 Mid-Year and shows price-to-income ratio for the UK's and Australia's capital cities.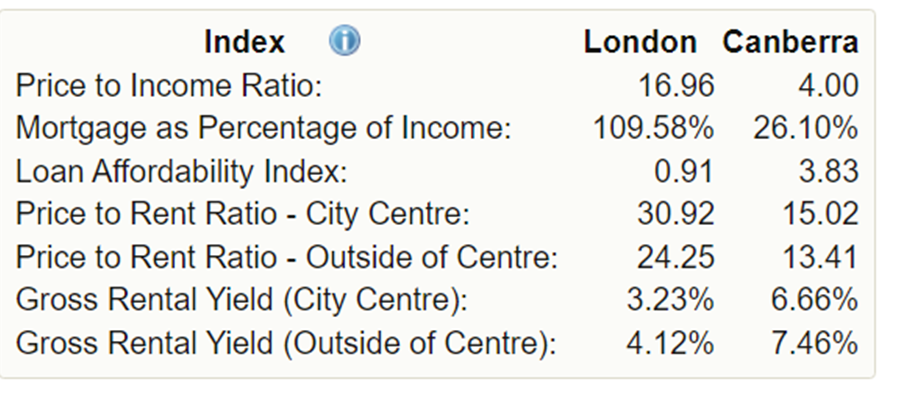 Price to Income Ratio is the basic measure for apartment purchase affordability. It's calculated by dividing nominal house prices by nominal disposable income per head.
Property prices in London are significantly higher than Canberra and outpace the average income by 16.96%, whereas Canberra residents only have to stretch an extra 4% – a much more realistic statistic.
As countries on a whole, the UK has a ratio of 7.99 and Australia is 5.60. Both results tell us that house price growths outpace income growth, but slightly more in the UK.
What's next for the property market?
A common question among Australians and aspiring expats is what's next year's forecast? The Australian Financial Review recently reported that "property prices will fall," with predicted declines of 10% to 15%.
So, now is the time to act if you're looking to purchase a home on the Australian property market. These rates are expected to shoot back up within the next three years, according to Dr. Andrew J. Wilson, chief economist of My Housing Market.
Dr. Wilson continued to predict the following…
Sydney property values will end the year down -6%
Melbourne property values will end the year down -6%
Brisbane property values will end the year 11% higher
Adelaide property values will grow by 12% in 2022
Perth property values will finish the year 9% higher
If these rates continue to plummet, international immigration will be expected to rise, so we recommend you act fast if you're serious about buying property in Australia.
Download our free Australia Buying Guide on Property Guides.  Each one of our Australia property guides has been researched and written by a team of experts in the property market Down Under.