One of the first steps in settling into your new life in Turkey will be organising transport – so you've got your independence to travel round and explore your beautiful new home country. However, there are rules on driving in Turkey that you need to follow, whether you're bringing a car over or, like most people, purchasing one there.
The basics
First off, Turkey drives on the right. Speed limits are in Kph. The speed limit is 50kph in built-up areas, 90kph on open roads and 120kph on motorways or highways. If you're driving in rural Turkey, especially at nighttime, do keep an eye out for wandering livestock or stray animals.
Driving in Turkey can be a little aggressive, so it pays to be extra-alert. Do expect liberal use of the horn. Note that in Ramadam/Ramazan, accident rates are much higher, especially as people are tired and hungry.
Driving on toll roads
Toll roads are relatively common. Many are part of the Hızlı Geçiş Sistemi (HGS), or high-speed toll system. On a normal toll road, you can pay cash, but you can't pay cash or card on an HGS one. Instead, you have to be enrolled in the HGS automatic toll system. You'll need to go to your local post office or bank with your visa or residence permit and ask for an HGS transponder. You'll need to pay 5TL for the transponder and top it up 30TL to start off. You then affix it to the top-centre of your windscreen. When you pass through a toll point, the toll of 2-3TL will be deducted from your account.
Toll roads are relatively common and you'll need to be enrolled in the HGS system, as you can't pay by cash.
If you go through an HGS toll point without a transponder, an alarm will go off, and a camera will take a photo. You'll receive a fine ten times the toll amount.
Driving licences in Turkey
You can use a foreign licence for driving in Turkey for up to six months. However, you will still need one of two further documents:
An international driving permit – not the same as an international driving licence – which you can apply for at the Post Office or via the AA.
A Turkish copy of your UK driving licence – the copy must be verified by a notary to be valid.
Once you've passed six months, you'll need to convert your driving licence. The law isn't always enforced, so we hear stories of people just using their UK licence – but it is a good idea to do everything by the book. The process is relatively simple but, like many things in Turkey, does involve a lot of bureaucracy.
You'll first need to visit the Şoförlar ve Otomobilciler Odası, or Chauffeur and Drivers' Office. Ask them for Form EK-18 and fill in the top half. They'll also give the required blue folder, or mavi dosya, which you'll pay ~5TL for.
Then, get your passport and driving licence translated and notarised. If your region requires a health check, arrange that with your local hospital. You'll need a passport photo to attach to the form. Make sure also to go to your local Records Office (probably located in your Security Directorate or Emniyet Müdürlüğü) with your passport and residence permit to get a brief criminal records check. This will likely also cost around 5TL.
Another important aspect of settling into life in Turkey is making sure you can access medical care. Read our free guide, Healthcare Abroad 2018.
Find the tax office (vergi dairesi) and pay for your driving licence. Then, take all the documents you've gathered so far and submit them to the Traffic Police Office. They'll verify the details of the original issuing country of your current licence. Between around a week and a month and a half, you'll be invited to come back, provide your fingerprints and get your licence.
Bringing your car to Turkey
You can bring your car to Turkey if you are a resident abroad – i.e. you live outside of Turkey for 185 days a year – and if your car is registered abroad. You can keep it in Turkey for up to 730 days. To do so, you'll need to apply for a temporary entrance carnet, or carnet de passage from the Ministry of the Interior.
You can request a 'Pre-declaration of Vehicles to be Temporarily Imported for Private Use' from the Turkish Ministry of the Interior. This should make the process much quicker, as you can prepare everything before arrival into the country. That way, you can be driving in Turkey as soon as possible.
Buying and registering a car in Turkey
Most foreign residents will purchase a car once they're over here and ready to start driving in Turkey. Luckily, if you've got a resident's permit, you may be able to buy a car without having to pay VAT or Özel Tüketim Vergisi. You will be responsible yourself for any notary fees at the point of purchase, including for any translated documents.
You must have a valid Turkish licence, as above, if you're going to buy a car in Turkey.
Once you buy it, you'll need to register the car within 30 days. You can do this at an insurance agent's who offers takip hizmeti service. Overall, the process will take around two hours. Make sure to bring the tescil belgesi your notary gave you when you bought, as well as the previous registration and traffic card. Also bring your passport and residence permit. You'll fill in a few forms and then get your registration number. Note that as a foreign resident, you'll need to do this in your provincial capital.
Driving in Turkey?
All set and ready to hit the open road? You've got plenty of places to explore, from the forests by the Black Sea down to the beautiful coast of Bodrum. And, for more information about settling into life in this wonderful country, keep up to date with Turkey Property Guides.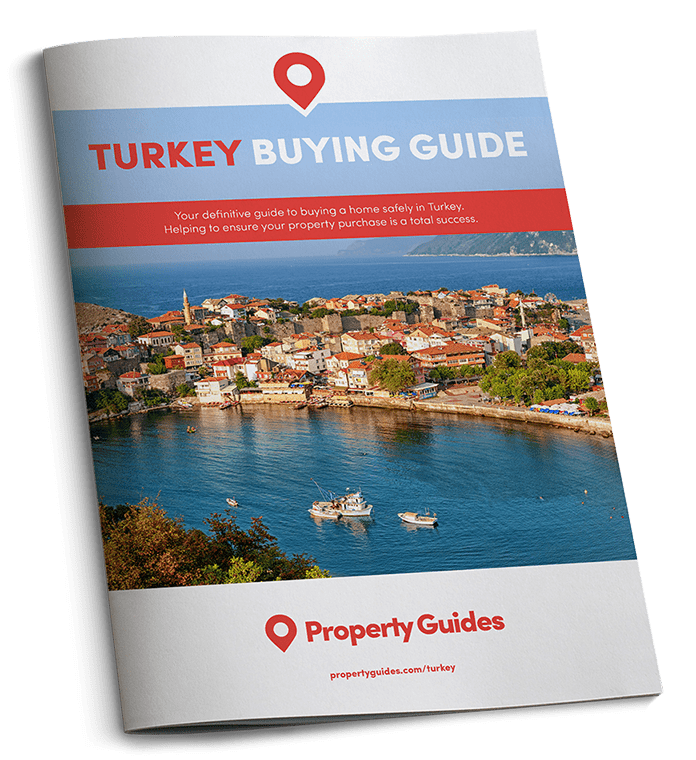 The Turkey Buying Guide takes you through each stage of the property buying process, with practical recommendations from our experts who have been through the process themselves. The guide will help you to:
✔

  Ask the right questions
✔

  Avoid the legal pitfalls
Download your free guide to buying in Turkey