Scratch Turkey's surface and you will discover it has plenty to offer away from the resorts. If you'd prefer to purchase a property somewhere that offers a slice of authentic Turkish living, why not try these destinations for size?
There's more to Turkey than the sun, sea and sand found in Bodrum, Antalya and Fethiye. Head off the beaten track to discover the true Turkey.
Based in the north-west, Bursa, the fourth largest city in Turkey, offers a fascinating insight into the Ottoman-era.
Admittedly, the British Foreign and Commonwealth Office rightly advise against all travel within 10 km of the border with Syria. It also advises against all but essential travel to the provinces of Sirnak, Mardin, Sanliurfa, Hakkari, Tunceli, Gaziantep, Diyarbakir, Kilis, Siirt and Hatay.
That still leaves a huge swathe of Turkey largely untouched by foreign feet, so we've put together a list of some of the best of the rest when it comes to off the beaten track destinations for property buyers in this wonderful country.
Bursa
Based in the north-west, Bursa, the fourth largest city in Turkey, offers a fascinating insight into the Ottoman-era – it was the first Ottoman capital. It is also one of the greenest cities in the country, with parks and gardens located throughout, which offer welcome respite from its modern, industrial core. Mount Uludag – Turkey's premier ski resort – is located close by if you truly want to escape the hustle and bustle.
For a list of properties for sale in Bursa visit Rightmove.
Princes Island
This cluster of nine islands is just a short ferry ride from Istanbul in the Sea of Marmara. Predominantly car-free, they maintain an air of relative calm. If you want to get around you will have to jump on one of the horse-drawn carriages (phaetons) the islands have become famous for. A life here is like stepping back in time.
Tasucu
The quiet backwater of Tasucu is located around a small bay on Turkey's Mediterranean coast, 11 km (7 miles) southwest of Silifke. It has quaint cobbled streets and is relatively free of the tourist crowds. It is best known as being the gateway to Northern Cyprus. Here you can catch an overnight ferry to the Turkish-controlled part of the island.
Wherever you wish to live in Turkey, knowing how to negotiate for your property should get you a little more house for your money! Download our guide: How to Negotiate Abroad.
Kayakoy
For those wanting peace and tranquillity, then the abandoned village of Kayakoy could be right up your street. The village, just a short ride out of Fethiye, was once a bustling and thriving Greek village before the population was forcibly removed to Greece during the population exchanges in the early 1920s. The city was never populated again and has been left in its present haunted state. Okay, we don't expect you to squat in an abandoned town, so take a viewing trip to the "new" village that sprawls below its ghost counterpart. It's equally atmospheric, with its stone drinking fountain, traditional tea garden and narrow alleyways. If you're interested in this period of Turkish history, by the way, you can't beat the novel Birds Without Wings by Louis de Bernieres.
For a list of properties for sale in Kayakoy visit Rightmove.
Konya
In the heart of Central Anatolia, to the south of Ankara, is the famed city of Konya. Largely ignored by Western tourists, it is an important seat of pilgrimage for Sufis the world over. For here is the resting place of the founder of the Mevlana order – also known as the Whirling Dervishes – Jelaleddin Rumi. The city combines its economic prowess, religious significance and university city status with aplomb. This is perfectly demonstrated through its contrasting architecture, with ancient mosques rubbing shoulders with more contemporary structures around Alaaddin Tepesi.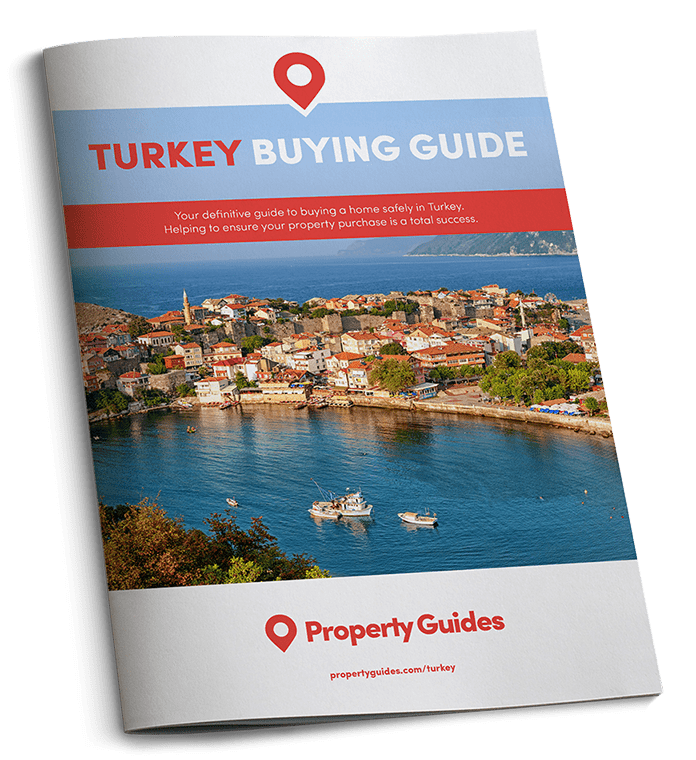 The Turkey Buying Guide takes you through each stage of the property buying process, with practical recommendations from our experts who have been through the process themselves. The guide will help you to:
✔

  Ask the right questions
✔

  Avoid the legal pitfalls
Download your free guide to buying in Turkey