There's something wonderful about starting your new life overseas in a new place: so many sights to see, streets to get lost down, new friends to meet and food and drink to enjoy. It's an opportunity to live life to the full! Settling in does take time, however, so here are our top tips from someone who's done it more than a few times.
Amy's tips on settling in
I am a freelance writer, author and founder of The Riff Raff, a business that pairs published authors with aspiring writers for mentoring and manuscript feedback. Fortunately for me, these jobs allow me to work from any corner of the world, and while I'm young (ish), free and single, I want to make the most of this freedom. I have been lucky enough to live in Australia, the USA, Colombia and currently I am living in Valencia in Spain – one of the most popular locations with digital nomads. Having lived in multiple places, I have a tried and tested system for settling in when I move overseas, and today I am sharing those tips with you.
1 – Getting your bearings
For someone who has travelled extensively, my sense of direction could really do with some work. That's why one of the first things I do when I move overseas is work on getting my bearings. Until I've pounded the streets (or the cycle paths in Valencia's case) I always feel like a visitor. Once you know the shortcuts – that's when you feel at home. Exploring your new town or city is one of the most fun parts of a move. Your settling in time is when you should get out and do all of the things you read about before you decided to move.
Seeing the sights not only helps you put landmarks on your mental map, but it helps you learn about the history of your new home, which in turn makes you feel more connected to it. Seek out the parts of the city that interest you – the cafés you can work in, the tucked away restaurants you'd never have found online, the best beaches. This is your chance to build the life you want. Seek out the things you know will make you happy.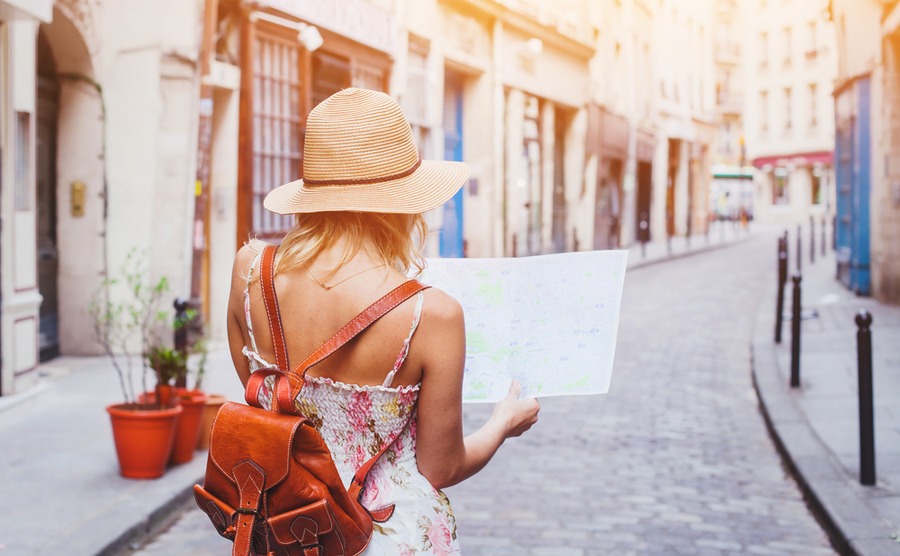 Start by getting your bearings in your new area.
2. Locate your creature comforts
What activities do you do day-to-day that keep you sane? What food must you have in your cupboard? Where can you play the sport that you've been playing since you were at school? Establish what you need to feel good and go out and find it. While this can be intimidating, particularly when you can't speak the language well enough to ask for what you need, it's part of the challenge, and that's why you made this move overseas.
Don't let your budget be impacted by suddenly changing exchange rates. Find out how to secure a fixed exchange rate in the free Property Buyer's Guide to Currency.
Personally, I know that I need a yoga class and a running route, good tea in the cupboard, and to know where I can find great coffee and the best pizza. Actively hunting these things out is another way to explore the city, plus they make you feel grounded at a time when everything can feel a little up in the air. Fortunately for me, Spain has enough expats that PJ Tips and Marmite aren't too hard to come by!
3. Indulge your interests
In the weeks running up to my move to Spain, I would regularly daydream about what my life would be like once I was living in Valencia. I pictured lots of days at the beach, warm evenings drinking cheap (good) wine and eating tapas. I quite fancied taking up Tai Chi…or at least exercising more than a busy life in London allowed. Also, I was excited to explore the music scene. While it can feel easier to lock yourself away, telling yourself you'll get out there when you're a bit more confident, I urge you to actively seek out the additions to your life that you were looking forward to.
Seeking out the things that interest you will make you feel happy and empowered. And that will reinforce the reasons why you made this move overseas. You've arrived. You're through the bravest part, which was making the physical move. Now it's time to start embracing your life in the country you have chosen and worked hard to move to, by doing the things you always dreamed you would.
4. Do as the locals do
Once you've ticked off the tourist hotspots, it's time to start paying attention to what the locals do. Sure, the restaurants in the old town are lovely, but chances are you're paying a premium and most likely drinking watered down drinks. You are no longer a tourist, you're a local. Time to get to know the areas where the locals live, and the bars, restaurants and shops they frequent.
Explore different neighbourhoods and when you meet someone from your new town or city, ask them where their favourite places are and jot them down. If you're blanching at the cost of fresh veggies in the central market – ask where you might find reasonably-priced items that haven't been hiked up in price to capture the tourist dollar. People like being asked about their favourite places. Make the most of this to learn about the side of your new town or city that doesn't make the guide books.
5. Do a shout-out
While I'm rarely one to praise social media, one of its saving graces for people like me is being able to ask my network whether they have any buddies in my new location. When I moved to Valencia, the World Cup was on the TV and I had no one to watch it with.
I put a shout-out on Facebook asking whether anyone knew anyone in town that might want to meet for a beer. Fast forward and some of my best friends are those I was introduced to via mutual friends.
6. Find shared office space
If you are working – especially remotely – consider the environment. Writing can be a lonely business and I didn't move to Spain to sit in my house all day. If I was going to be sat in front of a computer, I wanted to at least be doing it somewhere I could meet new people and practice my Spanish. Co-working spaces are fantastic for digital nomads. You meet fellow digital nomads from around the world, but also local people who, as we know, have all the hottest tips!
Are you aware of all the options for raising finance for buying a home? Find out what you could do in your How To Pay For It Guide.
I chose a co-working space in a part of town I wanted to get to know more, and that was close to the beach so that I'd only be a hop, skip and jump from the water at the end of my workday. The office organises yoga classes, surfing and hiking trips, runs informative events for business owners, and regular social events. By joining, you instantly gain a group of colleagues and friends – most of which are in the same boat as you, i.e. new to the country, and eager to see the best of it. You'll have lots to talk about and learn from each other.
7. Learn the language
While this isn't relevant from everyone making a move overseas, if you're moving to a non-English speaking country, learning the language is essential. While you have no understanding of the language, you can't help but feel a little isolated, and that's not conducive to settling in. Taking language classes is another great way to meet people. Plus, being able to communicate with those around you as you go about your day will make everything easier. It will mean making local friends is easier, will make dating slightly less daunting, and if you've moved for work, it will help you get to know your colleagues. The last thing you want to do is spend an hour walking around the supermarket because you're too scared to ask where to find something. Sure, learning a language as an adult is difficult, but not impossible – plus it slows down ageing of the brain – so be patient with yourself and know that with sustained effort, you'll get there eventually.
In my bid to learn Spanish, I take a weekly lesson, have a variety of language apps on my phone and listen to Learn Spanish with Paul Noble (a game changer – definitely check him out). Additionally, I watch Spanish TV and listen to Spanish music. I don't understand everything, but it has taught me common phrases, how to structure my sentences, and the flow of the language – which is vital in getting people to understand you, plus it's enjoyable! Keep an eye out for language exchanges. These are social events, often based around a hike, drinks, or dinner, where English and Spanish speakers come together and practice their conversational language skills. It's all very well doing the exercises in the workbook, but it's actual conversations which help you to learn.
If you are ready to buy or move abroad within the next few months, call our friendly Resource Team on 020 7898 0549 or email [email protected] to be put in contact with trusted lawyers, estate agents and currency specialists.
English-speakers are lucky – people either know a little of the language, or they are keen to improve it. This means you'll have lots of people willing to go for a beer or a coffee to practice speaking each other's languages. It's fun and educational. While learning the language might be one of the hardest parts of a move overseas, until you can communicate with the majority of people around you, you might always feel a little unsettled.
On the other hand, with a grasp of the communicative aspects of the language, with your hobbies set up and a good idea of the lay of the land, you'll be feeling at home before you know it! Bouts of homesickness may come and go – and that's only natural – but remind yourself why you moved, and everything that you love about your new home in the sun!