As the summer comes to an end, many of us here in the UK will be dreaming of sunnier climes – and we wouldn't be the only ones. There are an estimated three to five million Brits living abroad around the world. Many are attracted by a cheaper cost of living, a better climate, and, in some cases, great career opportunities. Today, we're taking a look at some of the best places to move abroad for UK citizens, from Barbados to Singapore. 
Barbados
This stunning Caribbean country, a member of the Commonwealth, is a popular destination. Around 40% of its tourists come from the UK, and English is the official language, with Bajan creole commonly used.
It has a tropical climate, with a dry season from December to May and a wet season from June to November. The island is out of the main path for hurricanes, and only get a major one around every 26 years. Coral reefs encircle much of the country, with white sandy beaches and lush greenery found all around the island. Generally, the sea on the west coast is calmer than the east.
The main city is the capital, Bridgetown, with a population of 110,000. St James, the 'Platinum Coast', is one of the most desirable locations among expats, especially in beachfront spots like Bathsheba. The fishing village of Oistins has a lively 'lime' (social event) on Fridays and Saturdays, with food stalls, music and dancing.
If Barbados is one of the best places to move abroad for you, you'll be pleased to know that the market has been relatively stable for a number of years. If you haven't resided on the island for three years, you can only get a foreign-currency mortgage, normally in US dollars. On the west coast, you can find villas for around $900,000. In the south coast, you can find them for around $600,000, or as little as $200-300,000 in more local areas.
Cape Verde
Cape Verde, now officially known as the Republic of Cabo Verde, is an African island nation sitting in the Atlantic. It has a pleasant, very dry climate, with average temperatures around 22C in winter and 30C in summer. The islands of Boa Vista, Sal and Maio have the same arid climate as parts of the mainland, while the other islands are greener. All have excellent beaches and enjoy over 3,400 hours of sunshine a year. Throughout the country, the Portuguese colonial influence is evident in the colourful architecture.
The country's known for its extensive, sweeping beaches – you won't be sharing packed sands here. The capital is Santiago, which has a bustling centre and easy access to sea and mountains. Sal, the sunniest island, is a Mecca for surfers due to the winds off the Atlantic. Reefs like Olho Azul are also popular with divers. Over on Brava is the mountainous town of Vila Nova Sintra, considered the most beautiful – and one of the most affluent – in Cape Verde. Although not by the sea, it's only a short drive away. Finally, on laid-back Maio, you'll find stunning beaches under coconut palms in the village of Morro.
Another aspect making Cape Verde one of the best places to move abroad is its stability. It ranks number one in Africa for freedom of press, civil ilberties and rights and number two for democracy and lack of corruption.
The local currency is the Cape Verdean escudo, although property prices are often quoted in foreign currencies. You can find three-bedroom apartments for around £115,752 and one-bedroom apartments for as little as £25,356. A three-bed house goes for around £204,658. If you don't want outside space, you can easily find sea-view townhouses for as little as £71,000.
Hong Kong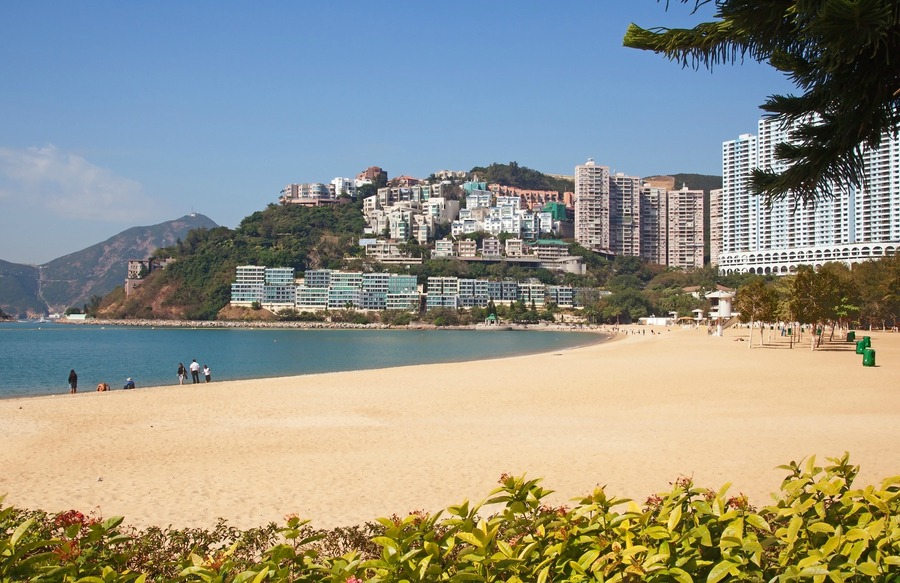 This bustling city of seven million is one the biggest financial and business centres of the world. Its colonial history makes it a fascinating confluence between East and West, and it's also a centre of Cantonese culture in China. As a Special Administrative Region of China, it has its own legal system and basic law, although this is only guaranteed until 2047.
The most famous view of Hong Kong is from Victoria Peak, and it's not misleading: this is the world's most vertical city. Most locals live in high-rise apartments, enjoying the convenience of services and shops on the ground floors of their buildings. The Mid-Levels and Happy Valley are popular with expats – many flats here have views out over the city. Transportation is slick and efficient, with the underground MTR much more pleasant than older European systems.
However, Hong Kong isn't just narrow streets and skyscrapers. In fact, 40% of the territory is protected countryside, and the numerous uninhabited islands are popular day trip destinations with locals for their sandy beaches and tropical greenery. Most parts of Hong Kong will give you a view over green islands or water. If you are looking for more space, island villages such as Mui Wo are just a forty-minute ferry ride from Central.
Salaries in Hong Kong are high, but they are matched by sky-high property prices. The average unit price in Hong Kong reached HK$8.08 million in 2018 and the market is still growing. Foreigners can buy property in Hong Kong, but, as a legacy of British influence, all homes are leasehold. English is an official language here, so you can carry out all transactions in it. However, the ability of locals to speak it in daily life, such as in shops, is not guaranteed.
Malta
For a tiny archipelago, Malta certainly packs a punch. It's home to some of Europe's best baroque architecture – the tiny capital, Valletta, was called 'a city built by gentlemen for gentlemen'. It has ancient sites, modern shopping and seafront villages aplenty. Add to that regular flights to many UK airports and English as an official language and you can see why it's one of the best areas to move abroad.
Valletta and the surrounding 'three cities' are more 'local' areas, with many expats preferring rural living, but you can find some amazing 17th-century townhouses around here. Birgu/Vittoriosa has a number of houses with fantastic views across the famous Grand Harbour to Valletta itself.
Much of Malta's sea access is rocky, but you can easily get to the beaches by bus at Golden Bay and Għajn Tuffieħa. If you want a beach on your doorstep, look on the northeast coast, around Mellieħa. These are generally more touristy areas, however, and can be quite quiet in winter. Finally, for more rural living, the second island of Gozo is your answer – it has many charming villages that are very welcoming to expats and retirees.
The average asking price for a two-bed apartment is €280,000 and, for a three-bed character house, around €730,000. A modern villa will set you back around €300,000-€700,000.
Morocco
The westernmost Arab country has been a draw for European and American visitors for a century. Many expats love shopping in the bustling souks, sampling delicious dishes like a traditional tagine and enjoying the sunny, warm weather. The country's also on our list of the best places to move abroad for diversity – you have everything from the Atlantic and Mediterranean coasts to the Atlas mountains, farmland and Sahara desert.
The traditional Moroccan home, much favoured among expats, is the riad. This is a courtyard house, which you'll find in many older parts of the towns and cities. Among the most popular cities are Agadir, a modern beach resort, and the ancient city of Fes, with its well preserved centre. Marrakesh and the famous medina are also desirable. Other spots to investigate include Chefchaouen, 'the blue city' for its brightly coloured houses. Bustling Tangier has easy access to Spain and a distinctly cosmopolitan feel.
House prices are reasonable, although responsive to international demand. A modern villa and an old riad both sell for around €200,000. Many smaller ones sell for less, although you can also find ones much, much higher.
Seychelles
A tropical paradise, the Seychelles really does fit the bill for sandy beaches under coconut palms, a slow pace of life, and plenty of sunshine. These islands sit in the Indian Ocean, with an average year-round sea temperature of 29C – bit better than Blackpool! A popular island for expats is Praslin, for its breathtaking scenery. British George Gordon was even convinced that the island was the Garden of Eden itself. The golden sands of Anse Lazio are considered some of the most beautiful in the country.
For a more bustling lifestyle, head to Victoria, the capital. Although not a large city, it has busy markets and shopping streets with most things you could need. As many items are imported, the cost of living is understandably high. Nonetheless, its laid-back lifestyle makes it one of the best places to move abroad for Brits. Seaside houses start at around $1 million, although you can find inland properties for around $500,000 or less.
Singapore
Singapore's one of the world's great success stories. In the 60s, after leaving the Malaysian federation, the nation faced an insurgency, a housing crisis and economic chaos. Today, it's the richest, most stable, cleanest and greenest country in Asia – and its wealth per adult is the highest in the world.
This young island nation has become a centre of slick modern architecture and infrastructure, whether it's the underground MRT or overground architectural features like Marina Bay Sands. You can guarantee year-round sun and temperatures in the 30s. It's also a 'foodie' capital, renowned for its hawker centres and dishes like chili crab, nyonya laksa and Hainan chicken rice. In fact, two stalls, Hong Kong Soya Sauce Chicken Rice and Noodle and Hill Street Tai Hwa Pork Noodle, hold one Michelin star each.
Singapore's population comprises Chinese, Malay, Indian and Eurasian communities, with a significant addition of two million expats. The official languages are Malay, Mandarin, English and Tamil. In practice, English is the main working language in which all services are available. Healthcare is world-class, while the education system is ranked the best in the world.
Singapore's HDBs or public housing are known world-wide and house most of its population. For foreigners, the main options are 'landed' property – villas and terraces – and 'EC's, or executive condos. Landed sells for around SGD$1-2 million. ECs sell for around SGD$780,000.
South Africa
The 'rainbow nation' is home to over 300,000 British expats, many attracted by the lower property prices, natural beauty of the country, the ease of an English-speaking environment and plentiful flight connections back to Europe. You can find everything here, from city to seaside and rural living – it really is one of the best places to move abroad for UK expats.
Cape Town, with its dramatic backdrop of Table Mountain, is a popular destination for expats looking for career opportunities. Desirable areas include the affluent suburb of Constantia, with its Cape Dutch colonial architecture. The city enjoys access to a number of beaches, including the famous Clifton Beach.
Transferring large sums of money overseas, like to buy a house, leaves you open to losing thousands of pounds to suddenly changing exchange rates. That's why it's so important to lock in a set exchange rate: find out how in the free, Property Buyer's Currency Guide.
Inland is the historic town of Citrusdal, with its charming colonial architecture and magnificent setting in the Olifants Valley. Port Elizabeth in the Eastern Cape is the sunniest spot of South Africa and has a number of excellent beaches, as well as being on the beautiful 'garden route' to Cape Town.
In middle-income areas, you can expect to pay around ZAR1.5 million. In upper-income areas, it would be around ZAR2.9 million.
Thailand
The 'land of smiles' is famous for its warm welcome to foreigners – as well as for its beautiful scenery and rich culture. The south of the country has white, sandy beaches, especially around the famous areas of Chiang Mai and Koh Samui. Other top beach locations include Hua Hin, which is a typical summer resort for well-to-do people from Bangkok, including the royal family.
On the southwest coast, unspoilt Krabi offers a really authentic, slow-paced Thai lifestyle. You'll find dramatic scenery, with steep cliffs, mangrove forests and hundreds of tiny islands. Phuket, of course, is another top destination; the 'Pearl of the Andaman' is an old favourite with Brits for the turquoise waters and plentiful beaches.
For city living, the top choice is, of course, Bangkok. This old Chinese trading post can be chaotic and crowded, but it has a real buzz about it. You're never short of anything to see or do. Even near Bangkok, you can easily buy a luxurious home for around USD$50,000.
UAE/United Arab Emirates
The UAE's utterly transformed itself in a few decades. It's now famous for its ultra-modern cities with gleaming glass skyscrapers and ambitious architectural projects. It's a hub for commercial activity in the MENA region and hosts over 240,000 British expats, largely of working age.
As the name implies, the UAE is a union of seven emirates. The ones which attract the most expats are its capital, Abu Dhabi, and, of course, Dubai. As well as being a destination with strong career opportunities and high salaries, it's ideal for a great lifestyle outside of work. This is one of the best places to move abroad if you like beaches; the sea is warm year-round and they're all sandy. You're also within easy reach of the more traditional Sultanate of Oman for weekend trips, where you can experience authentic Khaleeji culture.
The official language is Arabic, but you can easily get by with English. Most expats live either in apartments or villas. Villas in Abu Dhabi range from AED700,000 to AED10 million. Apartments go from AED600,000 to AED3 million. In Dubai, villas cost between AED1.6 million and AED15 million. For apartments, it's between AED400,000 and AED4.2 million.
Which of these best places to move abroad suits you?
If you've found somewhere to suit your lifestyle here – whether you're looking for a permanent home or a holiday home – don't forget to download your comprehensive emigration guide below. It explains everything you need to know about how to emigrate abroad from the UK.