With great job opportunities, fantastic education and a waterside location that guarantees you'll enjoy spending time outdoors, it's no surprise Auckland is top choice for Brits making the move to New Zealand. It's important to choose a location that ticks every box on your family's wish-list, so today we're running through some of the best family-friendly suburbs in Auckland.
Devonport
This historic suburb is nestled on a peninsula on Auckland's northern shore, enjoying incredible views of Auckland harbour. Devonport offers residents easy access to the city via a 15-minute ferry ride, and a laid-back, villagey-feel despite the bright lights of the city being just across the water. This was another of Auckland's oldest settlements, making it rich in Maori and Maritime heritage while also offering a cosmopolitan lifestyle, with many waterfront cafés, bars and restaurants. As of January 2020, the average cost of property in Devonport is $1.68 million.
Learn what you need to prepare for your family's move to New Zealand by downloading your free Emigration Guide today!
Takapuna
This popular suburb is located just across the waters of Shoal Bay, around a 13-minute drive from Auckland CBD – a dream commute if you ask us! Takapuna is one of the most family-friendly suburbs in Auckland – residents lap up life at the beach and beside Lake Pupuke, where you can kayak, paddleboard, wind-surf, or enjoy a morning run. Takapuna caters to every family need with local shops, playgrounds, restaurants, and a great Sunday Market for picking up organic produce, freshly-baked bread, and treats for coming week's lunchboxes. Additionally, the suburb boasts Takapuna Grammar School, which takes boys and girls and is consistently rated as outstanding. In terms of property, the suburb's location ensures many homes enjoy views of the water. The average property price for a family home in Takapuna is around NZ$1.3 million.
Howick
For city-adjacent peace and quiet, Howick is one of the best choices for families when they move to New Zealand. Located 30-minutes east of Downtown Auckland, this seaside suburb is known for its strong sense of community and for being particularly welcoming to new arrivals. Perhaps that's why  8.5 percent of all Brits who have immigrated to Auckland have set up shop in Howick. This is one of the first corners of the city to be settled, meaning there are a number of beautifully-maintained colonial buildings dotted around the suburb – perfect fodder for teaching the kids a little something about the history of their new home. Howick has its own beach, two 18-hole golf courses, and a footy and rugby club. Also, the suburb has a number of primary and secondary schools, most of which are rated between 7 and 10 (out of 10). According to Barfoot & Thompson, one of New Zealand's leading property agents, the average cost of a three-bedroom property in Howick as of January 2020 is $980,100.
Don't spend any money on your move abroad until you've read

The Currency Guide to Emigration,

 free to download.
Remuera
Remuera is an affluent inner-city suburb, just four kilometres southeast of the CBD. As well as being within walking distance of the centre of the city, Auckland Domain is also only a 15-minute stroll away. Not that you need to venture out of the suburb to find green space – in Remuera, residents enjoy easy-access to Ōhinerau /Mount Hobson volcanic peak, Waiata and Waiatarua Reserves, and the Orakei Basin Reserve which overlooks the sheltered waters of a beautiful bay and is particularly popular for water-skiing. As well as being one of the most family-friendly suburbs in Auckland, it is also one the oldest. Residents will benefit from large family homes, often Edwardian or mid-20th century, on quiet and leafy suburban streets – which is quite something given the city is so close by, and State Highway 1 runs alongside it. As of January 2020, the average sale price in Remuera is $1.38 million.
Milford
If Auckland's North Shore is where your sights are set when you move to New Zealand, Milford – just next door to Takapuna, is a terrific choice. You and your family can enjoy life by the water at their two kilometre long beach, and beside Lake Pupuke. Getting into the CBD is simple, either with a 13-minute drive or a 25-minute train journey, making it a convenient choice for those facing a commute. Again, this corner of the city is particularly renowned for its excellent schools. Takapuna School is a real winner, as is Carmel College, an exemplary secondary school for girls that regularly tops league tables. The average cost of three-bed property in Milford is $1.18 million.
Orakei
Despite offering views of Auckland's skyline and being just 17 minutes from the CBD, Orakei has retained a relaxed village-style vibe that really hits the spot with families when they move to New Zealand. 7.2 percent of Brits in Auckland live in this neck of the woods, ensuring you'll be able to find plenty of expat groups to socialise with while you're settling in. One of the best features of Orakei is that it overlooks Hobson Bay, Mission Bay and Waitemata Harbour, so with most properties you will be treated to glimpses of the ocean. Also, the community is made up of a mixed-bag of families, students, businessmen, and A-List celebs, all of whom are keen to live close to the city (5km east) but also to enjoy a little after work and weekend serenity. Much of the action happens along the Coates Avenue strip or Kepa Road, where there are cafés, bakeries, butchers, grocery stores and medical centres. One of the factors making it one of the top family-friendly suburbs in Auckland is the multiple kindergartens and decent primary and secondary schools, which ensures not only that your children will be able to attend great schools, but that it is also a social spot to meet fellow families. Furthermore, the suburb also offers places to horse ride, enjoy watersports, to take dance, drama and exercise classes, and to get outside for a good run around at Orakei Domain. The average cost of a three-bed family home in Orakei is $1.8 million.
If you have any questions, give the Resource Centre's property specialists a ring on 020 7898 0549 or email 

[email protected]

.
Epsom
If you and your family are seeking an exclusive corner of Auckland when you move to New Zealand, Epsom should be top of the list. The suburb is located 5km south of the CBD, close to other highly-desirable prime locations, including Mount Eden, Newmarket and Greenlane. One of the reasons Epsom property is so in demand is because it is located within the 'Grammar Zone' – granting residents access to Auckland's best schools, Auckland Grammar and Epsom Girls' Grammar School. People are willing to pay a premium to live in Epsom. In fact, similar properties located just outside the 'Grammar Zone' can be as much as $100,000 cheaper. As of 2019, the median home value within the zone was between $1.2 – 1.7 million. Additionally, Epsom borders Cornwall Park and Mount Eden Summit, and is just a short walk from Auckland Domain.
Hibiscus Coast
Head north from Auckland CBD and you'll find the beautiful Hibiscus Coast. This area of Auckland is home to 11.7 percent of the Brits who have already made the move to New Zealand. The popular coast runs from the Whangaparaoa Peninsula up to Waiwera, and is home to a number of the best family-friendly suburbs in Auckland, including Manly, Whangaparaoa, Silverdale, Stillwater, Stanmore Bay, Browns Bay and Mairangi Bay. The natural beauty of this area is perhaps its biggest lure, with sensational beaches, parks and reserves providing an enviable backdrop just 30 minutes' drive from the city. Additionally, the area is known as one of the safest parts of Auckland, it boasts a friendly community, and there are plenty of events, clubs, and community centres, which make it easy to connect with your neighbours. Shakespear Regional Park, Long Bay Regional Park and Long Bay-Okura Marine Reserve are natural highlights, as is Tiritiri Matangi Island, only a short ferry ride away. Should your kids be desperate to get out on the water, Orewa is a great spot for kite surfing and swimming. Also, property is considerably cheaper up here. As of January 2020, a three-bed property in Stanmore Bay will set you back on average $792,350, and $944,680 in Orewa.
Meadowbank
Our comprehensive Healthcare Guide covers how you can access medical attention in 11 countries.
Once a favourite with first-time buyers, Meadowbank has now become a highly sought-after suburb with families due to its fantastic transport links, great swimming beaches, and its similarities to swanky suburbs like Remuera and St Johns, with a more affordable price tag. The suburb is safe and quiet, and boasts its own commercial centre with all your standard high street staples, including banks, bakeries, bars, hairdressers and more. It's also an ideal spot if you plan on spending a lot of time outside – the Orakei Basin Walkway Loop is a great place for a run or walk among the mangroves. Rutherford Reserve and Waiatarua Reserve, the biggest urban wetland restoration project in the country, will also dazzle. Furthermore, the suburb is home to Meadowbank School and Mount Carmel Catholic School – two of the most desirable schools in Auckland. According to Barfoot and Thompson, the average cost of three-bed property in Meadowbank is $1.2 million as of January 2020.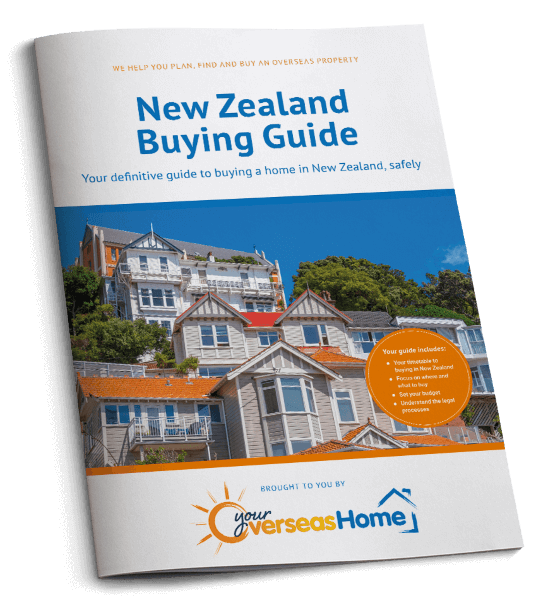 Get all of the key information and advice you need in our online guide to buying a house in New Zealand. You can also download it in PDF format for offline reading or printing. Fill in the form to the right to get your copy.
✔

  Ask the right questions
✔

  Avoid the legal pitfalls
Download your free guide to buying in New Zealand