Are daydreams of living beside the beach when you move to New Zealand keeping you going right now? Just imagine waking up in the first part of the world to see the sun each morning, enjoying more than 2,000 hours of glorious sunshine every year, and making the most of it by taking up the hobbies you've always liked the sound of – surfing, hiking…lazing in a hammock. To help you decide on your New Zealand beachside paradise of choice, we're running through 10 of the best…
1 – Whangamata, North Island
Why you will love it here: It doesn't come much more idyllic than the Coromandel Peninsula, and Whangamata was voted the number one beach in the country by the New Zealand Herald in 2018. The town itself is the definition of 'chill' – surrounded by rainforest, surf breaks and plenty of opportunities to be at one with nature.
Discover how to get healthcare, and how good it is, when you live in New Zealand in our free Healthcare Guide.
This is the ideal spot for people who want to up the ante on their exercise when they move to New Zealand, whether that's by taking up surfing, kayaking along the coast, hitting the hiking trails to visit the areas waterfalls, or playing a round at the town's 18-hole golf course. Also, the town itself is small, so you'll get to know the friendly locals in no time.
Property prices: Most of Whangamata's properties come with ocean views, and the town's setting amongst rainforest ensures properties enjoy privacy. The median home value in the town is NZ$980,000 but it's possible to find three-bed houses on the market from $599,000.
Connections: Whangamata is a two-hour drive from Auckland, an hour and a half from Hamilton and just over an hour from Tauranga.
2 – Russell, North Island
Why you will love it here: If you're searching for a place with a spot of history, look no further than Russell – the first port and European settlement in New Zealand. Here, you get the best of both worlds; a glorious location nestled amongst the impossible beauty of the Bay of Islands, and plenty of cultural action to keep you entertained, including some great galleries and historical monuments. On your doorstep you'll have the Pompallier Mission, the last remaining structure of the French Catholic Mission, and Christ Church, the oldest surviving church in the country. When you're in the mood to get your blood pumping, hit the water – sailing and fishing are popular in this beachside paradise. Make sure you keep your eyes peeled for the town's resident dolphins. Russell is also an ideal spot for cyclists. The Twin Coast Cycle Trail is a serious lure for all lycra lovers.
Learn how to get the most house for your money with the insider tips in our free Negotiation Guide.
Property prices: The median house price in Northland is around $710,000.Three or four bedroom properties overlooking the impossibly blue waters of Waipiro Bay, set in lush gardens, start from around $935,000.
Connections: Northland is a touch isolated, but internal flights are available from Kerikeri, which is an hour out of town. Auckland is a 3.5 hour drive away.
3 – Raglan, North Island
Why you will love it here: Raglan is widely-renowned as the best surf town in New Zealand, but its charms don't end there. This laid-back town has a great little centre, lined with cafés serving up the coffee that makes New Zealand famous and more artisan treats than you can shake a stick at. Make no mistake, this is a healthy place to live – the town's residents are active, eat well, enjoy live music and have a very forward-thinking, eco-friendly attitude. Raglan is also an incredibly green place, and is surrounded by thick forest, national parks and the famous Bridal Veil Falls. The town has a relatively young population of around 3,500, so it's an easy place to make new friends.
Property prices: Medium-sized houses (3-4 bedrooms) in Raglan are listed for $1,223,950 on average. If you're looking for a lifestyle plot or a plot of land to build your dream home on, Raglan could be a good call. Property-wise, Raglan has lots of 1970s homes.
Connections: Raglan is two hours south of Auckland on the west coast of the North Island. Hamilton (and its airport) is 40 minutes away.
4 – Golden Bay, South Island
Why you will love it here: If you're seeking peace and quiet, fresh air and small-town living, check out Golden Bay on New Zealand's South Island. You'll wake up every morning surrounded by impossible natural beauty – Wharariki Beach, Pupu Springs, Farewell Spit, plus Kahurangi and Abel Tasman National Parks are right on your doorstep. You won't know which direction to point your hiking boots at first! Golden Bay is also an ideal place if you're seeking serious sunshine, but you still want to be close to the natural wonders of the South Island. The town basks in approximately 2,200 hours of sunshine each year. Also, Golden Bay is in New Zealand's Marlborough region, and we all know what that means…world class wines!
Read your New Zealand Viewing Trip Guide so you're up on what to look out for if you're seeing properties.
Property prices: This is another fab spot for rural lifestyle properties. For a four-bedroom house on around five hectares, prices start from $700,000.
Connections: Golden Bay is an hour and 40 minutes' drive from Nelson, and just over three hours to Picton, from where you can hop on the ferry to Wellington in the North Island. Both Nelson and Wellington have airports.
5 – Mount Maunganui, North Island
Why you will love it here: 'The Mount' is another dreamy spot located on a peninsula rimmed with white sand beaches, just a 10-minute drive from downtown Tauranga. Residents enjoy the best of both worlds: city living combined with beachside bliss. Mount Maunganui town has plenty of decent bars, restaurants, cafés and shops. Plus, it is surrounded by countryside, with more than enough peaceful pockets to keep you entertained. Highlights include the walking trails found on the headland itself and Moturiki Island, which is a dream spot for sunbathing and surfing. The locals are a mixture of all ages, but they do have one thing in common – a passion for keeping fit. This is just the place to take up paddle-boarding, sunrise yoga, or beach running.
Property prices: The average sales price for a small home (1-2 bedrooms) in Mount Maunganui is $958,350.
Connections: Being so close to Tauranga, getting anywhere in the North or South Island is easy from Mount Maunganui.
6 – Dunedin, South Island
Why you will love it here: This is an excellent choice if you want to enjoy life at the beach, but also need to be somewhere with viable job prospects to allow you to flourish when you move to New Zealand. Although technically a city, with a population of around 115,000, Dunedin manages to retain that small-town vibe, and you'll be able to snap up job opportunities in publishing, tech, education, manufacturing and research. In Dunedin, you can while away days at the beach, or enjoy the delights of the city centre, which include a bevy of second-hand shops, art galleries, markets, bars and lots of affordable dining options. The Asian food here is seriously good! The population is real mixture of ages, from students to families and retirees, so you're sure to find your tribe.
Property prices: The median cost of property in Dunedin is $731,000.
Connections: Dunedin may be 3.5 hours from Queenstown and 4.5 from Christchurch, but the scenery you'll experience en route is more than worth the time behind the wheel. It is also a great place to jump off and explore the delights of the deep south, including places like Invercargill, the Catlins, Bluff and Fjordland National Park. Dunedin also has its own international airport should you need to get from A to B a tad quicker.
7 – Napier, North Island
Why you will love it here: Choose Napier as your beachside town if you're in the market for miles of beautiful coastline, a dry and warm climate and a decent population of around 60,000. Located in New Zealand's incredible Hawke's Bay region, Napier's cost of living is far lower than in most of New Zealand's bigger cities. Plus, the wine here will blow you away. Napier is the fifth sunniest spot in the country, which means both winters and summers are an enjoyable affair. The art deco spot boasts a range of great bars and restaurants, and job opportunities abound in manufacturing, forestry and textiles.
Property prices: The median cost of property in Napier is around $796,206 as of July 2021.
Connections: Gisborne is three hours' drive north, and both Palmerston North and Taupo are around two hours away. Hawke's Bay Airport is located a nine-minute drive out of town.  
8 – Hokitika, South Island
Why you will love it here: Hokitika was founded during New Zealand's gold rush back in the 1860s, so it's an ideal spot for history lovers keen to learn more about the gold miners, hunters and pirates that used to cruise these shores. Plus, the small town is located in the South Island's wild west coast, amongst some of the most incredible scenery in the whole world. This is a dream base for hikers as it is surrounded by the glaciers and rainforest of Arthur's Pass and Mount Cook National Parks. Hokitika Beach is as stunning as it gets, with its black sand and jade waters. Downtown is home to art galleries and many a shop selling local arts and crafts. The town is also famous for its raucous annual Wildfoods Festival, which celebrates food that can be found and foraged locally.
Property prices: Good news – property in this gorgeous corner of the country weighs in at a median price of $481,350.
Connections: Hokitika is three hours' drive from Christchurch. Fortunately, the town has its own domestic airport…make sure you ask for a window seat, as the views from the plane will be superb.
Don't spend any money on your move abroad until you've read

The Currency Guide to Emigration,

 free to download.
9 – New Plymouth, North Island
Why you will love it here: If you're searching for a location that will quench your artist thirst when you move to New Zealand, New Plymouth will be right up your street. The town is known for having the most thriving arts scene in the country, so expect galleries, art shows and local crafts galore. Located in the Taranaki region in the North Island's west coast, New Plymouth flies relatively under the radar, but has a whole lot to offer that ensures that won't be the case for long. Move here and enjoy incredible coastline overlooking the Tasman Sea, and proximity to the 'Surf Highway' coastal road – a 105km stretch of more than 100 surf beaches, coves and black sand dunes. When you've worn yourself out on the water, refuel and toast the day in a fine selection of restaurants, cafés and bars. Plus, Mount Taranaki dominates the skyline, which isn't too shabby.
Property prices: The median price of property in New Plymouth is around $631,779.
Connections: The nearest big city is Hamilton, which is a three hour drive away. You can catch a flight to Auckland, which takes two hours 45 minutes.
10 – Kaikoura, South Island
Why you will love it here: For laid-back vibes in a hip beachside town try Kaikoura on the east coast of the South Island. Kaikoura's natural backdrop is hard to beat; rolling farmland, snow-capped mountains and views of the South Pacific Ocean, where whales and dolphins regularly pass by. Plus, there's whole colonies of local penguins and seals to make friends with. This is an arty, welcoming town where something is always happening at a bar or gallery.
Property prices: For a property in Kaikoura overlooking the water expect to pay a median price of $564,500.
Connections: Christchurch is just over two hours away by car.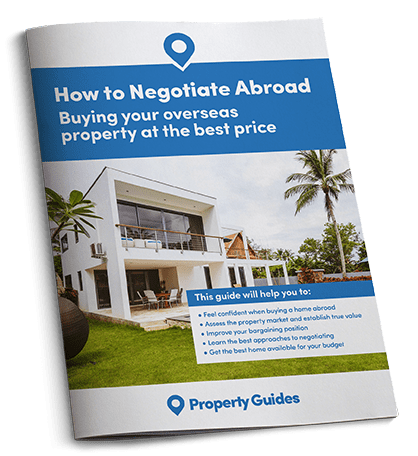 How to negotiate abroad is the guide to put you back in control:
✔

  Feel confident when buying a home abroad
✔

  Assess the local property market
✔

  Improve your bargaining position
✔

  Learn the best negotiating tactics
Download your free Negotiation Guide