As the days get shorter, who doesn't dream of swapping the British winter for a Kiwi summer? The good news is that, as of October, New Zealand has introduced a 6-month visa for UK citizens – so you can do just that!
As of October 2019, New Zealand instigated their new visa rules, which could make a part-time move to New Zealand possible for British expats. Under the new rules, New Zealand have identified 60 visa-waiver countries, who no longer need to apply for a visa to visit the country. Instead, visitors will need to apply for New Zealand Electronic Travel Authority (NZeTA) to enter the country. Similar to the USA's ESTA visa, the NZeTA allows visitors multiple entries to New Zealand over a two-year period, at which point, you need to reapply. While most of the visa-waiver countries are only allowed a stay of three months, if you are a British passport holder, you are automatically allowed to stay in New Zealand for six months at a time. So, you know what that means – eternal summer! Today, we're running through the perks of this six-month visa, its limitations, and how expats will benefit from this option. We're also taking a look at whether investment in property is possible for foreign investors, and what options might work for you.
Don't look at properties without familiarising yourself with our advice from industry insiders in your free New Zealand Viewing Trip Guide.
How do I apply for the NZeTA?
Applying for you NZeTA couldn't be easier! Your NZeTA application must be completed online or via the Immigration New Zealand NZeTA app. The application fee is NZ$12 per individual on the website, or NZ$9 if you download and use the official app. In addition, each applicant is charged NZ$35 for the International Visitor Conservation Tourism Levy (IVL). Over the first five years, officials are predicting that this levy will bring NZ$450 million to the country. This income will be used to protect New Zealand's precious natural environment and to improve the tourist infrastructure. The new system is designed to be quick and easy, allowing applicants to get their visas issued within just 10 minutes, although officials advise applying for the NZeTA a minimum of 72 hours prior to travel. Additionally, you must make sure that your passport is valid for at least three months longer than your expected departure date. One point to note is that NZeTA's will also be compulsory even if you are just passing through the country en route elsewhere.
While most visa-waiver countries are only allowed a stay of three months, if you are a British passport holder, you are automatically allowed to stay in New Zealand for six months at a time.
How can I use the NZeTA?
While the NZeTA allows British citizens to be in New Zealand for six-months at a time, it's important to note that you must only enter the country in a tourist capacity. The NZeTA is designed for people who want to enjoy all that New Zealand offers – scenery, culture, adventure activities and so on. It is also ideal for visitors who want to spend an extended period of time with children or family who have made the move to New Zealand permanently, but who don't wish to settle in New Zealand on a permanent basis themselves. Please note – the NZeTA does not allow you to engage in paid employment, and it also doesn't grant you residency in any capacity. Therefore, the NZeTA is the perfect option if you are planning to spend time in New Zealand every year, but do not have long term plans to settle in the country. Under the NZeTA, you will only be able to stay for six months within any 12-month period.
Can I buy a holiday home in New Zealand?
If you are going to be spending six months every year in New Zealand, the obvious question is whether you can buy property in the country to live in while in town. While once there were no restrictions on foreign buyers buying New Zealand property – the laws have changed in the last couple of years under the Labour government, to restrict foreign investment in the country. These law reforms were introduced to slow down soaring property prices and to prevent New Zealanders being priced out of the property market, particularly in highly in demand locations like Auckland.
The Overseas Investment Amendment Act came into force in October 2018. It was introduced primarily to prevent non-residents from buying existing property that they had no intention of living in. Under this act, any non-citizens wishing to buy property in New Zealand now need to make an application to the Overseas Investment Office(OIO). According to recent information released by Statistics New Zealand, the number of sales made to people who don't hold New Zealand citizenship or residency fell by 80 percent since the law was passed. The OIO anticipate that this number will continue to decrease. British people were the primary group applying for consent to buy New Zealand property, followed by the Chinese.
Our comprehensive Healthcare Guide covers how you can access medical attention in 11 countries.
So non-residents can still buy property in New Zealand?
Yes, absolutely. Don't be disheartened by the fact that property ownership is being more tightly governed. There is still a way of making your dreams of owning New Zealand property a reality, it is just a little bit more paperwork than before (or, a little bit more online work, really). Non-residents are still able to buy New Zealand property as long as it is an apartment, located in a new development, or it is being bought off-plan. This property should be an investment, which you rent out. Whether or not you can live in the apartment for the six months of the year that you are in the country, is a matter for the OIO to decide on a case-by-case basis. This handy chart from the OIO outlines what investments in property are still possible for those who aren't legally resident in New Zealand.
What types of property can I buy as a non-resident?
One type of property that you can buy and live in without needing to obtain consent is a development that holds a transitional exemption certificate. You must be the first buyer of the property, make the investment before construction is complete, and must settle before 22nd August 2023. Here is a list of developments that have this transitional exemption certificate. As you can see, there are a lot of options available, but they are primarily located in Auckland. Under the terms of the exemption certificate, developers can sell 60 percent of their properties to overseas people. Prior to the sale, make sure that the developer provides you with a copy of this exemption certificate for your own records.
In certified developments, 60% of properties can be sold to overseas residents.
If you're looking to buy New Zealand property solely as an investment, as a way to provide rental income to support your six-months stay in New Zealand each year, there are ample investment opportunities available – just remember, you won't legally be allowed to live in the property. Additionally, it is still possible to buy an off-plan apartment even if the developer is over the 60 percent limit. To do so, you must apply to the OIO for one-off consent, which costs around NZ$2,040. In order for your application to be successful, the development must fit certain criteria. For example, it must be part of one development that has one or more multi-storey buildings, featuring 20 or more apartments. In this instance, you will own the property as an investment, rather than as a place to live in, and might be required to sell it on within a certain timeframe defined by the OIO.
If you have any questions, give your property specialists in the free Resource Centre a ring on +44(0)20 7898 0549 or email 

[email protected]

.
If you do not meet the requirements outlined by the OIO but you buy New Zealand property anyway, you can face significant penalties, and may be ordered to dispose of the property. Also, getting a New Zealand resident to buy property on your behalf to get around the rules is not advised.
Is Auckland a good place to invest in New Zealand property?
Auckland remains the most popular city in New Zealand with foreign investors. Not only does it have the highest number of new developments that non-residents are allowed to invest in, but the city's international connections, job opportunities, amenities, culture and educational opportunities offer enormous appeal to renters. Plus, with 1.6 million residents, Auckland is home to a third of New Zealand's entire population…many of which are looking for that perfect rental property. Since the law was changed, we have seen the average cost of property in Auckland decrease. As of August 2019, the median sales price for Auckland property was NZ$820,000 (£406,360), and the average rental return stands at 4 percent, so you could make some money from your property while you're not using it, too. According to Crockers data, some suburbs, like City Bays and Birkenhead, have seen rental growth of up to 20% between 2018 and 2019. New Zealand could be a lucrative market for investors, then, as much as the perfect place to enjoy six months of sun.
To find out more about managing your money for a move to New Zealand, don't miss your free Property Buyer's Guide to Currency, below.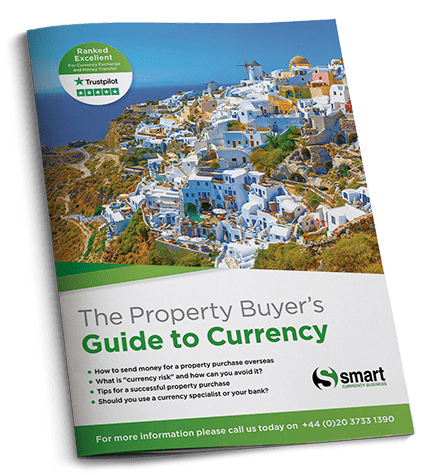 The Property Buyer's Guide to Currency will help you:
✔

  Understand the currency markets
✔

  Protect your property budget
✔

  Use a Currency Specialist
✔

  Learn from other overseas property buyers
Download the Property Buyer's Guide to Currency