It's probably because your kids are your priority that you're moving to New Zealand in the first place. As well as a fabulous new lifestyle, your kids should enjoy a first-class education.
Good news! The education system in New Zealand is exemplary, and as there is no language barrier, finding your children a good school to attend should be easy. While your kids will undoubtedly be nervous about starting school in a new country, it's one of the best ways to help your whole family feel more settled. It's a great way to integrate into the local community, to discover events, sports teams and to make friends. Today we're answering some key questions about how the school system works in New Zealand so that you and your children will have more idea about what to expect.
New Zealand has one of the best education systems in the world.
New Zealand's educational system
New Zealand has one of the best education systems in the world. It is consistently ranked highly in the UN's Human Development Index, which takes into account education, life expectancy and per capita income. Last year, the World Economic Forum released its Global Competitiveness Report and New Zealand ranked 9th in terms of countries with the best education systems. The UK didn't make the Top 10!
New Zealand's ethos is to "give everyone a fair go", so it makes sense that the country's school system is well funded. The vast majority of parents are happy to send their children to state schools. The education system focuses on practical as well as academic achievement, on being open-minded and letting children explore their strengths in order to learn in the best way possible.
Academic year
The academic year starts in late January/ early February and runs until early/ mid-December. Just like the UK – the end of the school year is timed to coincide with the summer break.
Types of schools in New Zealand
The three main school types found in New Zealand are state, state-integrated and private schools.
State schools are the most common and are responsible for educating around 85% of the population. There are also state-integrated schools, which are former private schools that have integrated into the state school system, while retaining their 'special character'. Many of these schools are Roman Catholic. Just over 10% of children are educated in state-integrated schools, while 3.6% of New Zealand's school population is at a private school.
There are two more types of school: Charter Schools, which are state funded but privately run, and Vote Education schools, which are directly funded out of New Zealand's education budget. Between them, these schools educate just 0.1% of students.
Curriculum and qualifications
If your child attends a state, or a state-integrated school, they will follow New Zealand's National Curriculum. This has eight levels and eight major learning areas, including: English, languages, mathematics and statistics, science, technology, the arts, health and physical education and social sciences. While at secondary school, your children will work towards the National Certificate of Educational Achievement (NCEA). Some schools may offer Cambridge International Examinations or the International Baccalaureate. The NCEA is transferable, which means that if your children wishes to return to the UK to attend college or university, the qualifications they have achieved in New Zealand will allow them to do so.
Stages of education in New Zealand
Early childhood education
While not compulsory, 95% of children in New Zealand will attend early childhood education (ECE), which is the equivalent to nursery school. Between the ages of three and five children can attend ECE for 20 hours a week for free.
School is free in New Zealand between the ages of five to 19 and compulsory between the ages of six to 16.
Primary and secondary schools
School is free in New Zealand between the ages of five to 19 and compulsory between the ages of six to 16, as long as you are a New Zealand citizen or permanent resident. Your child will be able to start school on the day that they turn five – they don't have to wait for the start of the school year.
Primary education lasts from age five to 12 (Year 1 to Year 8). Secondary education starts in Year 9 and goes up to Year 13 (13-17 years of age). During the senior years of secondary school (between age 15-18), students can start specialising in a vocation. It's possible to attend a polytechnic or an Institute of Technology, where they can complete vocational training, introductory studies, or degrees.
Does New Zealand have catchment areas?
Most children attend school close to where they live. The system here is called 'zoning', and if you live within the zone of the school, your child is guaranteed a place. Should you want your child to attend a school in a different location – you are allowed to apply, but there is no guarantee that there will be a place available. Where you are able to send your children will depend upon the area, but in most towns and cities you have the option for mixed or single-sex schools.
Universities in New Zealand
New Zealand has eight state funded universities and every single one is listed in the QS World University Rankings 2018, which lists the world's best universities. There is a huge range of courses available and all degrees are recognised internationally. The government partially funds education, so students end up paying around 30% of the cost of their course. Students are able to take out a government loan that they won't have to pay back until they start earning.
Okay, so you know the schools are great, but how does New Zealand healthcare shape up? Read our brand new guide: Healthcare Abroad 2018.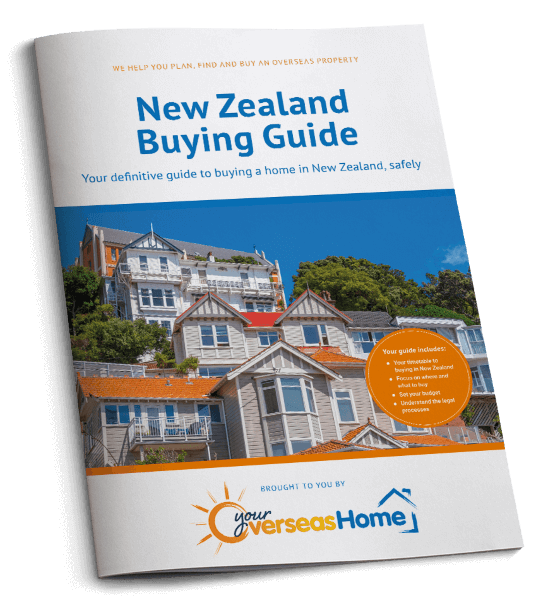 Get all of the key information and advice you need in our online guide to buying a house in New Zealand. You can also download it in PDF format for offline reading or printing. Fill in the form to the right to get your copy.
✔

  Ask the right questions
✔

  Avoid the legal pitfalls
Download your free guide to buying in New Zealand