When you've found that dream home and it's time to buy, chances are you'll need to secure a mortgage to do so. We investigate how mortgages work in New Zealand, how you can lock yours in and reveal what actions you can take to make the process smooth and easy.  
How do mortgages work in New Zealand? 
Just like in the UK, New Zealand mortgages are offered by banks and other lenders such as building societies and specialist home loan companies. Several banks have managers who are specifically trained to work with migrants, and are therefore entirely clued up on what hoops you'll need to jump through to secure the loan you need. One route you could choose to go down is to enlist the services of a mortgage broker to act as a middle man between you and the lender. As the ease with which you will be able to get a mortgage in New Zealand will depend on your financial and visa status, in some instances, employing an expert to help you secure the loan might be the best, and most hassle-free, approach. In some cases, they will also have access to a range of mortgages not available to the general public.
Brush up your bargaining skills by reading our free Negotiating Guide.
Are non-residents eligible for New Zealand mortgages?
If you've been keeping abreast of the rules applied to property purchases in New Zealand, you'll know that stricter laws have been passed to restrict who can and can't buy property in the country. Where once, non-residents could snap up whatever property that caught their eye, now non-residents are mostly restricted to new build properties, and in some instances will have to apply for permission to buy property from the Overseas Investment Office (OIO). We've written in more depth about these rules here (*link to non-resident buyer rules rewrite article submitted in Feb*). Also this handy tool provided by the government allows you to enter your residency status and intentions for how you plan to use the property you buy in New Zealand, and it will tell you whether you are eligible to buy.
These stricter rules applied by the government also apply to lending, which means it securing a mortgage might require a little more legwork. If you're a citizen or a permanent resident of New Zealand, securing a mortgage will be straightforward (as long as you have the funds and your finances are in check). If you fall outside of that bracket, it will still be possible, it will just be harder, and will depend on your specific situation and financial circumstances.
Generally, lenders split potential buyers into two categories and these dictate what criteria you must fulfil to secure a loan.
Mortgage Category One: Permanent Residents.
In this instance, your bank or lender will provide the exact deal offered to New Zealanders, which includes loans of up to 95 percent of the property value.
Mortgage Category Two: Work Permit.
If you have a permit to work in New Zealand and are en route to becoming a permanent resident, you will be able to secure a mortgage, you will just be expected to make more of an initial outlay to demonstrate your financial commitment to the country. You should be able to secure a loan of 70-80 percent of the purchase price with a little shopping around, although some lenders will require up to 50 percent as a deposit.
If you are a non-resident buyer or you fall into Category Two, we recommend speaking to a mortgage advisor or broker within New Zealand.
If you are a non-resident buyer or you fall into Category Two, we recommend speaking to a mortgage advisor or broker within New Zealand. They help people secure mortgages every day and will therefore know important up-to-date information, such as which lenders are offering mortgages to non-residents. A quick chat with someone who works in the field on a daily basis could be useful for clearing up any uncertainty about whether securing a New Zealand mortgage is possible for you.
What types of mortgages are available in New Zealand?
Much like the UK, there are a selection of mortgages available in New Zealand. The best one for you will depend upon your circumstances. Here is a brief summary of the main types:
1 – Table loans (most common)
The majority of the early payments you make will go towards paying off interest, and later payments will pay off the loan itself.
2 – Revolving credit loans
This type of mortgage is similar in style to a large overdraft. You will arrange for your income to be paid into a mortgage account and you pay your bills out of it. This type of mortgage allows you to keep your loan low and helps reduce the amount of interest you end up paying.
3 – Straight line or reducing loans
Each payment you make is the same amount and goes towards paying off the principal amount of the loan. The amount of interest you pay reduces over time.
4 – Interest only
On an interest-only loan, at first your payments will only cover the interest. You will not have to start repaying the loan itself until an agreed point in the future.
What costs are associated with a NZ mortgage?
The amount your deposit will be depends on what the price of the property is. For example, if your lender has offered you a 70% mortgage for a property worth NZ$500,000, you will require an initial deposit of $150,000. Generally, if you can provide a sizeable deposit, you pay less interest. Expect to pay a higher rate of interest for loans of 80 percent of the property price and above. Additionally, some banks will charge you a monthly fee for lenders mortgage insurance (or the interest rate might be increased to cover this). They may also insist that you take out income protection insurance, so you will need to factor that fee into your budget for the property.
What documentation is required to secure a NZ mortgage?
To secure a mortgage to buy New Zealand property, you will be asked to provide the following:
1 – Identification: A copy of your passport and your visa.
2 – Evidence of income: One or more of the following – a recent payslip (if it shows annual salary), or three of your most recent payslips, a letter from your employer confirming how long you've been employed and how much they pay you, two years' worth of financial accounts gathered by a registered chartered accountant (this usually applies to the self-employed), or a tax assessment from your local tax authority for the most recent year.
Be aware that if you are self-employed, it will be more difficult to secure a mortgage than if you are employed by a Kiwi company. Again – it's not impossible, so don't be disheartened, it will just require very thorough proof of your financial status and the stability of your income. The more proof you can produce of your credit history and reliability to repay loans, the better. So even if buying property in New Zealand is a little way off – start thinking about how you can provide that information right away.
3 – Proof of deposit: Via account statements or deposit certificates.
As you're applying for credit in a country where you don't yet have a credit history, it's useful to be able to provide as much proof of your financial status and stability as possible. We recommend compiling the following documentation and taking it with you when you approach a bank or mortgage lender:
Bank statements – Showing a comprehensive and accurate financial history (a minimum of three months' worth).
Loan statements – If you are or were paying off a loan in your home country, bring these statements as evidence of regular repayments.
Evidence of all income – From employment, international income (i.e. rental payments for a property in the UK), and income from assets.
Proof of assets – If you currently own property, or have investments that provide you with income, this can help you to secure you a mortgage because it acts as concrete proof you have capital available to pay back the loan.
How do mortgage interest rates work in New Zealand?
When it comes to New Zealand mortgages, there are two types of interest rates of offer:
Fixed: Where the interest rate for your loan stays the same for a specific time-period (i.e. one – five years), which is decided when take out the loan. At time of writing, the median interest rate for a five-year fixed rate mortgage according to GoodReturns.co.nz – one of New Zealand's leading financial websites, is 4.59 percent.
Floating: Where the rates of interest you are required to pay fluctuate depending on how the market is performing. At time of writing, the median current floating mortgage rate in New Zealand is 5.34 percent.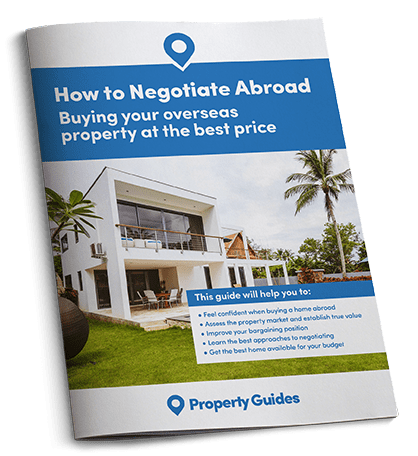 The Property Buyer's Guide to Currency will help you:
✔

  Understand the currency markets
✔

  Protect your property budget
✔

  Use a Currency Specialist
✔

  Learn from other overseas property buyers
Download the Property Buyer's Guide to Currency