Seeing as you're considering a move to New Zealand, you've probably come across articles discussing the importance of heating your home properly. New Zealand property doesn't always come with insulation or central heating as standard. In fact, at least 600,000 households in the country have inadequate or no insulation at all.
The Energy Efficiency and Conservation Authority (EECA) has reported that most people that rent end up relying on plug-in electrical heaters, which are costly to run; unflued gas heaters, which can be a health hazard; or they simply suck it up, whack on an extra jumper and pair of socks and pray for spring to roll around as fast as possible.
New Zealand property landlords have until July 2019 before insulation becomes compulsory within all rental properties.
Recently, the government announced that New Zealand property landlords have until July 2019 before insulation becomes compulsory within all rental properties. Therefore, as there are still two more years where you could end up facing icy winters inside your home, today we're looking at how to save money, while heating your property.
Why do I need a warm, dry home?
There are a number of reasons why you don't want to take on a property riddled with damp. Firstly, these properties are harder to heat. Secondly, a damp home can lead to respiratory infections and conditions like asthma. Currently, as much of the New Zealand property that doesn't have insulation or heating belong, or are rented to, those on low-incomes, these health conditions are more common for people within that demographic. Finally, a damp home is the perfect environment for mould and mildew to thrive – and this can end up costing a fortune when you need to get it fixed.
In addition, damp air will take up more energy to heat than dry air. Consequently, cranking your heating up to the max will just be a waste of money if you're failing to address the cause of damp in the home. Be sure to check guttering, plumbing and drainage before you take on a property.
Home heating mistakes to avoid
1 – Burn the right wood
Many properties in New Zealand are heated by wood burners. Therefore, you will need to buy the right wood to burn. You will need to track down seasoned firewood, which is wood with less than a 25 percent moisture content. Where possible, you should buy the wood months in advance and dry it out yourself, but if this option is not available, you can buy seasoned fire wood for slightly more. All wood should be cut to burn efficiently and with minimum pollution. As a guide, each log should fit through a 11cm hole.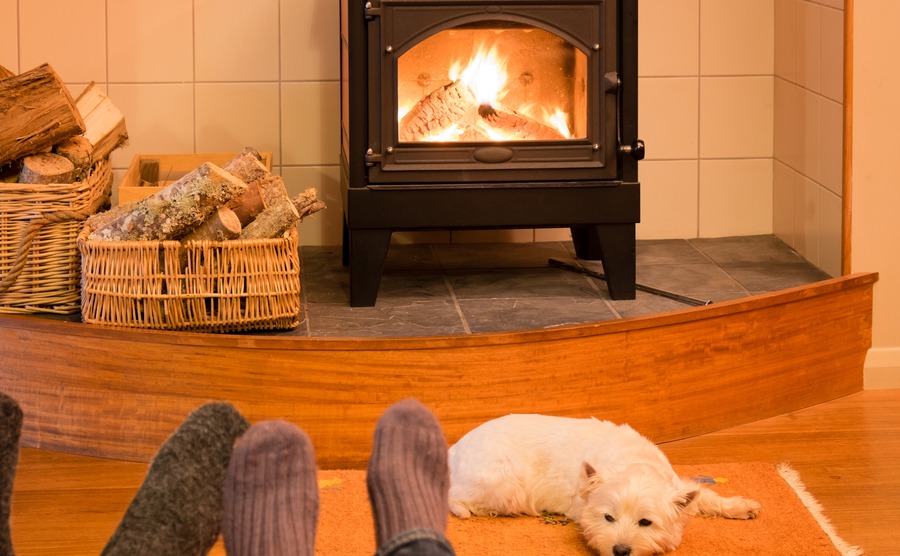 2 – Don't rely on plug-in heaters
Plug-in heaters cost significantly more to run than other options you find in New Zealand property like wood burners, heat pumps, whole-home central heating or natural gas fires. While the outgoing cost is considerably more for these latter options, they will more than pay for themselves in their lifetime – making it a sensible decision to make the investment. If you insist on sticking with a plug-in heater, or it is your only option at the very start, always buy a plug in with a fan as they are the most efficient.
3 – Use your heat pump properly
While the temptation is always there to crank your pump up to the max in a bid to heat a room faster, this isn't how it works. Set the pump to the temperature you want the room to be only and let it do its thing. Also, you will need to perform basic pump maintenance every three months. You do this by removing the filter from the unit and hoovering it. Make sure there is no debris or rust on both the inner and outer units.
You may find that cold callers come knocking, offering to service your heat pump, marketing it to new arrival as an 'absolutely must-have'. These services are very expensive. As per the instructions above, performing your own heater maintenance is quicker and far less costly.
Getting a good deal is often a question of good planning and research. Download our guide: How to Negotiate Abroad to give yourself a head start.
What are my heating options?
1 – Heat pumps
These are a highly popular and energy-efficient option that's popular with tenants and homeowners. You should seek the advice of a heat pump expert to ensure you buy a pump that suits your property.
2 – Central heating
This works just as it does in the UK – moving heat around the property via hot water pipes, radiators and air ducts.
3 – Electric heating
Be warned – electric heaters may be cheap to buy, but they are costly to run. Panel heaters tend to be the most popular, but they are far from the most effective product on the market. Blow heaters are another option, which are particularly handy if you need to heat rooms up fast. Avoid radiant-heaters where possible. While they are good for heating large rooms, they present a fire risk and are dangerous to have around children.
If you spend a lot of time at home, underfloor heating is a great option for winter months.
4 – Underfloor heating
If you spend a lot of time at home, underfloor heating is a great option for winter months. You will need to make sure that the cables or water pipes that provide the heat are well-insulated to avoid losing valuable heat. Do be warned that underfloor heating requires a lot of initial energy to crank it up to the desired heat.
5 – Wood and pellet burners
If you have space to store fire wood and are happy to build a fire every day, this could be the option for you. These provide a lovely ambience to a home and give off lots of heat.
6 – Plug-in heaters
Plug-ins are cheap to buy and perfect for heating small spaces, like bedrooms or a study. For larger spaces, you should consider alternative options.
What is the best heater on the market?
A recent survey conducted by consumer.org.nz found that natural gas central heating is the most cost effective and energy efficient at an average of 9.2c per kWh. While this is the best option once it's installed – you'll need to factor in the installation cost into your budget and a daily charge of $1.50 (78p) per day for natural gas.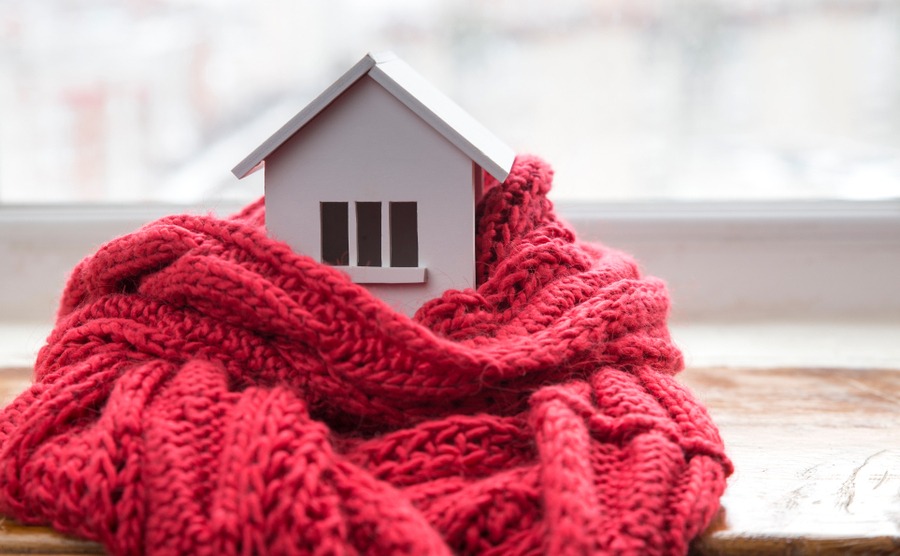 If you're not concerned about heating the whole house, just a living area – heat pumps, wood burners and flued natural gas fireplaces are all excellent options. Essentially, your choice will come down to personal preference. For example, do you like the ambience of a wood burner? Or, if starting a fire every day sounds like a pain in the neck, you can set a heat pump to come on at a certain time so you never wake up or come home to a frosty property.
Are there any heating options I should avoid?
Unflued LPG heaters are by far the worst option on the market. Not only are they three times as expensive to run than a heat pump, but they pose serious health risks if the property does not have sufficient ventilation. Where possible, follow the advice of consumer.org.nz and don't use this option.
How do I know which option to choose?
To get advice from an impartial professional, contact your local council. Many provide free in-home advice about how to best heat your New Zealand property.
You can also reach out to a certified Home Performance Adviser or contact an Eco Design Adviser. They are not trying to sell you any product and are able to provide a free one-hour consultation to help you establish your best options.
We recommend contacting your local council to get the right advice when you arrive in New Zealand.
Additionally, it's worth noting that the EECA offer insulation funding for those on low incomes in rental New Zealand property. You may also be able to establish a deal with your local council which will allow you to pay insulation and heating costs as part of your usual bill. We recommend contacting your local council to get the right advice when you arrive in New Zealand. They will assist you in ensuring you have the best system in place and the best deal for your needs.
Tips for making your property easier and cheaper to heat:
1 – Battle moisture
A damp home is harder to heat, so make sure you tackle any damp head on. You can also reduce moisture in the air by using lids on your pots when cooking and keeping your kitchen (and bathroom) doors shut while there is steam present. Avoid portable LPG heaters as they are costly to run and they fill the air with moisture.
2 – Switch suppliers
It always pays to shop around to get the best deal. In some parts of New Zealand, there can be a difference of almost $1,000 (£520) between the cheapest and the most expensive electricity supplier. Visit powerswitch.org.nz to check whether you're getting the best deal.
Furthermore, the cost of wood for your burner can vary depending on your supplier, even within the same city. Shop around to find the cheapest product.
3 – Don't scrimp on the curtains
Get yourself some floor-length curtains and blinds that provide an effective seal around all sides of the window. You'll be amazed at the difference a well-fitted pair can make! Another great option is to invest in lots of cosy rugs to provide floor insulation – and they look great too!