Moving to a new country is a big adventure for most kids – a bigger house, lots of space to play in outside, new places to explore… However, at some point, it is 'back to school' time, so you need to be organised in advance to make sure everything goes smoothly. Fortunately, New Zealand's a relatively simple transition, as education in New Zealand is based on the UK's system (and there are no real language barriers). Here's what you need to know about schooling in NZ.
Overview of education in New Zealand
New Zealand's education system is largely structured like in the UK. Primary school, however, lasts a little bit longer. Here's a breakdown:
| | | |
| --- | --- | --- |
| Age | Section | Years |
| 0 until 4 to 5 | Early childhood education | — |
| 4 to 5 until 12 to13 | Primary education | Year 1 to Year 8 |
| 12 to 13 until 17 to 18 | Secondary education | Year 9 to Year 13 |
There are three main types of school in New Zealand.
State schools are entirely funded by the government and have no fees. Your child will follow the national curriculum in these schools.
State-integrated schools are former private schools that have joined the state sector and teach the national curriculum. They do, however still retain private ownership of their building. They generally charge (affordable) 'attendance dues'.
Private schools are independent schools (they're generally not called 'public' in NZ). They do not have to follow the national curriculum and can set their own fees.
Schools in New Zealand officially have the choice to be English medium, Māori medium or bilingual. In practice, you likely won't have an issue with this – only 15% of non-Māori children attend a bilingual or solely Māori-medium school. Check with your headteacher for their policy.
School year
As New Zealand's in the Southern Hemisphere, the seasons are opposite to in the UK. The summer holidays are therefore around Christmas. The school year starts between the end of January and start of February (ie the end of summer) and runs through until around 20th December. There are four terms of around ten weeks, with holidays between them.
Schools also close for Waitangi Day, Good Friday, Easter Monday, Queen's Birthday and Labour Day. Most other public holidays already fall in the school holidays.
Early childhood education (ECE)
Early childhood education in New Zealand is either 'teacher-led' or 'parent-led'. Teacher-led means 50% of the staff is qualified as an ECE teacher, while parent-led is led by parents, family or whānau (Māori extended family).
The most common type is a kindergarten. This runs between 2 to 5 years, with morning and afternoon sessions. If you live very remotely without access to ECE, you can also enrol a child in Te Kura. This is a correspondence school with learning programmes for children between 3 and 5 years old.
Private schools chiefly set their own terms, often slightly shorter.
Primary education in New Zealand
Some primary schools take Years 1-8. Other take up to Year 6 and pupils then attend an Intermediate School for the next two years. At this stage, schools normally begin at 9:00am and finish at 3:00pm. If you live far from a school, your child can attend Te Kura, which is a correspondence school.
Some primary schools take Years 1-8. Other take up to Year 6 and pupils then attend an Intermediate School for the next two years. At this stage, schools normally begin at 9:00am and finish at 3:00pm.
Your children will work towards the 'key competencies' in the New Zealand national curriculum. These are:
Thinking
Using language, symbols and text
Managing self
Relating to others
Participating and contributing
They'll learn these through the eight main learning areas of primary education in New Zealand. These are English, the arts, health and physical education, languages, mathematics and statistics, science, social sciences and technology.
There's a big focus, as in the UK, on cognitive skills. Rather than rote learning, the teacher will encourage your child to ask questions and develop inquisitiveness.
They'll be informally assessed against the National Standards by their teacher twice a year. You'll get a report then with their progress in reading, writing and maths.
You'll soon come to recognise the 'reading colour wheel'. This tracks their progress from magenta (the beginning stages) through to becoming a confident reader at gold.
Homework policies depend on the school – you'll find this out from their class teacher.
Make sure you don't miss out any of the essential steps of moving to New Zealand by reading our free Emigration Guide today! 
Secondary education in New Zealand
Secondary education runs from Year 9 to Year 13. However, it's only compulsory until Year 11. As in the UK, your child will change from having one teacher to lots of specialist teachers.
The school day normally starts at 8:40am and finishes at 3:20pm. However, this can vary from school to school. If you live very rurally without a nearby school, your child can enrol in the national correspondence school, Te Kura.
When your child enters Year 11, they'll study the core subjects of English, Maths and Science, but will also have the choice of three other subjects. In Year 12, only English is compulsory. In Year 13, there are no compulsory subjects.
Between Years 11 and 13, your child will sit the National Certificate of Educational Achievement, or NCEA. They will do Level 1 in Year 11, Level 2 in Year 12 and Level 3 in Year 13. There are set standards to assess them by. Each of these standards corresponds to a set number of credits. Likewise, you need a total of 80 credits to achieve each NCEA level.
There are no official grades like in most of Europe. Instead, teachers judge children to have 'achieved with excellence', 'achieved with merit', 'achieved' or 'not achieved' against set standards. In practical terms, most consider 'achieved' and above as a pass.
Each level of NCEA costs NZ$76.60 (as of August 2018).
Admissions to school in New Zealand
Most state schools in New Zealand operate on a zoning system. This is like the UK's old catchment areas. It guarantees a place for all children living in the zone. Any extra places are then free for children outside the zone. To find out whether an out-of-zone school has free places, keep an eye on the local newspaper. Schools are obliged to place a notice in there, stating how many places are available and any deadlines.
If you're not sure if your school has a zoning system, you can check on NZSchools.
You have a choice to delay a child's enrolment until they turn six, after which attending school's a legal requirement.
Generally, children can start school as soon as they reach the age of five. Some schools, however, have 'cohort entry'. This means that they start together as a group with other children at the beginning of year.
You have a choice to delay their enrolment until they turn six, after which attending school's a legal requirement.
To enrol a child in school who has already begun education in New Zealand or abroad, contact your local school for their enrolment form.
 Settling in to school in New Zealand
As you can see, schooling in New Zealand isn't completely dissimilar to the UK. The exams are a bit different and the school divisions are a bit different, but your child will find much similar. This will help them to quickly settle in and feel at home.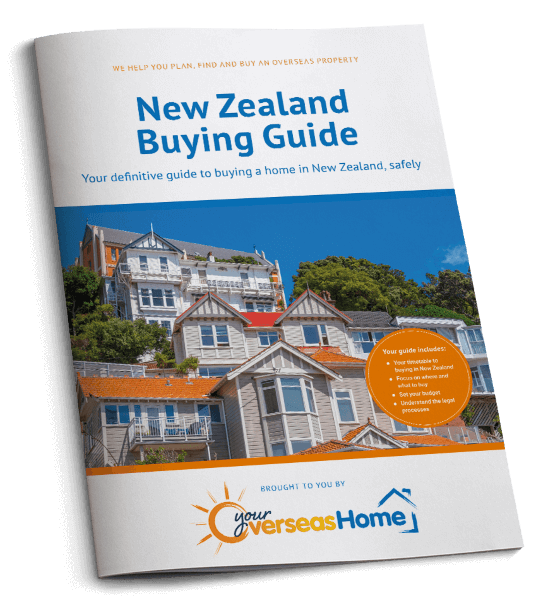 Get all of the key information and advice you need in our online guide to buying a house in New Zealand. You can also download it in PDF format for offline reading or printing. Fill in the form to the right to get your copy.
✔

  Ask the right questions
✔

  Avoid the legal pitfalls
Download your free guide to buying in New Zealand