Financial considerations before you move to New Zealand
The New Zealand Property Guide outlines all the essential financial factors you must address prior to moving to New Zealand.
Moving to the other side of the world is no mean feat, so understandably there are many financial matters you'll have to work out prior to booking that plane ticket. The New Zealand Property Guide offers a step-by-step guide to working out whether such a move in financially viable, and to organising your financial affairs, including:
We recommend speaking to a financial advisor because if you're relocating permanently, there are a couple of schemes that could give you greater control over your savings, and reduce your tax bill
Tax matters
Prior to emigrating you'll need to notify the Inland Revenue to your change in circumstances. Doing so will ensure you continue to be taxed correctly, and also help you to establish your new tax liabilities. As these liabilities will vary from person to person, we always recommend consulting a tax expert. They can help you to:
• Establish when and how to notify HMRC of your imminent departure
• Determine your tax liabilities
• Advise on the best path for getting the most from your pension
• Advise of how the Statutory Residence Test is likely to affect you
• Advise on UK tax returns and tax
• Give you the peace of mind that comes with knowing your affairs are in order
Inheritance tax in the UK
Anyone who owns property overseas will need to take inheritance laws seriously. You need to make sure that should anything happen to you, the best interests of your family and loved ones are protected. Speak to an independent lawyer to draw up a will in New Zealand. Our Resource Team can help put you in touch, give them a call today on 020 7898 0549.
Financing your purchase
Before you sit down to scroll through property websites, you need to work out whether you can actually afford to buy property in New Zealand. Firstly, you need to establish how you will fund the purchase, i.e. from the sale of your UK property, from savings or inheritance, or by obtaining a mortgage.
Should you plan to go down the mortgage route, you will need to speak to a mortgage advisor right away. Until you know that mortgage is secure, there is little point looking at properties. Having a mortgage approved also helps you establish how much you'll need for a deposit, and will help you budget for the rest of your move. Contact our Resource Team today to be put in touch with our trusted mortgage provider.
Top tip!
At this stage we recommend opening a free, no-obligation account with Smart Currency Exchange, our trusted currency partners. Upon opening an account you are instantly assigned an experienced personal trader who will be able to talk you through the time frames of your move, and establish the best ways of ensuring you save money on all of your currency transfers.
Handling your pension
If you are already receiving monthly pension payments, you'll need to consider how you'd like to keep receiving them. Pensions are frozen for British people in New Zealand. This means that if you choose to switch your pension to New Zealand, you will only ever receive the amount you were receiving on the day you left the UK. It's important to weigh up your options. We recommend speaking to a financial advisor because if you're relocating permanently, there are a couple of schemes that could give you greater control over your savings, and reduce your tax bill: Qualifying Recognised Overseas Pension Schemes (QROPS) and Self-Invested Personal Pensions (SIPP).
Insuring your new life
From the day you arrive in New Zealand you need to make sure that the life you've planned so long for is completely protected. You will need to insure your property, contents, and car, and consider your healthcare options to ensure you're covered in the interim period between arriving and becoming eligible for New Zealand healthcare. To be put in touch with our trusted insurance provider click here contact the Resource Team on 020 7898 0549 today.
Opening a New Zealand bank account
It's possible to open up a bank account in New Zealand before you arrive. This is super handy, as it allows you to transfer funds from your UK account to utilise while you're getting yourself set up. Most big international banks can be found in New Zealand, and many have departments geared up to cater to the needs of emigrants. You'll require two forms of ID to open an account, and depending on the bank, other supporting documentation could include statements from your UK bank, and proof of your visa or residency status. It's also sensible to obtain records and an endorsement from your UK bank, which could help smooth over any potential problems that arise, as well giving you the best chance of establishing a good credit rating right away.
The New Zealand Buying Guide provides a full breakdown of all of the financial considerations to take into account when planning a move to New Zealand. Download your free copy today.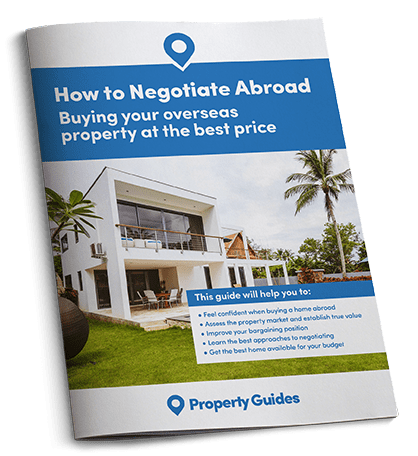 The Property Buyer's Guide to Currency will help you:
✔

  Understand the currency markets
✔

  Protect your property budget
✔

  Use a Currency Specialist
✔

  Learn from other overseas property buyers
Download the Property Buyer's Guide to Currency