With a Welshman winning the Tour de France last week, the son of a Scotswoman in the White House and Northern Ireland scuppering a smooth Brexit, the three smaller nations of the United Kingdom have been in the news recently. If you'e wondering where to buy property in the UK, they will certainly be of interest to you. 
Firstly, let's get the terminology right! The United Kingdom of Great Britain and Northern Ireland is made up of four countries: England, Scotland, Wales and Northern Ireland. The first three all occupy one main island, named Great Britain. Northern Ireland is separate. It's over on the island of Ireland a short flight or a couple of hours boat trip away. Confused? Just wait until we get on to the rules of cricket.
Scotland, Wales and Northern Ireland all have their own governments and a varying degree of devolution. The are also all far emptier than England, with smaller populations and wilder countryside. For many buyers, that is a major part of their appeal. There are also plenty of different types of property, so you can easily find something to suit our needs.
Scotland, Wales and Northern Ireland all have their own governments and are far emptier than England, with smaller populations and wilder countryside.
So, let's have a look at these three in more detail – and explore the best places to search if you're considering where to buy property in the UK.
Scotland
Scotland is known for its rugged highlands, deep, mysterious lochs and heather-covered glens. These are the perfect setting for the finest sporting estates in the UK, for visitors with a passion for outdoor pursuits. But while that may be the tourist image, Scotland is actually highly urbanised, with four out of five of the population living in towns of over 3,000 people. Contrary to the popular image of mountain and moor, there are also over 750 islands. It may be in the UK's chilly northern limits, but Scotland offers a diverse environment, with solid architecture and a rich history and culture.
Glasgow
Glasgow and Edinburgh are the two largest cities in Scotland, accounting for over 20% of the nation's population combined. Glasgow, on the banks of the river Clyde on the west coast, is the larger of the two. It has almost 600,000 residents – and a total of 1.7 million in the Greater Glasgow area. Once reliant on heavy industry, it was the first of the UK's cities to be transformed into a cultural and cosmopolitan post-industrial success, following its wildly successful stint as European Capital of Culture in 1990. More recently it hosted the 2014 Commonwealth Games. There is still heavy industry – including ship building, with all the Royal Navy's new ships being built here – but financial services, renewable energy and computer sciences are important, too. The city's surprised observers in the last five years by becoming Europe's largest satellite manufacturer.
If you're thinking where to buy property in the UK, Glasgow is a desirable yet affordable location. According to the latest UK House Price Index (May 2018), the average house price is around £126,000. That's more than 56% below the UK national average. A semi-detached house in the city costs just £172,000. Detached houses are more expensive as they're a minority in the city's housing stock, at £299,530
Edinburgh
Edinburgh, 42 miles away on the east coast, is Scotland's capital. Steeped in history, it's easy to see why this compact city oozes appeal for buyers deciding where to buy property in the UK. Its hilly, medieval Old Town and elegant Georgian New Town are a UNESCO World Heritage site. Looming over it all is Edinburgh Castle, home to the Scottish Crown Jewels. Every August the entertainment world flocks to Edinburgh for the Edinburgh Festival and Fringe – the largest arts festival in the world. Like Glasgow, the city is served by an international airport and is well positioned to reach rural Scotland by road. Despite its status as a bustling capital, it's a 'liveable' size, with a population of 480,000.
Unlike Glasgow, however, the average cost of buying a home there is 10% above the national average, at £250,000 in May 2018. This is hardly surprising when you consider that, in recent years, Edinburgh has been home to more millionaires that anywhere in Britain except North London. However, if you're not looking for outside space, you're in luck. Flats and maisonettes – often part of traditional 'tenements' – are a mainstay of the city and cost on average just £198,000.
Other Scottish cities to keep in mind for where to buy in the UK include Aberdeen, the base for Scotland's oil industry. There's also Dundee, currently in the middle of a £1billion regeneration which will include a new V&A Museum of Design on its historic waterfront.
When buying from abroad, changes in exchange rates can cause you to lose significant sums of money. Make sure you know how to protect your budget by reading the Property Buyer's Guide to Currency from our trusted partner, Smart Currency Exchange.
Wales, Scotland, Northen Ireland and England
Belfast, Northern Ireland
Wales
Wales is a rural land with a beautifully rugged coastline, mountains, rolling hills, deep valleys and green, green grass. Three national parks are contained within its borders: Brecon Beacons, Pembrokeshire Coast and Snowdonia. It's also close to the English cities of Liverpool, Manchester and Birmingham, and a three-hour drive from London. For both British and international buyers deciding where to buy property in the UK, it's a popular spot for a second home.
Most of the Welsh population live in the south, in and around the traditional industrial heartlands. The coal mines may have gone, but new industries have moved in, particular in the services sector, and there is still plenty of manufacturing industry too.
Cardiff
The capital, Cardiff, is on the south coast, where the River Taff meets the Severn Estuary. It's benefited from an enormous amount of regeneration, particularly in the 'Cardiff Bay' docklands area. The city was named by The Times as one of the best places to live in the UK in 2018.
It has a historic centre, with a large castle and Victorian shopping arcades. Most striking, however, are the modern additions to the city, including the Senedd building (Welsh Assembly) and the Millennium Arts Centre. It's become a hub for media production, including the BBC. The proximity to bustling Bristol, elegant Bath and the open spaces of the Valleys means there's always something to do. Outer districts like Penarth are particularly desirable due to good commuter rail links and proximity to the waterfront.
The average house price is £201,000. This is more expensive than the rest of Wales, but still 10% cheaper than the UK as a whole. Most property sales in Cardiff are terraced homes, which average just under £190,000. However, in just under 30 minutes' drive, you can find properties at £125,000 in historic towns like Caerphilly.
Swansea
Swansea is Wales' second-largest city and lies a little further to the west than Cardiff. It's in close proximity to the attractive Gower Peninsula – the UK's oldest Area of Outstanding Natural Beauty. Caswell Bay and Llangennith are both notable surfing beaches, while Swansea Bay itself has museums, a lido, and a marina. The suburb of Mumbles is home to lots of independent boutiques.
With a £500m regeneration underway, prices may soon rise. For the moment, they remain affordable. The median house costs just £140,000 – 46% cheaper than the national average. This makes Swansea a great hub for employment, social life and the outdoor lifestyle.
Other cities
At the westernmost point of Wales' south coast is Pembrokeshire. Home to Rhossili, one of the UK's best beaches, and historic towns like Tenby, it's the most popular area for second-home owners. You could get yourself a bargain here if you're considering where to buy property in the UK. The average house price is just £160,000.
Wrexham is the major city in the north of Wales. With an average house price below £157,000, it shows how affordable Welsh property is. As well as city centre and suburban buy-to-let property, investors may be interested in property in Welsh tourist resorts and national parks too. Llandudno and Aberyswyth attract holidaymakers brandishing buckets and spaces, while Haye-on-Wye is celebrated for its bookshops and literary festival.
Northern Ireland
Northern Ireland is the smallest part of the United Kingdom. It's two-thirds of the size of Wales, with two-thirds of the population too, and a little over a tenth of the size of England. It is green and lush, with lakes, mountains and rolling hills leading down to a stunning coast, including the famous Giant's Causeway. Were it not for memories the sectarian battles of The Troubles, which largely ended 20 years ago, its tourist industry would surely be much bigger. Nonetheless, it's certainly worth casting your eye over here when considering where to buy property in the UK.
Belfast
The province has been recovering fast from The Troubles, and Belfast's GVA is among the highest in the country. Belfast is a thriving and modern city. Its burgeoning service sector is fast replacing heavy industry such as ship-building. Tourism has been boosted by the opening of the Titanic Quarter and exhibition (and the city's location as the film set of Game of Thrones). Brexit is a concern, as it is for the Irish Republic too. However, the close proximity between the two could be an economic advantage, rather than a hindrance, in the years ahead.
Belfast is the most affordable of the capital cities we've covered. The average house is £123,000. Despite this, it's a good-sized city, with a population of 580,000 and plenty of cultural activities. Lisburn, to the south, is popular for commuters to the city. Houses there cost more or less £153,000.
Other cities
Other significant cities include Derry (90,000), Newtownabbey and Bangor (both about 60,000). The average house price in Northern Ireland in May 2018 was £130,000 – pushed up by the Causeway Coast and Glens and Mid Ulster, where stunning natural scenery has the average price at £132,000.
As well as the potential for buy-to-let incomes in the cities, the picturesque seaside towns of Carrickfergus, Coleraine and Portstewart have possibilities for holiday homes within a lively Northern Irish community, with considerably cheaper prices that their equivalent elsewhere in the UK.
For international buyers looking where to buy property in the UK, this region shouldn't be dismissed because of its geography. Travel is easy from the British mainland, by ferry in eight hours from Liverpool to Belfast, or by aircraft in 90 minutes from London and 45 from Liverpool. There is no passport control between the two for UK citizens. In practice, however, a photo ID is needed for arriving by plane. It's also two hours by bus to Dublin.
Found some new ideas of where to buy property in the UK?
If you've decided where to buy property in the UK, read our list of the 'need to knows' to make a success. Keep up with UK Property Guide for the latest news on purchasing a home in Britain.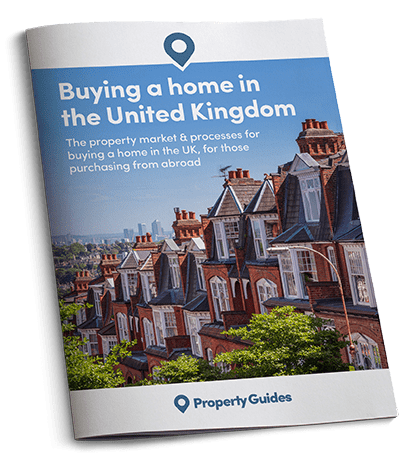 The UK Buying Guide takes you through each stage of the property buying process, with practical recommendations from our experts who have been through the process themselves. The guide will help you to:
✔

  Ask the right questions
✔

  Avoid the legal pitfalls
Download your free Returning to the UK Guide