How many of us would love to move abroad, but lack the language skills to get a job locally? Or are past the first flush of youth and worry that overseas employees will pass us by? Our expat blogger Ben Taylor explains that if you're creative, businesslike and have something interesting to say about living abroad, you can bypass the local jobs market. 
Moving to a new country is one of the most exciting life experiences anyone could have. So it's unsurprising that plenty of people embarking on their adventure toy with the idea of writing a blog about it. The good news is that it can make living in Spain, France, Italy or Portugal, or even going further afield to the US or Australia, not only easier, but more financially viable too.
Starting an expat blog is a great way to document your new life abroad. Well-written expat blogs make for fascinating reading and are a wonderful inspiration for others thinking about their own big move. What's more, a blog can become a worthwhile and profitable venture – if you're willing to treat it like running a new business.
They form a wonderful source of inspiration for others thinking about their own big move.
I became an expat blogger when I started writing about my move from the UK to Portugal in 2009. To begin with, I only intended to use it as a way to create a journal of this new chapter. Little did I know, at the time, that my blog would go on to make some money and result in me having a book published.
A Day in the life of an expat blogger
Blogging involves much more than just writing about stuff that happens and posting a few pictures. Particularly if you want to earn some money from your blogs.
If all you intend to do is create something akin to an online diary, for a limited audience of family and friends, you can blog as casually as you like. If you want to run your blog as a business things become more complicated. You'll need to learn the intricacies of web hosting, Search Engine Optimisation (SEO), Google adverts and social media.
A typical day in the life of an expat blogger often starts with choosing your topic. Although you have free rein to write about what you like, it's important not to be self-indulgent! There are a lot of other blogs out there, so ensure you're answering a need. You need to be proactive in understanding your audience, researching keywords and analysing the competition.
After crafting your prose and uploading your inspiring images, you need to ensure that people actually read it! Sharing on social media means more than just a quick post on Facebook. Professional bloggers learn the ins and outs of Facebook, Twitter, Pinterest, Instagram and LinkedIn. Mastering these platforms properly can involve reading full-length books, taking courses and doing loads of experimentation. How inspired learning such things makes you feel will have a huge impact on your likelihood of success.
A blogger is never off-duty
With your latest offering written and shared, there are always other tasks awaiting you. The thing with running an expat blog is that you're never finished.
In the early days, such tasks can include tweaking the layout of your blog, making sure it's regularly backed up and safe from hackers, and learning to read your website analytics to understand which articles are grabbing peoples' attention.
Once your blog has gained some traction, you might get involved with more "lucrative" tasks. These can include negotiating deals with advertisers, optimising Google adverts, and placing guest posts on other websites to increase your Google rankings.
Why be an expat blogger?
After reading that list of tasks, some of which may sound rather technical, you're perhaps wondering why on earth you'd decide to blog. Here are some good reasons to persevere:
Income: In truth, being an expat blogger won't make you rich without serious effort. However, people who work hard on their blogs can and do see them generate some income. If you enjoy the process of blogging, even a small side income from your efforts is a bonus.
Fun: Running an expat blog gives you a great reason to go out and discover everything about your new home country. You can blog about every new beach, every quirky new restaurant and even every cultural difference you discover.
Friendship and Networking: If you want, you can turn blogging into a way of making friends and networking with other people. Every business you visit, from a theme park to a bar, will keenly interact with you if you're offering exposure online. You'll rapidly make new friends and business contacts in your new area.
Earning Money whilst Exploring: Money doesn't come quickly from blogging; it takes consistent effort over a period of time to gain any momentum. However, before too long you could find, for example, that you're selling advertising space while you explore. Or, you'll start receiving enjoyable freebies – anything from samples of artisan food to free meals and nights in hotels.
Wherever you choose to live, learning a few negotiating tips could net a you more house for your money. Download our guide, How to Negotiate Abroad. It's written by a licensed estate agent and is packed with insider tips.
What do you need to become an expat blogger?
If all you want to do is blog casually, you don't really need anything to start blogging. You can simply set up a free account on WordPress.com and get started. If you can use a word processor, you'll manage to get a very basic blog off the ground.
However, if you have even the remotest dream of turning your blog into a profit-making enterprise, there are other skills and attributes that will help:
Technical skill
Blogging gets quite technical once you move past the basics. If you're running a commercial blog, you'll need your own web hosting, for starters.
Once you get going, you'll need to optimise images for your posts, paste HTML code for adverts, and set up things like Google Analytics to monitor your traffic. It's possible to learn all of this stuff, and the internet is packed with information and courses to help.
Writing Ability
Expat blogs can (and should) reflect your personality, and you can write in any style you wish. However, an ability to write content that's appealing and easy to read is essential if you want to achieve success.
The act of writing regularly will help to develop your style and tone.
The act of writing regularly will help to develop your style and tone. Even if you've never written in this way before, you could find you have a natural aptitude for it. And there are always books and courses you can turn to as well.
Sales and Negotiation Skills
If you're only blogging for fun and not profit, you needn't worry about this. But if you hope to make any money, you'll have to negotiate with advertisers and people who want to place sponsored posts on your blog. In order to rank anywhere on Google and establish a meaningful audience, you'll need links back to your blog from other websites.
There's a lot of negotiation involved in all of this, which is fun for some people. Others dread this kind of thing, so it's important to understand that it's a big part of commercial blogging.
If you have shortcomings in any of these areas, don't be put off starting a blog. The important distinction to make is what's involved in setting up a "hobby blog" and what's involved in starting one you hope to make money from. If you want to make any meaningful money, let alone live on the proceeds, you have to run your blog as a business.
6 ways to make money from an expat blog
Perhaps you're wondering how to actually make money from your expat blog? These are the six main sources of revenue bloggers establish. Usually, a blogger's income is made up of a series of different small streams of income.
1. Advertising sales
If you have a blog that's generating traffic from people interested in a specific country, you'll find all kinds of companies will pay you to gain exposure. For example, property companies, car hire firms and removal companies are all good candidates for buying banner ads in prominent places.
2. Advertising networks
You're no doubt used to seeing adverts all over the internet? Many of these are delivered via advertising networks such as Google Adsense and Taboola. Usually, these networks pay based on how many people click their advertisers' links on your site.
It's worth noting that you need a lot of traffic to make any meaningful money from online advertising networks. Slapping up some ads on a site that only gets a few hundred readers per month will only ever earn you pocket change. However, for established blogs, it's possible to generate a reasonable stream of income.
3. Affiliate marketing
Affiliate marketing is quite simple: you recommend a product on your site, and if someone buys it, you earn a commission.
One of the most well-known affiliate programs is Amazon Associates. You can discuss or recommend anything on Amazon and earn a commission if people buy it. At the other end of the scale, you'll find affiliate programs for everything from hotel chains to credit card companies. Some affiliate schemes can earn you a more substantial income than the few pence per click you'll see from Google AdSense ads.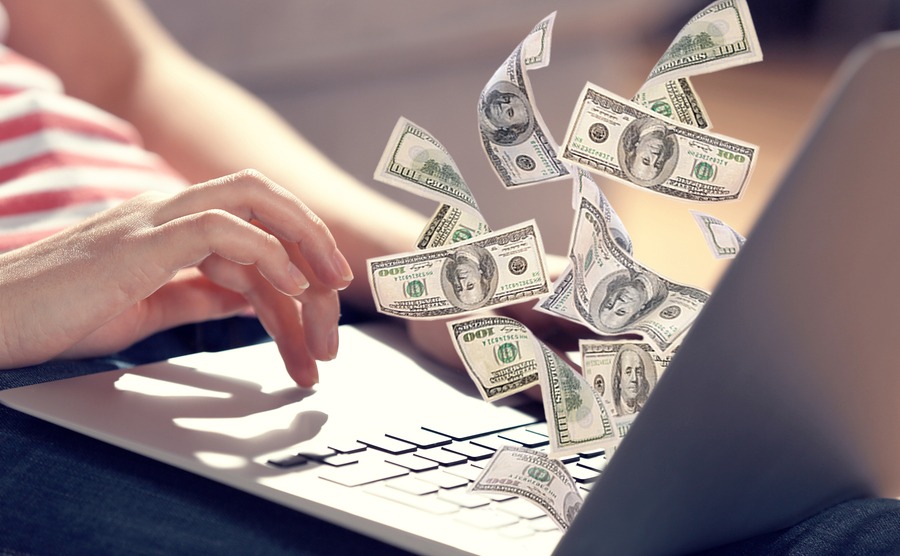 4. Sponsored posts
As your blog starts to grow, people will approach you regarding sponsored posts. Essentially, this means placing content on your blog promoting brands or products. You have to be careful how you handle these, as Google frowns upon websites that blatantly sell links. However, selling sponsored posts is a valid revenue stream for many blogs.
5. Your own products
Many bloggers eventually branch out into selling their own products. In the case of expat blogs, this usually means books, but some bloggers create courses, run lectures and tours, or sell mentor packages. Creating one or more books from a blog results in an additional stream of money from royalties.
6. Freebies
It's worth remembering that many successful bloggers get free stuff! A free weekend away or a press trip to a new luxury resort – in return for writing about it – can often prove as appealing as some extra money.
If you are ready to invest abroad within the next few months, call our friendly Resource Team on 020 7898 0549 or email info@propertyguides.com to be put in contact with trusted lawyers, estate agents and currency specialists.
How much can you earn?
It's impossible to give a precise estimate as to what you can earn from expat blogging. It's best to assume you'll earn nothing at all for the first year. Once your blog is established and receiving a good level of traffic, it's reasonable to expect to earn upwards of £500/month if you're working hard on it.
A few warnings
Before we proceed to how to get started, it's worth providing a few precautionary warnings:
1. You must account for your income
As soon as your blog starts to earn money, you need to think about declaring it and paying tax on it. As previously mentioned, blog income often comes from all kinds of different avenues. Due to the global nature of the internet, there are often multiple countries involved too. So, be aware that you can end up with a lot of financial admin – sometimes for only a little income.
2. You will have legal responsibilities
To make a success of a blog, you'll need to build up a list of email subscribers. This means processing personal data, which means you must comply with legislation like the EU's new GDPR (General Data Protection Regulation). You can't avoid the need for things like privacy policies and advertising disclaimers.
Once you have a readership, you need to keep the content coming.
3. Blogging is a commitment
With a small hobby blog, you can pick things up and put them down at will. However, once you have a readership, you need to keep the content coming, reply to comments and look after your fans. You can't expect to abandon things for too long without traffic deteriorating.
How to start your expat blog
If you're only planning a hobby blog, just head to WordPress.com and you can set something up for free in minutes.
If you want to do something more serious, you will need:
• Web hosting.
• A domain name.
• An installation of WordPress on your web hosting space.
• A theme (template) for your blog.
If the items above sound too technical and make your eyes glaze over, it's best to find an online tutorial and work slowly through it. If you're more technical than that, just head to a web hosting company like DreamHost and buy the bits you need. You shouldn't need to spend any more than £100 to cover all the necessary costs for the first year.
The internet is packed with resources for aspiring bloggers. If at any point you don't understand something, an explanation is only ever a Google search away.
I'll end with a few examples of expat blogs that have had some success, and seem to have some established streams of revenue:
Moving to Portugal: Established (by me!) back in 2009 and making some money from advertising, sponsored posts and a book.
Brown Bear Travels: A expat travel blog documenting a working holiday, making some money from advertising.
American Mom in Bordeaux: A well-established blog and good example of setting up many streams of income through one website. This blogger sells walking tours and French lessons with her blog as a shopfront, as well as making some revenue from advertising.