Cornwall's stunning natural scenery, picturesque villages and some of the UK's sunniest weather have made it top of the list for anyone looking for a rural home. But where are the best places to buy?
St Ives
This stunning small town is instantly recognisable to many Britons. Its sheltered harbour, whitewashed houses and narrow streets are completely typical of Cornwall. The special thing about St Ives is its artistic reputation. The bright light for which it's known has attracted – and continues to attract – artists from all over the world. Turner and Henry Moore were both fans of the town.
If you're buying abroad, don't lose to suddenly changing exchange rates between offering and actually paying. Find out how to lock in one rate in the free Property Buyer's Guide to Currency.
Its tourist status there means it's slightly more lively than the average seaside town, meaning there'll be plenty to keep you occupied. There are also lots of sights around St Ives itself. Strolling down Portminster Beach, you can see the very lighthouse that inspired Virginia Woolf's To The Lighthouse. The 14th-century Sloop Inn is a popular stop for a drink and sits amidst a range of narrow, cobbled streets. On a sunny day, take the ferry out to say hello to the local colony of seals, who enjoy sunbathing as much as any other local!
Average property price: £407,000
Falmouth
Falmouth is located on the south coast and is still a working fishing port. Nonetheless, it has attracted new sectors in recent years. The town's become a local digital media hub, with a number of agencies based here – so it's a great choice if you're looking for rural living with career opportunities. There's also the University of Exeter's Penryn Campus, based in the adjoining town of Penryn. The surrounding Area of Natural Beauty is a fantastic spot for walking.
Falmouth's become a local digital media hub, with a number of agencies based here – so it's a great choice if you're looking for rural living with career opportunities.
As the home of the world's third-largest natural deep-water harbour, this is a sailing town. You'll want to make sure you don't miss the Falmouth Regatta or Pendennis Cup. The free Falmouth Art Gallery is award-winning, while the mild climate means you can see exotic plants in Kimberly Park and Trebah Garden. Just fifteen minutes away from the town, Gyllyngvase Beach is fantastic for rockpooling with the family.
Average property price: £275,000
Mousehole
Home of the famous story of the Mousehole cat, who supposedly went fishing in a storm with his owner to rescue the village from famine, this is another impossibly picturesque village. Its steep harbourside streets are lined with colourful cottages, many dating back centuries. The local delicacy, stargazy pie, might not be immediately appetising, with fish heads poking out of the pastry, but the community spirit around Tom Babcock Eve is a big plus about living here.
You're a short drive here from Marazion, from which you can visit St Michael's Mount, a castle on a tidal island still inhabited by the family of Lord St Levan. Back in Mousehole, the harbour road's lined with boutiques and gift shops and there are no shortage of beaches nearby. Incidentally, it's not pronounced how you think – locals say 'Mow-zull'.
Average house price: £305,000
Fowey
A rather upmarket location near Falmouth, Fowey (pronounced 'foy') is a favourite for sailing fans, with a deep-water harbour. The harbour area has lots of pubs and tea rooms for you to sample, while the medieval and Georgian architecture is worth seeing in its own right.
Despite its well heeled reputation, Fowey is still a working port. You'll see a lot of large vessels loading up their cargo from the nearby China clay works. The surrounding area is an Area of Natural Beauty; you can also take a ferry over to see the beautiful gardens in Polruan.
Average house price: £440,000
Padstow
Padstow's a 'foodie' destination, made famous as the home of Rick Stein's Seafood Restaurant and Paul Ainsworth at No6. It's also a haven for cyclists, being the start (or end) of the Camel Cycle trail, heading up onto Bodmin Moor. There are seven beaches within a five minute drive, all with golden sand.
Of course, this wouldn't be Cornwall with some local traditions. In Padstow, it's the 'obby 'oss (hobby horse), who prances through the town on May Day (although some may tell you it's actually a dressed-up local). This is accompanied by maypole dancing, singing and parades.
Average house price: £412,000
Kingsand-Cawsand
These picturesque twin villages sit on the Rame Peninsula, a quiet, unspoilt part of Cornwall that's generally overlooked by tourists and property-buyers alike. Although you're only a forty-minute ferry ride from Cawsand to central Plymouth, it feels much more isolated. Surrounded by Plymouth Sound and the English Channel, you do get the feeling of being in your own world here. Nonetheless, if you're buying a house in Cornwall and want to be relatively close to a city, this is a good spot to be.
Don't spend any money on your move to – or back to – the UK until you've read

The Currency Guide to Emigration,

 free to download.
Just a fifteen-minute drive down the peninsula is Mount Edgcumbe, a grand stately home with enormous parks offering sweeping views down to the bay. There's another pedestrian ferry here, popular with commuters and schoolchildren, with just a five minute ride to west Plymouth. Homes here are generally spacious and, again, in the typical whitewashed Cornish style. A number of old forts along the coastline have also been redeveloped into modern flats.
Kingsand average house price: £438,000
Cawsand average house price: £380,000
Launceston
This might not feel like what you were expecting if you're buying a house in Cornwall. No fishing harbour and no beaches – in fact, you're very much inland. But you're just a short drive to the wild beauty of Bodmin Moor – paradise for hikers and hill-walkers.
This is a historic town with a handsome high street and an ancient castle towering over it. On Fridays, stop by St Mary's Hall for the local indoor market for fresh produce. If you're feeling energetic, climb Kit's Hill for views over Bodmin Moor, Dartmoor and the Eddystone Lighthouse.
Average house price: £180,000
If you're buying from overseas, sudden changes in the pound's value can cause you to lose thousands. However, you can use techniques like forward contracts to completely control the risk and lock in the exchange rate. Find out how in the free Property Buyer's Guide to Currency.
Buying a house in Cornwall: what should you consider?
Cornwall has a surprisingly extensive train network, but journeys can be slow. It can take two hours to get from St Ives to Plymouth, so it is worth having your own transport. There are a number of services around the county, with a large hospital located in Truro. Some places are more welcoming than others for those buying a second home, but anyone looking to move permanently will find themselves soon swept up into local life.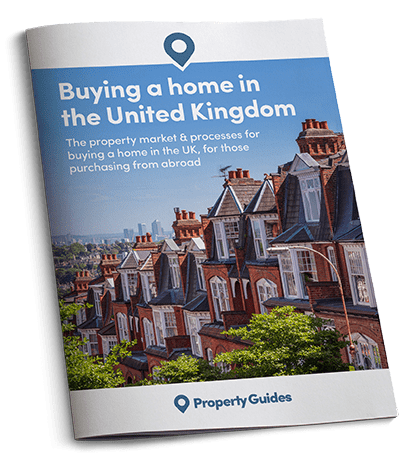 The UK Buying Guide takes you through each stage of the property buying process, with practical recommendations from our experts who have been through the process themselves. The guide will help you to:
✔

  Ask the right questions
✔

  Avoid the legal pitfalls
Download your free Returning to the UK Guide