Getting to grips with the Turkish lifestyle
It hardly sounds like a hardship to have to adapt to life in the Turkish sunshine, but there are going to be some differences that take some getting used to. Understanding Turkish customs is key to feeling like you belong here. It'll help you fit easily into society – instead of seeming like 'the foreigner'. Keep reading to find out everything you need to know about the Turkish way of life.
Understanding Turkish customs and culture
Turkey is predominantly Muslim, so be sure to respect dress codes when visiting mosques, or when in areas away from the usual expat enclaves. People tend to greet each other by shaking hands, or with a kiss on each cheek if you're better acquainted. This is less common between the sexes in conservative areas.
If you're open and friendly, and strive to get to know your new neighbours, you'll settle in just fine
Should you be invited to dine with a Turkish family, etiquette dictates that the person who extended the invitation pays for the meal. Splitting a bill is practically unheard of. If you find yourself being treated to dinner, it's best to thank your host, and then arrange to repay the favour at some stage in the future. It's important to maintain eye contact, to respect older people, and to be upfront and honest in all business dealings. If you're open and friendly, and strive to get to know your new neighbours, you're halfway to understanding Turkish customs.
Learning the language
Although you might be mostly socialising in expat circles, it's important to learn a little of the language. Even the basics will help in understanding Turkish customs. Prior to arriving, we recommend learning a few key phrases using mobile phone apps like Duolingo, or by teaching yourself online. When you arrive, take a few lessons! It's a wonderful way to meet people, whilst also learning how to communicate with your new neighbours. Turkish people are incredibly hospitable, and many do speak English, but knowing how to say please, thank you and how to enquire after their day really does go a long way.
A couple of hours a day chatting to local people and an hour studying Turkish by the pool and you'll be fluent in a year!
If you want to go a little further, Turkish isn't the easiest language to learn, but is far from impossible. It uses the same alphabet, and according to the US diplomatic service, can be learnt to fluency in around 1,100 hours of effort. So, spend a couple of hours a day chatting to local people and an hour studying by the pool and you'll be fluent in a year!
Food and drink
If you're looking to move to Turkey, chances are that the country's delicious food had something to do with hooking you in in the first place. Turkish cuisine is delicious, healthy and incredibly varied due to the origins of the nation, which includes Greek, Persian and Arabic influences. We don't think anyone will pass up on eating delicious food as a way of understanding Turkish customs!
The food you'll come to enjoy will depend somewhat on where you're located. For example, if you're living in the west, you'll regularly dine upon seafood, fresh fruit and vegetables, and of course lashings of olive oil. In the centre of the country, meat and vegetables make up the staple diet. To the east, local cuisine focuses on meat, vegetables, as well as dairy delights including cheese, butter and yoghurt.
Other staple ingredients that you'll find on plates throughout the country include lentils, aubergines, beans, garlic, rice, bulgur wheat, and of course, lots of spices. Eating out is affordable, and if you choose sensibly, all your meals can be healthy.
Sport and leisure
Turkey's natural terrain and climate make it a wonderful location for those who enjoy sport, or who are looking to step up the exercise now that they have arrived.
The country boasts a whopping 800 kilometres of coastline. This means you'll be able to enjoy watersports galore, with everything from sailing and fishing, to scuba-diving and jet skiing.
Turkey is also home to mountains, which means you'll also be able to enjoy snow sports! Who would have thought it? This hilly terrain presents excellent opportunities for walking, cycling, rock climbing. Any activity you could ask for, you can do, really. Plus, there are a number of world-class golf courses all around the country. You'll find that people get together to watch sporting fixtures, and this is an excellent opportunity for you to get chatting to fellow sports fans.
Shopping in Turkey
The Turks are a businesslike and efficient people with a long mercantile history, so wherever you are there will be opportunities to shop til you drop. If you're in Istanbul, another of the big cities or the hotspots of the Turkish Riviera, you'll find everything you could hope for, including big name brands. Elsewhere the options might be a little more home-grown, but you probably wouldn't have gone off the beaten track if you weren't willing to try something new.
Try to enjoy working out how things operate: the daily fruit and vegetable markets, vast trays of locally harvested nuts and spices, the fish sold straight off the boat. What a wonderful chance for understanding Turkish customs.
If there's something that you desperately want that you can't find, remember that you can always order online.
Bartering in Turkey
A common superstition among Turkish stallholders is that if the first customer of the day doesn't buy anything, the rest of the day won't go well!
Most shops are open from 9:30 until 7pm from Monday to Saturday, closing for one hour between 1-2pm. Shops and markets usually close on Sunday. Bartering is encouraged in certain shops and markets. For the best chances of success, try and be the first customer of the day. A common Turkish superstition is that if the first customer of the day doesn't buy anything, the rest of the day won't go well! Therefore, if you want a deal, head to the markets early when the traders are more likely to give in to your demands.
Over the last decade we've successfully built a fantastic network of expats who've made the move, and experts that have helped make it possible. This means we can offer guidance and advice for every step of your buying journey. To read more about how to make a success of your purchase in Turkey, download your free copy of the Turkey Buying Guide today, or contact the Resource Centre on 020 7898 0549.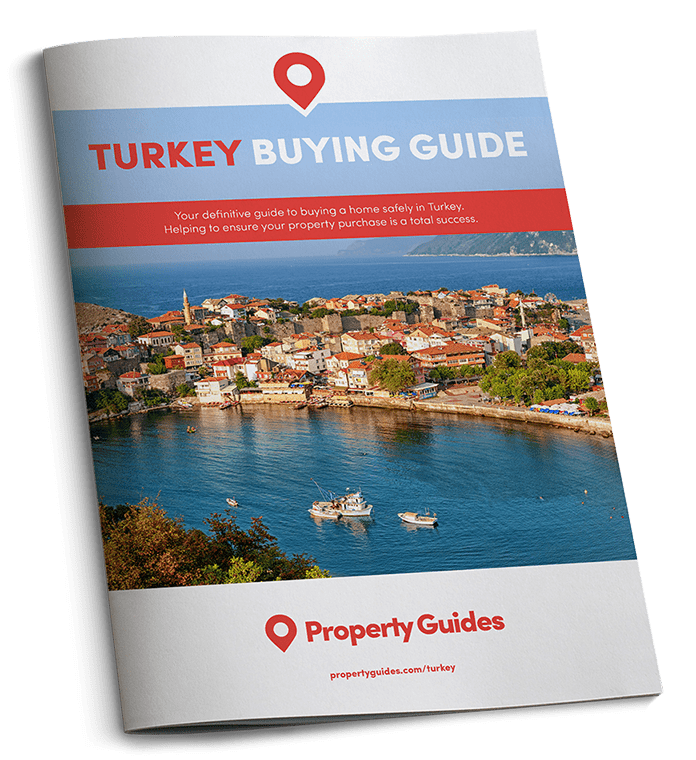 The Turkey Buying Guide takes you through each stage of the property buying process, with practical recommendations from our experts who have been through the process themselves. The guide will help you to:
✔

  Ask the right questions
✔

  Avoid the legal pitfalls
Download your free guide to buying in Turkey