Florida's East Coast has it all: the surfing capital of the sunshine state, some of its best beaches, beautiful nature, the coral reefs of the Biscayne National Park and the laid-back vibe of Miami. If you're thinking of moving to Florida, this could be the perfect region for you – so where are the best spots to buy property?
Life in the 'sunshine state'
There are many reasons why Florida is the third most populous state in the USA after California and Texas. In addition to attractions galore, year-round warmth, endless miles of pristine coastline and of course, no state income tax, the school system is one of the best in the US, scoring 8.3 out of 10 on GreatSchools, a school-ranking platform. Plus, the median property price is a rather affordable $233,300 (£179,000) according to Zillow.
Where once Florida was just a favourite of Snow Birds, now many Generation X'ers, Millennials and those with young families are moving to the state to enjoy the good weather, low cost of living, thriving job market and more relaxed pace of life. While many expats focus their sights on Florida's West Coast, in popular spots like Sarasota and Tampa, the East Coast has a very distinct vibe of its own. So, what can you expect from the east coast when you move to Florida, and how much would it realistically cost to purchase a holiday home there?
The cosmopolitan vibe
Let's be honest, when you think of cosmopolitan locations, your mind doesn't automatically think 'Florida' – however, cosmopolitan is exactly what Florida's east coast is! Traditionally, people from America's Midwest used to congregate on Florida's west coast, and those from the east coast of the US headed to the east coast of Florida. Therefore, as a general rule, the east is a lot more liberal than the conservative west.
Miami in the state's south east corner, is the most cosmopolitan city in Florida. The city has a population of around six million, made up of people from around the world – the Caribbean, South America, Europe – in fact, people flock from all corners to Miami, which is definitely one of the most exciting cities in the world. In addition, two international airports make it easily accessible from all parts of the world, making it popular with tourists and those that move to Florida during colder months. The city has it all – sunshine, beaches, parties, cultural and sporting events, as well as the chance to shop til you drop.
Get recommendations of mortgage specialists to get the best deal for your personal circumstances.
However, you don't have to be in Miami to enjoy the cosmopolitan vibe of the east coast. In Fort Lauderdale, there are lots of Europeans and Californians snapping up second homes. Jacksonville in the very north east is an exciting city, undergoing a huge economic boom right now. Both Jacksonville and Miami are listed in the Top 100 cities to live in in the USA, which features 11 cities in Florida.
Climate
If you like starting your day by watching sunrise, the east coast is ideal. Getting the sun first means warmer mornings and that the sea breeze kicks into gear earlier, which will be helpful during the steamy summer months. Florida can be stormy, but as a general rule, the storms are more intense on the west coast. However, the east coast lies on the Atlantic Ocean, so when the onshore wind is strong, the coastline can get battered with waves. As a guide for how much sunshine you'll actually encounter if you move to Florida, you can expect 229 days of sunshine in Daytona Beach, 221 in Jacksonville and 249 in Miami.
Activities
The east coast has a higher population that the west coast, which means there is plenty to do. If lounging at the beach is your bag, you have 360-miles of coastline to enjoy in the east. So much coastline means there are locations to suit all tastes, from glitzy sailing communities in West Palm Beach or Miami, to laid-back spots like Vero Beach or Amelia Island. Boating, water sports, surfing and scuba diving are all popular. The clear and warm waters of Delray Beach are perfect for novice snorkelers and scuba divers. Plus, you can explore the Delray Wreck, the shipwreck of S.S. Inchulva which lies 500 feet from shore in 20 feet of water. Furthermore, you can visit the Kennedy Space Centre and Cape Canaveral. Also, Orlando and all of its attractions aren't too far away.
Job opportunities
If your move to Florida is motivated by the job opportunities, the east coast is a great shout. Prime locations include Miami, Jacksonville and Port St Lucie. Miami has the largest concentration of international banks in the United States, and their fair share of domestic banks too. Media and Telecommunications are big business in Miami, as are the film and music industry. Due to its proximity to Latin America, there are a lot of employment opportunities within international trade. In fact, 40% of all exports to Latin and South America pass through Florida.
Miami has the largest concentration of international banks in the United States, and their fair share of domestic banks too.
If your experience is in research and innovation, Port St. Lucie is home to numerous companies within this field. Jacksonville is a global banking and finance hotspot, with more than 60,000 of the city's residents employed within the industry. South East Florida produces much of the USAs tropical fruit, and supplies almost all of the country's vegetables during winter. The agriculture industry employs more than two million people, and contributes $104 billion to Florida's economy each year.
Additionally, there are 19 commercial airports and 1,755 aerospace companies located in Florida. The industry employees over 100,000 people, and the average salary is $66,000. Finally, Life Science are big business in east coast Florida. There are 6,200 employers within the field, providing around 90,000 jobs. The average Life Sciences salary in Florida is $73,545 – more than double the Florida state average.
Popular locations
The North East
For beachside living in Florida's largest city, Jacksonville is an affluent and cosmopolitan choice when you move to Florida. While currently flying somewhat under the radar of the international buyer market, it won't be long before everyone catches on to the city's huge appeal. Bags of job opportunities, affordable living, great year-round weather, plus Disney is only two-hours away.
The pace of life here is markedly slower than Miami and roads are less congested. While the city itself might not appeal to holiday home buyers, the nearby beach communities of Ponte Vedra, Neptune, Atlantic and Amelia Island certainly will. The median property price in Jacksonville is $177,200. In Amelia Island, a barrier island to the north of the city, you can buy a three-bed home for $200,000.
Jacksonville has bags of job opportunities, affordable living, great year-round weather, plus Disney is only two-hours away.
St Augustine
If you're worried you'll miss the UK's history when you move to Florida, St. Augustine could be the perfect option as it's the oldest city in the United States. As well as a number of historic landmarks and cultural attractions, the city's coastline is made up of wide, sandy beaches and state parks. While St. Augustine can be a touch touristy, nearby Vilano Beach is a quieter coastal community that might float your boat. Jacksonville is just a 45-minute commute. Three-bed houses start from $154,900.
The Space Coast
The Space Coast consists of a 72-mile stretch of coastline around the Kennedy Space Centre and Cape Canaveral Space Station, just 35-miles east of Orlando. Also, it includes the beautiful towns of Cocoa Beach and Melbourne. Cocoa Beach is a six-mile long barrier island, one hour off the coast. It's called home by an active retirement community, surfers and nature lovers. This is a relaxed holiday destination with a buzzy waterfront lined with bars and restaurants. You can relax in the rolling sand dunes, or explore nature with an eco-tour, kayak rental, or windsurfing tour.
Find out about accessing healthcare in the US when you're buying from abroad in your free Guide to Healthcare Abroad. 
Also, Melbourne Beach offers unspoilt beaches, an array of outdoor activities from fishing to snorkelling, plus a historic town to explore filled with great shops and restaurants. Additionally, the region is home to 27 golf clubs, 13 tennis clubs, Brevard Zoo, plus a sub-tropical climate which means plenty of beach days. The median property price here is $165,000 – lower than the Florida average. For a two-bed, two-bath condo right on the water at Cocoa Beach, expect to pay around $400,0000, but you can also snap up a one-bed condo a little inland for as little as $94,000.
The Treasure Coast
Vero Beach is a lovely barrier island located on The Treasure Coast. Its location is ideal, two-hours from both Orlando and Miami, which means tourists aren't quite as plentiful along this stretch of the coast. Vero Beach sits on the Indian River Lagoon and the Atlantic Ocean. The hamlet has plenty of cultural activities to keep you occupied including a world-class art museum. Moreover, there are some top-notch seafood restaurants, shops, boutiques and galleries in town. In addition to great weather, Vero Beach offers residents access to nature, a fantastic climate and plenty of golf clubs close by. While Vero Beach was once a well-kept secret, it appears word is out – it was recently voted one of 'America's Happiest Seaside Towns'. Three-bed houses start from around $200,000.
Palm Beach County
Jupiter is a charming coastal community made up of 60,000 residents, most of whom are fiercely committed to preserving the environment. It's a very sustainable spot, air quality is superb, and there is a fantastic school system. It's also known for its community events, including the annual Jupiter Seafood Festival. This is a highly desirable area to live in. Therefore, it comes with a price tag to match. According to Zillow, the median home price in Jupiter is $367,300.
Miami Metropolitan Area
Nicknamed the 'Venice of America', Fort Lauderdale is a popular choice with boat owners and fanatics. The city boasts 23-miles of coastline, and there are plenty of things to keep you busy while visiting or when you move to Florida. The median property price in the city is $319,300. This region has many perks – there are plenty of small towns nestled between exciting cities. Also, you are close to Miami meaning you have access to culture, art, shopping, world-class restaurants and three airports!
Property here can range from multimillion-dollar mansions on the waterfront to golf and tennis communities that are a hit with second home buyers. Boca Raton is a popular spot, dubbed a 'City for All Seasons' and offers great golf, tennis and options for socialising. Currently, the median price is $340,000. In Miami itself the median price is $339,700.
To get expert advice and your questions answered on moving to East Florida, don't miss the remaining free tickets to Your Overseas Home show in Chester on 8th June. See a video about the event and click here for your free tickets. And, to find out about protecting your money when buying in the US, read the Property Buyer's Guide to currency, below.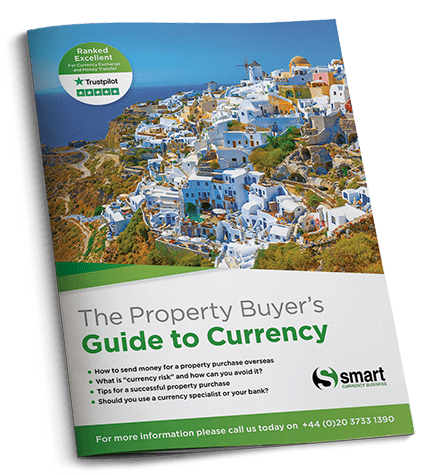 The Property Buyer's Guide to Currency will help you:
✔

  Understand the currency markets
✔

  Protect your property budget
✔

  Use a Currency Specialist
✔

  Learn from other overseas property buyers
Download the Property Buyer's Guide to Currency