America is the Big Country, 40 times the size of the UK. Plenty of space to get away from it all then, but what will you pay, where should you move, and what should you know before buying.
If you've ever road tripped across the USA, you'll have grasped some idea of just how enormous the country is. The USA is… wait for it… a whopping 9.834 million kilometres squared. To put that into perspective, you could squeeze around 40 United Kingdoms into that space.
The USA is so big that every state has wonderful rural options and any city has wild countryside right on the doorstep
Yet its population is only five times bigger than the UK's, so not only is there plenty of space, but homes in rural areas are very cheap too, due to those old rules of supply and demand. Here are the average prices in a selection of rural US states, according to the property website Zillow:
West Virginia: $101,600 (£79,000)
Mississippi: $112,300
Kansas: $124,600
South Carolina: $144,600
Texas: $163,500
Maine: $183,000
Montana: $200,000
North Dakota: $202,000
Vermont: $240,000
Colorado: $327,300 (£254,400)
The USA is so big, however, that every state has wonderful rural options and any city has wild countryside right on the doorstep. And when we say wild…, New York City regularly sees coyotes wandering its streets and if you live on the outskirts of LA you might want to keep the lid on your bins unless you want bears dropping by!
For anyone looking for a more rural idyll in the US than your average Orlando gated community or New York loft offers, living rurally can give you wonderful views and peace and quiet and the chance to raise some animals. But it also comes with its own set of issues that it's essential you consider before splashing the cash. To avoid any unwelcome surprises, here are five things to consider when buying rurally in the USA.
Five tips to choosing your rural home
1 – Water and electricity
Some rural properties rely on wells rather than on municipal water, and treating this water to make it usable can end up being costly. Before you make any decisions, it's worth having the well water tested to ensure that there is no evidence of contaminants, dangerous chemicals or sediments. It's likely that you will also have to rely on a septic tank. If this is the case, always ensure your tank is geared up to handle the number of people who will be living in the property. In terms of electricity, if you're living rurally and the power cuts out, you're likely to be one of the last to have your power restored. You need to consider installing a backup generator, and making sure you have stacks of firewood ready to go. Shirt off, chopping logs on a prairie? You know you want to!
2 – Accessing your property
Do bear in mind that you'll be responsible for the cost of any repairs to the roads leading up to your property that are on your land. This will need to go into your budget, as will things like four-wheel drive vehicles, ploughing equipment and snow tyres, if you're in an area that gets icy weather.
3 – Rubbish removal
When you're used to your rubbish being picked up like clockwork, it can come as a bit of a surprise when you have to deal with this yourself. If you're living rurally, you may have to take all of your rubbish and your recycling to a local dump. Always check with your property agent whether or not people will come to collect your rubbish.
4 – Who are your neighbours?
Agriculture is a serious business in the US, with massive livestock farms producing oceans of you-know-what. Consider who your neighbours are and what they use their land for. The last thing you want is to think you've secured the property of your dreams, only to find it stinks to high heaven. Be sure to check who's next door, and whether there are any easements in place in the contract of sale dictating how they are allowed to use your land, and you theirs. Consider too, whether you have any neighbours in winter. You've seen The Shining, right?
5 – Getting connected
Perhaps you want to locate yourself as far away from internet and mobile phone network as possible. Good for you! If you will need to get online and receive calls, you need to make sure that it's a possibility in the rural location you're looking at. Ask your agent, ask around town and test them out.
Popular rural areas
Wine Country, California
Wouldn't it be lovely to live in wine country – where out of your kitchen window you see nothing but rolling hills, lined with the vines that supply your evening tipple? If this sounds like your very own slice of heaven, you might want to check out Amador County, in California's Sierra Nevada mountains. Although not too far from the famous viticulture spots of Napa Valley and Sonoma Valley, Amador County is far less well known – despite the fact that it boasts over 40 wineries. It's a truly beautiful corner of the country, where their zinfandel "displays vibrant aromas of rich, spicy clove and big, generous fruit with hints of vanilla that entice the nose," apparently. There might be gold in the garden too.
This three-bedroom, three-bathroom home is located on 12 of your very own acres, just a short drive from Sutter Creek. The town boasts a fascinating Gold Rush past and is slap bang in the middle of wine country. You're in the mountains, which means you can ski, hike or mountain bike all year. Sacramento is 45 minutes away, and Lake Tahoe is a two-hour drive. $499,000 (£386,000).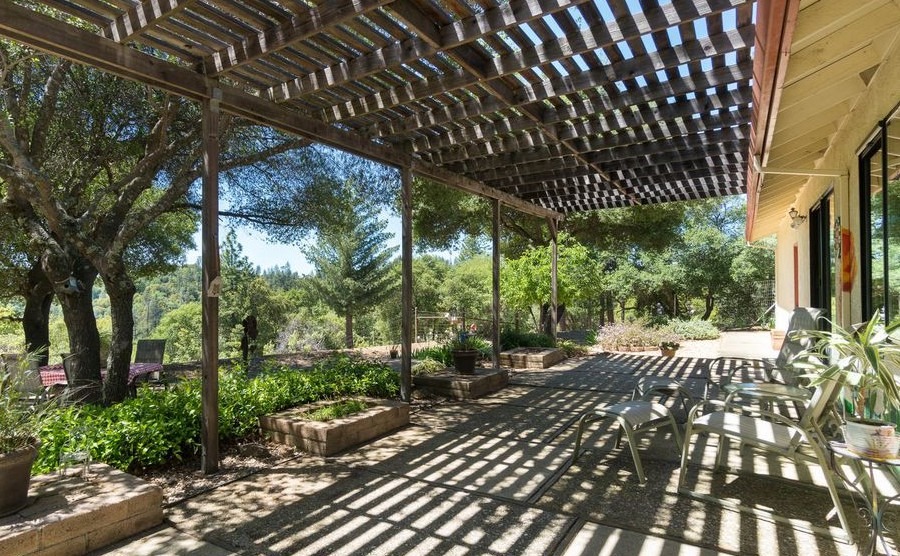 Alachua County, Florida
Now to Florida, and to Alachua County, a stunning region in Central Florida, close to Gainsville, a popular student town. The county is famous for its culture, artisans, and music, and DisneyWorld is just a couple of hours away by car.
This truly stunning property, set in its own seven acres, has three bedrooms and two bathrooms. The property is completely fenced in, and already has its own barn – so if you're hoping to one day keep horses; you might have just found your dream property. There's a large porch perfect for entertaining, or for cooling off on balmy Florida evenings. Although it feels as though you're in the middle of nowhere, the property is just 13 miles from the nearest hospital, and from the University of Florida. $345,000 (£266,000).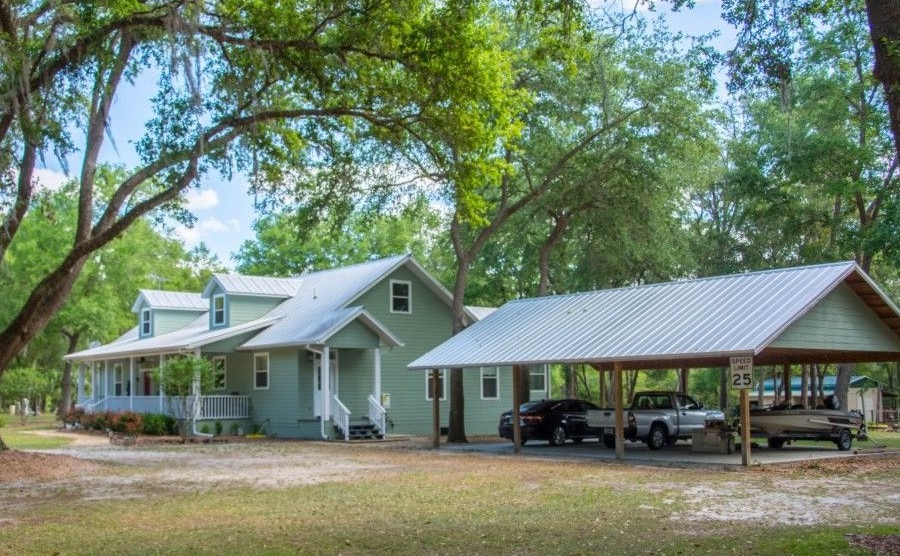 Eagle County, Colorado
Although a little pricier than some rural locations around the USA, Eagle County certainly has impressive credentials. For one, you're right in the middle of the White River National Forest, and for two you're only a short distance away from Vail, arguably the USA's best ski resort. Also, Glenwood Canyon is nearby, where there are opportunities for camping, angling, hiking and more skiing. In the town of Eagle, you can expect to meet friendly, outdoorsy folk.
This three-bedroom, two-bathroom property is perched high up, with 360-degree views of the surrounding countryside. The property is move-in ready, and has a wonderful 13 acres for you to do as you wish! $525,000 (£405,000).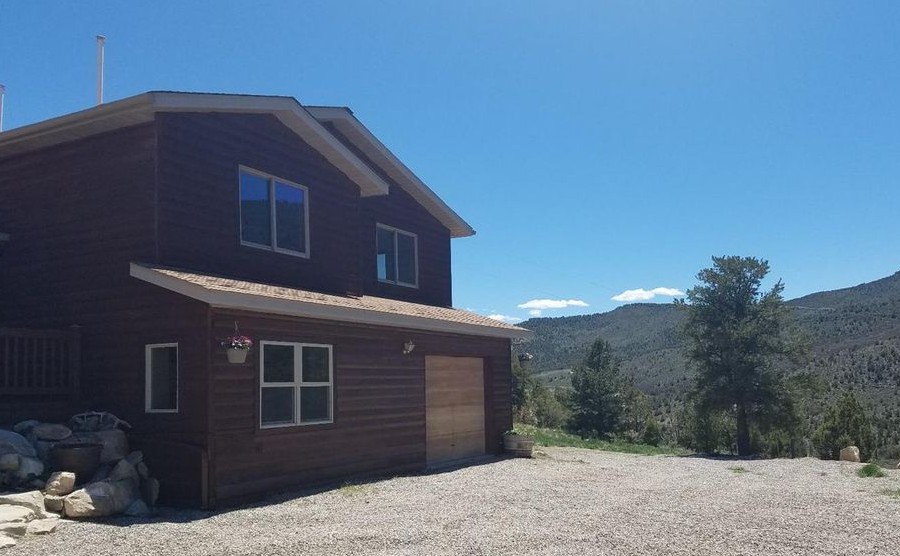 If you are serious about buying in the USA, it's time to get your dollars sorted out. Click here for a link to Smart Currency Exchange, the experts in currency transactions for property.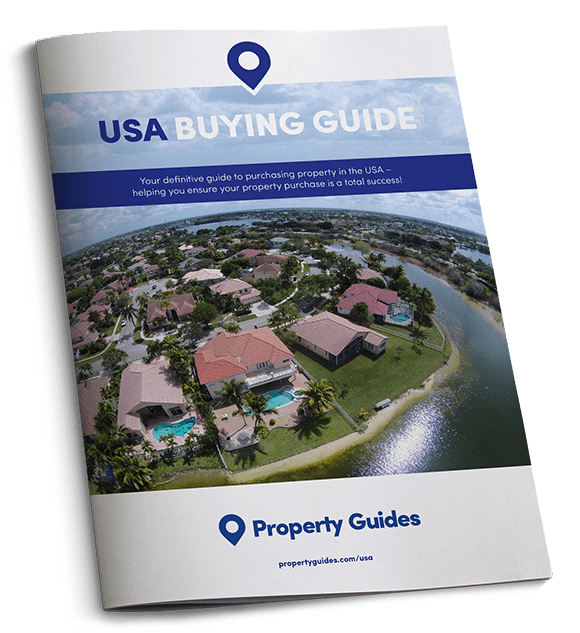 Your guide t buying a home in the USA, safely:
✔  Your timetable for buying
✔  Focus on where and what to buy
✔  Set your budget
✔  Understand the legal processes
✔  Buy safely in the USA
Download your USA Buying Guide