As spending tens or hundreds of thousands of pounds is a huge decision, it should not be taken lightly. You need to assess your financial situation carefully at the outset. How much money can you comfortably use from your savings, the sale or re-mortgage of your UK property or other sources to finance your USA property? When doing these initial sums, investigate and factor in buying costs, maintenance and living costs and any other unexpected costs that could pop up along the way.
Knowing what you can afford from the start and when you will be able to access those funds will prevent you from falling in love with a property that you can't afford. You don't want to end up in a situation where you have run out of money before you complete on your property and are forced to give it up. Once you have established your financial situation, you will have firm facts available on which to base your property search.
To find out more about financing a US property purchase, make sure to download your free guide, How to Pay for an America Property.
Key financial points to consider are:
The total amount of money you have available to finance your USA property
If you will buy with a mortgage, how much deposit will you need – and how will you service the monthly repayments?
Whether to re-mortgage your UK home to release equity
The costs that come along with buying the property (taxes and fees)
Your maximum purchase price, including taxes and fees
The cost of maintaining the property and living or spending time there
What other costs are involved in buying in the USA?
The additional costs involved will vary according to each individual purchase agreement, the type of loan agreed and different Federal and State laws. As a general rule of thumb, you should allow 3-6% of the purchase price for all fees applicable. In the US, this is called "closing costs". If you are buying with cash, this figure will drop down to around 1.5% of the purchase price, as a large amount of the costs are associated with the mortgage.
These additional costs include:
A down payment
In Florida, it is possible in some cases to secure a property with a deposit of as little as $5000 (approx. £3,220). For this sum, the property will be removed from the market and the sale price will be locked in. Elsewhere in the States, it is normal to pay 10-30 percent of the property price to secure your new home. Make sure that you can keep up the mortgage payments to finance your USA property.
In Florida, it is possible in some cases to secure a property with a deposit of as little as $5000 (approx. £3,220).
Loan fees
If you require a mortgage to finance your USA property, you should expect to pay between $300-$500 (approx. £193-£322) for the loan fees. This includes the cost of a credit report and appraisal of your finances.
Property survey
This can cost anywhere from $200–$800 (approx. £130-£515), depending on the size of the property.
Documentary stamp tax
A fixed amount of documentary stamp tax will be charged when transferring the property into your name. The amount is fixed by the county that you are buying in, but as an example, in Florida, you are likely to be charged $0.35 per $100 of the property price. This amount is limited to $2,450 (approx. £1,580) for USA residents, but there is no limit on this in place for non-resident buyers.
Title search and insurance
Again, this varies depending on the location of your USA property. This insurance can only be claimed after the sale has gone through. In order to secure title insurance, you will need to have a title report conducted that traces the deed history of the property and outlines any covenants or limitations on the property. The total cost of this will depend entirely on the size, value and location of the property, as well as the complexity of the search. As a general rule, it should be around 0.5 percent of the property price.
Legal fees
A common mistake made by buyers is not to consider the effect of fluctuating exchange rates on the final property price – it can change it by thousands of dollars day to day. Find out how to control this risk by downloading the Property Buyers' Guide to Currency.
The seller and the buyer will be accountable for their own individual legal fees. These will vary based upon where you are buying and on how complex the transaction is. As a general rule of thumb, attorneys tend to charge a percentage of the selling cost, usually between 0.5-1 percent. Others may charge an hourly rate or a fixed fee.
Recording fees
These fees are charged by the government when the time comes to officially change the ownership of the property into your name. Although the seller pays in some instances, more often than not, the buyer covers it. These minimal fees are usually fixed amounts.
Real property transfer tax (RPTT)
How much transfer tax you are charged will depend on the location of the property. It's an important thing to factor into your budget for how you'll finance your USA property.You will not be subjected to this tax if you are buying in Mississippi, Missouri, New Mexico, North Dakota or Wyoming. Your realtor will be able to advise on how much this tax is in the location that you plan on buying.
What is the biggest financial mistake made by those buying property in the USA?
The biggest mistake that you can make when buying overseas property is failing to realise the impact of exchange rates on the final purchase price. When you agree to purchase a property in dollars, you are essentially agreeing to purchase a property without knowing the cost in sterling – unless of course you already have enough dollars in the US to pay for it.
Global currency markets fluctuate by the second. This 'live' market means that the rate you receive in the morning can be completely different by the afternoon. This means that over the course of days, weeks and even months, the currency rate will continue to change, sometimes dramatically. The effect of this is that in between the time you pay your deposit to secure your US property, and the time you complete the purchase, the amount of sterling you need to pay for your dollars could change significantly.  Fortunately, there is something that you can do to safeguard against this.
We advise getting in touch with our trusted currency partner, Smart Currency Exchange, at the very start of your property journey. As the UK's only currency specialist that focuses on helping overseas property buyers save money and avoid currency fluctuations, they understand all of the problems you're likely to run into. They can fix exchange rates for you for up to a year so that you will know the exact price of your US property in sterling, as well as dollars, from the moment you agree to buy.
How can you finance your USA property?
There are a number of ways that you can pay for a property in the USA. Aside from paying cash, you can finance your USA property through a number of loan options. If this is the route that you're going to take, you should aim to have the mortgage approved before you commence your search. Otherwise, you run the risk of wasting your time, and that of your realtor.
You need to decide whether you would like a UK mortgage, or whether you would prefer to seek a mortgage from a US broker. If you are going to spend the majority of your time in the UK, it makes sense to use a UK mortgage provider so that you don't have to transfer funds abroad.
If you would prefer to seek a US mortgage provider, you'll find that there are many options. Conditions have become much more stringent since the credit crunch, but interest rates remain low. Loans of up to 70% are available for non-residents and they will be secured against the property. Fixed and variable rate mortgages are available and repayment terms can vary from 5-30 years. There are no age restrictions in place. As mortgage offers change on a daily basis, it's a good idea to contact an overseas mortgage broker to determine what the best offers are at the time you are looking to apply.
It's also important to get an idea of how much cash you will need as a deposit to finance your USA property, in relation to the mortgage amount. Most USA mortgage companies will ask for at least 20% from non-US nationals. However, this can sneak up to as much as 30%. You will need to provide proof of income and identity, and details of your bank account and credit cards.
When shopping around for a mortgage, you need to consider:
Interest rates
Loan terms
Lending criteria
How much monthly repayments will set you back
Choosing the wrong mortgage could lead to difficulties. Remember that it's important not to stretch yourself financially; otherwise you could risk losing your home.
How much does it cost to maintain a lifestyle in the USA?
There are a variety of costs associated with living and maintaining a property in the USA. It's important not to presume that taxes, the cost of goods and rates will be cheaper than in the UK. In actual fact, they are often higher.
Aside from the fees that you will incur when you buy and finance your USA property, other living and running costs to factor in to your budget include:
Utilities
Obviously this will depend on the size of your property, and how many of you live there. However, on average, a monthly bill for electricity, heating, water and garbage collection will cost you around $160 (approx. £103). Mobile phone bills will again differ depending on your usage, but the average contract is $61 (approx. £39) per month.
Internet connection
An average monthly Internet bill will start at around $47 (approx. £30) and increase according to usage and the amount of data used.
TV/cable/satellite
Much like the UK, there is a range of providers offering TV packages. Shop around to get the best price. They start from $19 (approx. £12) per month and reach up to $80 (approx. £51), depending on the package you opt for.
Homeowners Association fees (HOA)
These monthly fees can be divided into two parts: Current Year Operations and Current Year Reserves.
Current Year Operations
Current Year Operations cover things such as gardening, water, insurance and property management. The board of directors of the condo's Housing Association will sit down and estimate costs for the year for all operating expenses. That total will then usually be divided equally or pro rata between the number of units in the complex, and that will be the monthly amount you are required to pay.
Current Year Reserves
The Housing Association will also manage a savings account to pay for any big jobs that could crop up. These Current Year Reserves cover things like roof replacements, lift repairs and work on the car park. The HOA will calculate an estimated amount for the next 20 or so years, and then they divide it between each property or allocate according to the square footage to determine the monthly amount you will need to put aside.
In Florida, there are no restrictions on how HOAs allocate the common element expenses, so it could be based on equal division across all units, by square footage of the individual units, or allocated on a pro-rata basis. Condos formed post-1992 can attribute the common expenses either equally or pro rata, but this must be consistent across the units, so can't be on a square footage basis for some of the costs and then divided equally for others. Condos formed before 1992 may be able to allocate the costs on an arbitrary basis, and there is no legislation against this.
In Florida, there are no restrictions on how HOAs allocate the common element expenses, so it could be based on equal division across all units, by square footage of the individual units, or allocated on a pro-rata basis.
As these fees will be different everywhere you buy, depending on the development, its residents and the condition the property is in, it is important to determine exactly what the amounts you will be liable to pay, before committing to anything.
Homeowner's insurance
The cost of this will depend on the State your property is in. In Florida, annual homeowner's insurance is likely to be $1,999 (approx. £1,280) per annum.
Property management fees
If you employ the services of a property management company to manage the property in your absence, you can expect to pay a monthly fee of around $175 (approx. £113).
Car and transport costs
The average cost of a monthly travel pass in the USA is $64 (approx. £40). Petrol costs $0.77 (approx. 50p) per litre.
Health/medical fees
Health cover is hugely important in the USA, as there is no state-funded medical system. The cost of your policy will depend on how many of you need cover, and the level of cover you require. For a free quote from a leading international health insurance provider, call the Resource Centre on 020 7898 0549 today.
Food
The average cost of groceries for a family of four is around $190 (approx. £122) per week.
One of the most common ways to cover part or all of your running costs is through rentals. Don't be fooled, though – you are unlikely to be left with much profit from holiday or short-term rentals once you have covered costs. As an example, if you were to buy with a 70% mortgage, you will need to rent out your Florida property for a minimum of 30 weeks per year to break even.
There are also taxation and zoning issues to consider – short-term lets are often only allowed in designated zones, an especially important consideration in the Central Florida area.
Why careful financial and tax planning is important
If you're moving permanently to the USA, it's almost certain that your tax status and entitlement to certain benefits within the UK system will change. It's important that you plan for this properly, and follow the correct procedures in order to avoid running into unnecessary complications or avoidable tax bills.
Even if you're not a US citizen and you don't have a visa, there's a chance that you could still be deemed an income tax resident in the USA because of the number of days you spend there per year.
Here are just a few important points to consider as well as thinking about how to finance your USA property:
It is important to notify HMRC about a departure from the UK, not only as a formality, but also as it could result in a tax rebate.
If you are moving to the USA but leaving behind a let property in the UK, there will be tax implications to consider.
There are UK state pension benefits to continuing National Insurance Contributions, even after you move abroad.
UK life assurance or savings policies should be reviewed well before leaving the UK, in order to determine their relevance to your new situation.
Non-residents of the UK can usually no longer contribute to ISAs.
Non-residents of the UK can only pay a limited amount for a limited period into existing UK pensions and still receive tax relief.
Advice should be taken about accumulated pension rights in the UK.
Be aware of large cash balances held in the UK – moving cash deposits offshore to free up UK tax allowances could be an option.
At the point of leaving the UK, individuals should be aware of their residence status and the implications of the Statutory Residence Test.
British people may need to complete a UK tax return, even after leaving the UK. Be aware that there are now significant penalties for late submission.
Inheritance laws and taxation differ in the USA to the UK, so seek professional advice to ensure your assets are protected for future generations.
You will need to consider the US's Foreign Account Tax Compliance Act (FATCA), which outlines that US taxpayers must report their foreign financial accounts and offshore assets to the US Government to ensure taxes are paid correctly. Therefore, if you decide to keep a bank account open in the UK (which is often advised) be aware that there are likely to be further taxes to pay on this, depending on the type of account.
Currency exchange
If you will be relying on a UK-based pension and/or income from investments to finance your USA property and live off, it's really important to understand the impact of exchange rates. Over the last few years, expats living in the USA have seen their income significantly affected by the changing value of the US dollar against the pound. By registering with Smart Currency Exchange as early in the process as possible, you will be allocated a dedicated trader, who can explain the implications for your individual circumstances.
Pension transfers
If you're moving to the USA for good, you could benefit from moving your pension overseas so that you receive your income in the local currency and gain a whole host of other benefits. UK pension holders can move their pensions into a Qualifying Recognised Overseas Pension Scheme (QROPS). Conditions do apply, but typically you could gain greater control over your pension and reduce your tax bill.
UK authorities will only allow you to transfer your pension into one of these schemes if you meet certain criteria: you need to be living, or going to live, abroad, and you must remain living abroad. It takes ten years of being a non-resident and having moved the pension for a QROPS to show real benefits. This makes it really important to consider your options now rather than later.
If you would like to be put in touch with a reputable financial and tax advisor, who can advise on financial planning and tax matters when you move to the USA or own a property there, call the Resource Centre on 020 7898 0549.
How can you make a living in the USA?
When thinking about employment, always keep in mind that it could be difficult to compete in the local market. It's imperative that you research the demand for employees in your area of interest, and bear in mind that without sponsorship, or a substantial amount of money to invest, obtaining the necessary visa to work, or just live permanently, in the USA can be complicated and difficult.
Is self-employment possible in the USA?
For anyone lucky enough to obtain residency without a job, it's entirely possible to take employment into your own hands. As long as you have a good Internet connection and a skill that allows you to work from home, it's possible to earn a living from project-based work opportunities for writers, editors, programmers, graphic designers, project managers, accountants – the list goes on…
Once you have managed to set yourself up as a freelancer, you may be able to pick what you want to do, and how much work you can handle. There are a number of sites where you can upload a CV and examples of work, and then apply to work on projects that take your fancy.
Can you set up an online business in the USA?
Another option is to create an online business – you could find a product to sell online, write an e-book or advertise your services as a proof-reader. Or, if you don't want to spend all your time stuck in front of the computer, you can set up your own company – as long as you abide by US laws and regulations. You can buy a franchise, buy out an existing company or start something from scratch. This is not an easy or risk-free option, but if you have already experienced success with starting or running a company, it could be a good move for you. Do keep in mind that it is hard enough to start up and manage a business in the UK – in the USA there are many more forces that can work against you, so thoroughly research your market and the demand for your skills and services.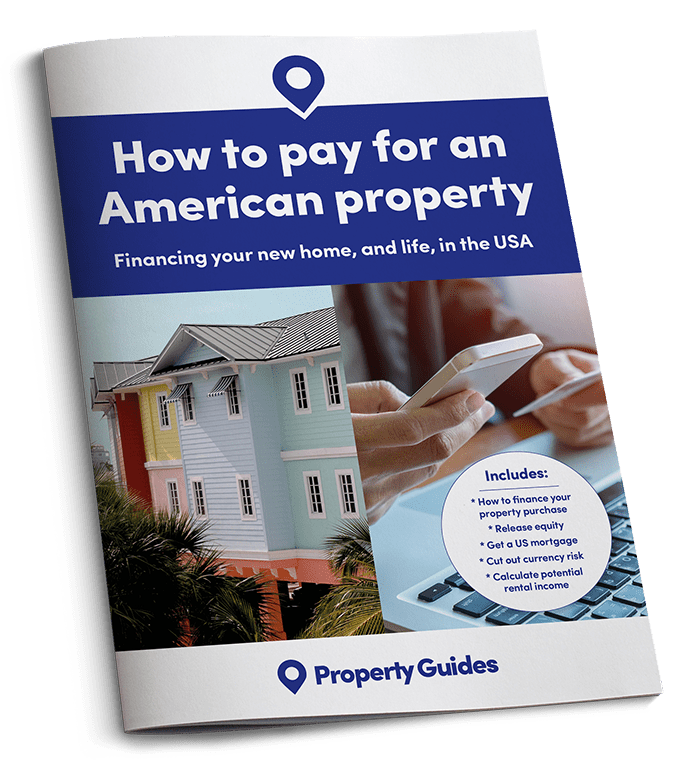 Lean more about financing your new home, and life, in America.
The guide will help you to:
✔  How to finance your property purchase
✔  Release equity
✔  Get a American mortgage
✔  Cut out currency risk
✔  Calculate potential rental income
In clear and simple steps, we will introduce you to the professionals who can help you unlock your own wealth to enjoy the lifestyle you deserve.
Download your free guide to how to pay for an American property