Buying a home in a new country is your chance to go a bit mad and do something truly unique. Such as building your own, perfect home from the ground up. So how do you go about buying the land to build on in the USA? Today, we're investigating how to source the perfect plot and find the professionals you need, and the steps involved.
While self-building is rare in the UK, over in the USA the process is much more straightforward. It allows you to create something truly unique, literally the home of your dreams. But before you can plan where to put your library and hot tub, you need to find that perfect plot of land. But where do you start? The first bit of good news is that you can buy land to build on without being a citizen. All you need is proof of your residency in whichever country you reside in, and valid identification. However, it's important to note that you will be subject to the same property taxes as US citizens, regardless of how much time you spend in the country.
Where do I find the land?
Typical property websites such as Zillow and Trulia feature land listings. But for more specialist help try specific websites such as Land, Lands of America, Land Leader and Land and Farm. Also, local real estate agents, auction companies and land brokers will be useful resources, as will classified adverts in local newspapers.
If you choose a real estate agent, be aware that their fee will be included in the price of the listing. This typically pushes the price up by 3 to 5%. It's normally safer to buy through a real estate agent registered with the National Association of Realtors. If they have experience in selling land, so much the better. Should you opt to go with a land broker, their commission tends to be higher than real estate agents at around 7-10%.
We will be at Your Overseas Home in Chester on 8th June – don't miss your free tickets while they last. It's a fantastic chance to meet experts from the States, all under one roof without having to wait until you're out there. You'll be able to talk to realtors, legal experts, removal specialists, currency brokers and more.
Another option is buying a plot of land directly from the owner. This is known as For Sale by Owner (FSBO) and there are specialist websites featuring listings. Finally, you have the option of buying government-owned land. Get in touch with the local government body to establish what's available in your favourite state or county
Where do I find the architects and builders?
You can guarantee your land specialist knows their stuff by finding a member of the Realtors Land Institute. When buying land to build on in the USA you will also require an architect and a builder. If you choose to employ companies individually, make sure the architect you choose is registered with the American Institute of Architects, and your builder is a member of the National Association of Home Builders. We can help provide you with introductions – simply fill in our enquiry form here.
One popular method is to hire a design-build company, who have got you covered for every step of the build, from architects and carpenters, to electricians and handy-men. You will receive an overall quote for the work, which helps with your budget. Plus there's the added bonus of not having to juggle multiple contractors.
Before committing to a firm, shop around, seek a number of quotes, ask for referrals and to see completed projects. While it may be tempting to go for the cheapest quote, do your research to establish whether the company's work is a bargain for a reason!
What should I consider when buying a plot?
Before you buy land to build on when you move to the USA, you need to consider the following factors:
1 – Deed and ownership history
Always pay for a title search on the plot of land before you buy. You can do this via a real estate office and the report will reveal who has a claim to the land. Completely vacant plots are often trickier than those that have been built on before because they may never have gone through the process of having the titles checked. There could be multiple people with a claim to the land, whether that's via an easement, gift or inheritance, which is why the search is so essential. You can purchase title insurance to protect yourself in the eventuality that a third party comes forward, claiming to have a stake in the land.
2 – Property taxes
Before you commit to a plot, confirm how much property tax you'll be charged. Property taxes are considerably higher in towns and cities than they are rurally, but don't take that as gospel. Always confirm how much you'll be billed each year, so that you don't get stuck with a bill that takes a significant chunk out of your monthly income.
3 – Zoning and potential zoning issues
Every plot of land in the USA has been zoned, and how your plot is designated determines what you can build. Make sure the zoning category corresponds with the house you want to build. Also, check there are no upcoming zoning changes in the pipeline that could affect you adversely. For example, if you want to build your dream house, but the area is being rezoned as industrial land – you might want to change your plans sharpish. The local council will be able to provide you with answers.
Furthermore, you should check what upcoming development is planned for the area. You may have a wonderful view right now, but if a giant shopping mall or airport is planned for a few years down the line – you want that information before you hand over the cash.
4 – Physical characteristics of the land
While a plot might appear to be your version of paradise, don't let yourself be won over by a view, rather than cold hard facts. Is the plot large enough to build the house that you want to build? Does it get sun at the time of day that you want to get sun? Is the ground good for building? Is the plot on a slope that might make it too costly to build? Are you in a flood zone? If so, building there might be reckless, and you are unlikely to get insured. Are there any resident creatures that you would be making homeless? Is your plot accessible – both for deliveries of the materials needed to build a property, and via a direct road?
Should you be surrounded by other landowners, you must make sure you establish a legal agreement to use some of their land as your driveway. Otherwise you could end up paying them a fortune for the privilege.
5 – Your surroundings
Establish who your neighbours are and how they use the land to avoid any nasty surprises. Also, does the area smell okay? Living next door to a farm may sound idyllic in theory, but the reality of America industrial agriculture could really stink. Additionally, how close are you to the amenities you require? For example, how close are the nearest schools? The nearest hospital? How far will you have to drive to pick up your groceries?
Download your free Viewing Trip Guide and Viewing Trip Worksheets to make a success of your trip to come and see homes in the United States.
Is your plot attached to the mains? If the plot isn't attached to sewerage, electricity, water and gas, how easy is it to get attached? How much will it cost you? If you plan on working from home or the idea of surviving without WiFi or strong mobile phone signal makes you break out in a rash, double check that you get good service before you commit to life here for the next decade!
6 – Restrictions and building requirements
Similar to zoning requirements, you must check whether there are any restrictions placed on what you can do with the land before you lock yourself in. Make sure there is no moratorium in place that bans building entirely. Establish whether there any easements in place that prevent the land being developed, or that allow other people access to it.
Are there any restrictions in place stating where your house must be built, how far it must be set back from the road, how high it can be, which way it can face? Establish the facts before deciding if the plot is right for you.
7 – Permits and municipal approval
Your building work needs to be approved by the local municipality before it can start. Additionally, every stage of the build will require an inspection to ensure it complies with safety regulations. For example, once the foundations have been laid, they will need to be signed off. Same with electricity, water and so on. Usually getting someone in to conduct an inspection is quite straightforward and efficient, but you won't be able to progress to the next stage of the build without getting sign off.
As a general rule, permits will cost you 1% of the total price of the project.
How much will it cost?
When buying land to build on, there are a number of costs you must factor into the budget. Budget for the plot, the cost of building the house, the cost of preparing the land and connecting the plot to services, including water, electricity and sewerage. In addition, factor in buying costs, fees (of your builder, architect and lawyer), plus the cost of any permits you must have in place before you can start.
In Maine you can buy a few acres for $20,000-$50,000 (£15,000-£38,000). In Florida, you can find plots for as little as $9,000 (£7,000) but they won't be in Palm Beach. In some parts of California, you can buy up to 40 acres of land for $45,000. Be careful though. A plot might be a bargain because building on it is impossible. The cost of serious groundwork can completely eradicate the budgetary bonus of buying cheap land, so don't be won over by a price tag.
What will you use it for?
The decision of where to buy needs to be based on your intended use for the property. The cheapest parts of the United States for residential property are Arkansas, Tennessee and West Virginia. If you hope to have your own farm, consider Louisiana. If you want to be near the water, two of the most affordable places to buy waterfront land include Myrtle Beach in South Carolina, and Boynton Beach in Florida. Should you want to live rurally but close to the city, there are some excellent bargain options in Florida, particularly on the outskirts of Jacksonville and Tampa. Also, Buffalo in New York is a cheap option.
According to HomeAdvisor, a website that connects home owners with builders and those that can help with home improvements, the cost of having a custom home built when you move to the USA is between $350,000 to $1.5 million (£269,300-£1.15 million). The cost of a custom build per square foot is between $100-$400 (£77-£307).
Hoping to get a loan?
In the USA, it is more common for people to buy land with cash. Getting loans for land purchases is difficult because banks can't use raw land as leverage. This isn't to say it's entirely impossible, although, if successful, expect to secure just 50% of the purchase price. It's possible to get more if you can prove the plot has good access and is already connected to essential utilities. As a general rule, land loans tend to be for shorter periods (10 years or less) and require you put down 20-50%.
Remember that exchange rates constantly changing can cause your budget to change by thousands of dollars. However, you don't have to leave your savings exposed to this unpredictable risk – simply fix in your exchange rate for up to a year. Find out how it works in the free Property Buyer's Guide to Currency.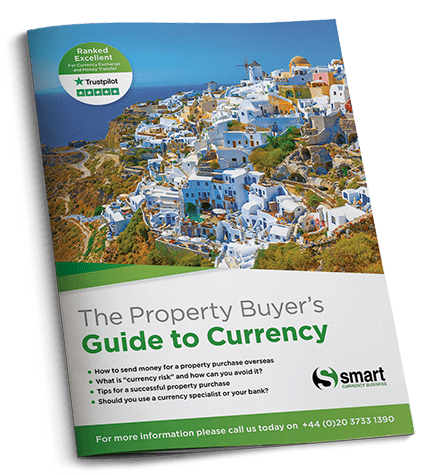 The Property Buyer's Guide to Currency will help you:
✔

  Understand the currency markets
✔

  Protect your property budget
✔

  Use a Currency Specialist
✔

  Learn from other overseas property buyers
Download the Property Buyer's Guide to Currency