Last year, foreign investors snapped up 183,100 properties in the USA, amounting to a total value of $77.9 billion. While this is actually a decrease from the previous year, US real estate remains an incredibly appealing asset to foreign investors. Chinese buyers topped the foreign investment ranks, followed by Canadians, Asian Indians and UK buyers. So what's the fuss about?
While you might think foreign investment in US real estate is only for millionaires, in actual fact the median price of properties purchased was a wholly reasonable $280,600 (£232,370). This means investing in US property could be far more accessible than you might think.
As far as where the majority of investment is located, Florida remains top choice, with one in five foreign buyers snapping up property in the Sunshine State. California and Texas follow closely behind. If you've been considering buying property in the USA to use as a holiday home, if you're savvy, you could cover your investment and rake in a tidy amount of income from rentals when you're out of town. Alternatively, you could take advantage of the buyer's market in many locations around the US to buy a property that will bring in significant rental income. While the political situation in the US is a little rocky, especially in the run up to the 2020 presidential election, the real estate market is one area that remains well protected. Today, we're listing five reasons why the world loves investing in US property, and providing some advice and guidance on how to direct your search.
1 – Low entry costs
The number one reason for foreign investment in US property is the affordability of the housing market. Outside of hotspots like New York City, LA and San Francisco, it's possible to snap up bargain properties. According to Zillow, the median cost of US property is just $227,700, whereas the average cost of UK property currently stands as £228,147. Should you be weighing up your options between the US and Spain or France, Florida villas present far better value for money. It's possible to buy a brand new three-bed apartment for as little as $50,000 in Orlando. When you team these low prices with small down payments on mortgages, it's easy to see why many are choosing to invest in US property.
2 – Wide range of property
Are you in the market for a horse ranch? A city penthouse? Somewhere to while away your retirement in the sunshine? Perhaps a beachside villa? Whatever type of property you fancy, you will be able to find it in the USA. One huge advantage to such a selection of housing stock is that there is something to suit all tastes and investment budgets.
3 – Ease of purchase
While splashing cash on a property in another country might initially seem quite daunting, especially as you can't just pop in, advances in technology have made it easier than ever. The MLS system makes it easy to search property listings in whichever US state tickles your fancy, plus there is so much data available online, it's easy to research prices and likely returns on investment. Also, it's possible to invest in US property without even having to set foot in the country. We can provide you with recommendations of US estate agents to choose from, whom we know to have worked successfully with hundreds of our readers in the past.
You'll be able to speak to them as though you are down the road via apps like FaceTime and Skype. Gone are the days of anxiously waiting for faxes from your realtor – you can be with them in real time as they show you around properties, which means you can buy investment property in the US from the comfort of your house in the UK.
4 – Favourable rates
If you require a home loan to invest in US property, the law dictates that you must secure it with a mortgage lender licensed in the US. The good news is that US mortgage rates are decent, and currently sit around 3-4 percent, which is roughly the same as the UK. Interest rates have been steadily rising for the last couple of years, which is a boon for investors as the rises translate into valuable and reliable return on investments. Also, at the end of July, the US Federal Reserve voted to cut the interest rate for the first time since the 2008 financial crisis, following a stream of rate hikes since 2015. It is hoped that the cut, which will see interest rates drop from 2.5 percent to between 2-2.25 percent, will help entry-level buyers and foreign real estate investors to enter the market.
Interest rates have been steadily rising for the last couple of years, which is a boon for investors as the rises translate into valuable and reliable return on investments.
5 – Great cash flow
It is important to find a property that will give you great returns on your investment. While you could stand to make a fair bit from capital gains, the real (and quickest) money is to be made from rental income, which you can start making from day one. The US rental market is booming, particularly in locations where population and employment are shooting up by the day. The more job opportunities there are, the more people relocate. And the more people relocating, means more people looking for places to live. Before you buy your investment property, conduct some research into the locations that are growing in popularity. Many folk are being priced out of expensive coastal cities, and are making the move to secondary cities, like Jacksonville (Florida), Columbus (Ohio) and Phoenix (Arizona) where rent and cost of living are far more manageable, and job opportunities are through the roof.
According to a recent report from Rented.com, which lists the 150 best places to buy vacation rental properties in the USA in 2019, the best places to buy for rental returns are Pigeon Forge and Gatlinburg (Tennessee), Panama City Beach and Palm Coast (Florida) and Killington (Vermont). Florida boasted 19 of the best holiday rental spots and California came in second with 13.
If you'd prefer to invest in US property to let out to long-term renters, you might want to opt for a location attracting hordes of millennials. Great options include, Pittsburgh (Philadelphia), Colorado Springs (Colorado) or Seattle (Washington).
How to choose where to invest?
There are a couple of basic principles you should apply when choosing where to buy as an investment. For an investment property to be worth the time, effort and cash, it needs to offer decent returns. Therefore, to maximise your returns, buy a property that boasts the following three features:
1 – High rental occupancy – To earn rental income, you need tenants. Always research the rental market in your potential location. What's the median rent in the area? How much of the available housing stock is currently vacant? Will people need to compete to secure a rental contract with you? If they will – your prices can go up.
Will people need to compete to secure a rental contract with you? If they will – your prices can go up.
2 – High rentals compared to your mortgage payments – Ideally, the rent you earn should cover your mortgage payments, and even earn you a little cash on top.
3 – A low tenant default rate – The last thing you want is a tenant that doesn't pay their rent. Sure, the property might be a bargain, but is the area desirable? Will you be able to secure reliable tenants that wouldn't dream of missing a payment?
Where are the best areas for investment?
If you're sold on the idea of investing in US property, it's important to consider the best places to do so. Let's quickly look at three of the most affordable US cities presenting attractive options for foreign investment in US real estate…
1. Dallas, Texas
Median property price: $212,200
Median monthly rental: $1,800
Dallas has a lot going for it in terms of investment. Firstly, the city is a buyer's market. Secondly, it is estimated that 340 people move to the Dallas-Fort-Worth area every day to snap up employment opportunities. You know what that means? A lot of renters in need of a home. There is a whole lot of housing stock up for grabs, plus when you mix the low cost of property with high rental rates, it's a strong and accessible market in which to invest. Houston, San Antonio, Rockport, Galveston and Port Aransas are also excellent options within Texas.
For more help with your property search, let us know what you're looking for  a trusted property agent.
2. Orlando, Florida
Median property price: $241,500
Median rental per month: $1,599
Tourists flock to this corner of the country every single day of the year to make the most of attractions like Disney. This makes Orlando a fantastic prospect for securing renters, whether as holiday rentals, or long-term residential lets to folk who work in the area. Either way, you're in for strong returns. Other great investment possibilities in Florida include, Kissimmee, Cocoa Beach, Fort Myers and Miami Beach.
3. Atlanta, Georgia
Median property price: $257,700
Median rental per month: $1,500
Over the last decade, the population of Atlanta has shot up by 14 percent, resulting in increased demand for property. All those new arrivals need somewhere to rent – could your investment property be just the right place? Elsewhere in Georgia you might like to invest in Tybee Island, Ellijay or Blue Ridge.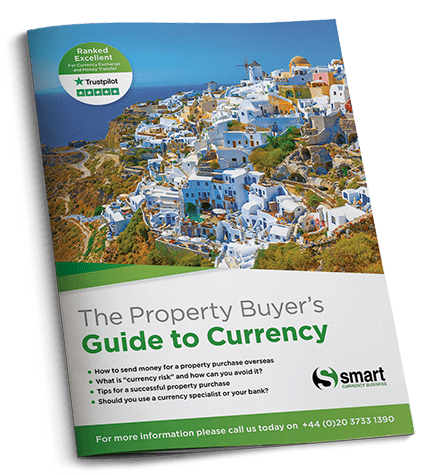 The Property Buyer's Guide to Currency will help you:
✔

  Understand the currency markets
✔

  Protect your property budget
✔

  Use a Currency Specialist
✔

  Learn from other overseas property buyers
Download the Property Buyer's Guide to Currency