Types of property to buy in the USA
Condo, co-op, craftsman, colonial, cabin, Cape Dutch… and that's just the C's! From Florida villa to New York loft, antebellum mansion to shotgun shack, North America has a dizzying range of property options. So what will it be? We run through the terminology and pros and cons of US property from coast to coast and era to era.
Villas
Top of many expats' lists is a villa in a sunny location like Florida. These will normally be detached structures with a good-size 'back yard' and a swimming pool. You'll find many in the 'Spanish Mission' style, with whitewashed walls, red roofs and arched porticoes. Many wouldn't look out of place in the Mediterranean.
Whatever kind of US home you fancy, if you need extra money read up on all your financing options in our new guide,

How to Pay for an America Property

.
In many new developments, you'll also find very contemporary designs, with plenty of glass to let in light and all mod cons. Generally, no matter the style, the average American villa will be built for modern living with an open plan and large 'family room' space.
Apartments and condos
Apartment complexes and condos in the US vary hugely in size depending on the development. They're typically located close to city centres. Some offer lifestyle facilities, like communal swimming pools and gyms, BBQ areas and walking tracks. This makes them a great choice if you want a pool and so on but don't want to worry about the maintenance.
The difference between apartments and condos is ownership. Apartments are generally owned by a single entity, like a corporation – so residents will normally be renting. Condos will be made up of individual owners, who form an Association to take decisions on the building and complex.
Condos and apartments are often located either in city centres or by popular attractions in built-up areas like beaches or lakes.
There is a huge range of properties available in the USA, but the most popular with expats tend to be houses, apartments, townhouses and condominiums.
Co-ops
You'e probably familiar with this concept from American shows and films. Co-ops occupy an interesting legal position, whereby they're not considered 'real estate'. As such, you don't purchase the deeds, but rather a share in the co-op company itself. As a shareholder, you then get use of a housing unit in the property the co-op owns. They often have strict purchase requirements and it is generally extremely difficult for a foreign citizen to buy into them.
Townhouses
Townhouses are single-family properties that are attached to neighbouring properties, like terraces in the UK. This type of property will vary in size, but they often come with a private garden or courtyard. They're especially common in the densely populated northeast, with many built in red brick or sandstone (hence the nickname, Brownstones). These kinds of houses are typically in a 'Victorian' style. Expect high ceilings and relatively long and narrow rooms.
You may hear the term 'duplex' bandied about – this is a specific type of townhouse, which is only attached to one other property, similar to a semi-detached property in the UK.
Cape Cod houses
The Cape Cod style is a traditional design from New England. Typically used for smaller cottages, they feature a clapboard or shingle exterior with dormer windows in the roof. They're often painted white, blue, grey or green. A white picket fence around the garden completes the traditional look.
There are four main variations on the style. The quarter cape is long and narrow, with one window and the main on the short end. The half Cape has two windows and the door on the short end, while the full cape has two windows, a central front door and then two windows again. The unusual three-quarter Cape has two windows, the main door and then one further window.
These are detached properties that come in all different shapes and sizes and with differing amounts of land attached.
Shotgun houses
Once the dominant type of housing in the South, these are long and narrow, single-storey homes. They follow what was once a less desirable layout, without corridors, but instead having each room leading into the next. Nowadays, this 'flow' attracts buyers much more than separated out rooms.
Log homes
A cabin might sound humble, but wooden 'cabin-style' homes in reality might remind you more of a chalet. Their rustic design is popular in rural areas, where it fits the landscape better than some modern constructions, but doesn't compromise on comfort. Around the Great Camps area of New York, you'll find many in the Adirondack style. This means ample floorspace, intricate carved facades, balconies and overhanging roofs.
Many 19th-century versions in rural areas like National Parks are nicknamed 'parkitechture'. They generally reject the conformity associated with urban developments, with deliberately asymmetrical facades, steep roofs and the use of local woods without importing.
Ranches
Ranches are a traditional steading, normally in the southern US, used for raising livestock. Even today, many come with very large areas of land – which can be ideal for a rural business plan, or just mean extra maintenance, depending on your requirements.
More commonly bought is the so-called ranch style, or rambler, is extremely popular throughout the 'Sun Belt'. Many have a large floorprint, with just a single storey and wide, overhanging eaves. Often, with many built in the 60s and 70s, you'll find features such as large windows and sliding doors opening from a living space onto a patio. Mixed material constructions generally make them easy to maintain.
This style was once so popular that it made up 90% of new houses. Today, they're less commonly built, but there are still plenty coming onto the market.
Common differences between UK and US properties
As soon as you start viewing properties in America, you'll notice a number of key differences. Firstly, the average home is much more spacious. New builds in the UK average around 818ft2, while in the US, they average a whopping 2,165ft2.
All that space means it's very common to have a separate family room, or 'great room', and formal lounge. Many homes will come with a separate utility room, and built-in closets are the standard in bedrooms. Unlike in the UK, in the bathroom, regulations don't ban outlets from being within 3m of a tap. On the contrary, you'll find them within easy reach of a tap (sorry, faucet).
Again, air con is standard. Great news if you're living in the sun-drenched south!
One thing you won't find, however, is an electric kettle. Americans tend to prefer using a stove-top version.
Questions to ask yourself
To help determine what kind of US property is best for you, we recommend sitting down and listing everything that comes to mind about what you want, and need. Try answering the following questions:
What type of property do you see yourself living in? A new build apartment, family home, or condo?
How big does it need to be? How many bedrooms? How many bathrooms?
Would you prefer to live in an old house or something new? If old, are you happy to manage a serious renovation? Or perhaps a redecoration is more in line with your plans?
Do you need a terrace? Off-road parking? A garden? A swimming pool? Maybe you are looking for some land with fruit trees?
What type of view (if any!) do you require from the property?
What else is needed to fulfil your property requirements?
Once you've established what you need from your US property, have a look around to confirm your findings and to identify the kinds of properties that you can find in your chosen area for the price you've budgeted. When you feel the time is right, contact our Resource Centre on 020 7898 0549, and we'll put you in touch with our trusted realtor in the USA.
Find this information helpful? Share with your friends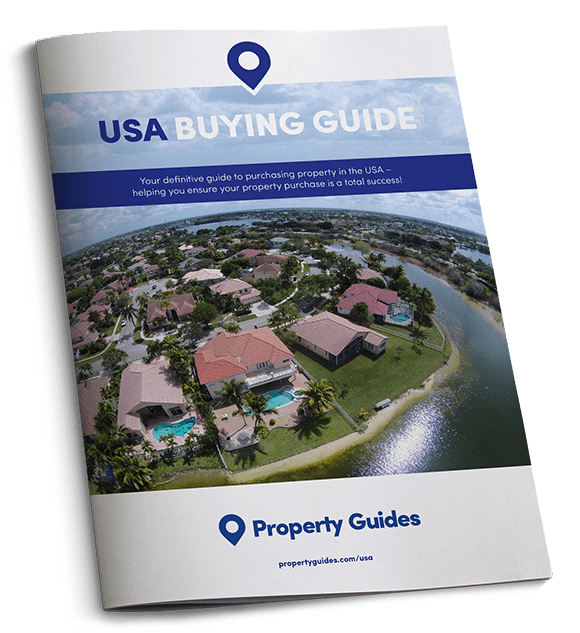 Your guide t buying a home in the USA, safely:
✔  Your timetable for buying
✔  Focus on where and what to buy
✔  Set your budget
✔  Understand the legal processes
✔  Buy safely in the USA
Download your USA Buying Guide