Finding the right realtor
It's important that you identify the right estate agent (or realtor, as they are known in the USA) to help you, as making the right choice can be instrumental to the success of your purchase. You need to identify a realtor who is registered and reliable, and who understands your requirements.
Where possible, we recommend selecting a realtor prior to jetting into the US, so that you can kick off the property search as soon as you land in town to view properties. If you have a little more time on your hands, perhaps create a shortlist of realtors, and go and visit them to see who you click with the most.
Where possible, we recommend selecting a realtor prior to jetting into the US.
Before you select a relator, make sure that you have considered the following:
The suitability of your chosen area given the needs you outlined in Step One
The exact specifications of properties that you will consider, i.e. the number of bedrooms and bathrooms, a garden, a swimming pool, etc.
The legalities associated with the purchase, and the regulations you will need to adhere to during the process
Identifying the realtor for you area
Are they accredited?
You need to select a realtor that is legally allowed to sell you a property. The agent you choose must be a member of the National Association of Realtors (NAR), who are responsible for regulating realtor industry standards.
Do they have local knowledge?
Your realtor should know the area, understand the market, and be able to explain all of the politics and intricacies involved in buying in the US. The majority of realtors concentrate on a specific patch, and will therefore possess excellent knowledge of that particular area.
Conduct some research into who's considered the best in the area
Are they proactive?
When identifying which realtor to choose, your first step is to conduct some research into who's considered the best in the area. Next, you should try them out to determine what kind of service they offer their clients. After you've contacted them to introduce yourself, send them a brief outline of what you are looking for. See how long it takes them to get back to you, and what they come back to you with; gauge whether they've listened to your needs and delivered on that. Ask for references, and check how easy it is to get hold of them via email and on the telephone. It's also worth asking how they can help you with local matters like how to connect to the utilities, where the best medical services are, and so on.
Do they understand your needs?
A good realtor will listen carefully to everything that you are seeking in a property, and then they will only suggest properties that tick all boxes and meet your budget. They won't waste your time by showing you properties that don't fit.
"We began the process of investigating how to go about buying in Florida and came across the USA Buying Guide, a fantastic free resource centre which helped answer many of our questions. They advised us on a wealth of matters and their knowledge and helpfulness made the prospect of buying in a foreign country a lot easier. Thanks to them we found the right estate agent, and a number of other resources who helped us purchase our dream home. The information they gave us just added up and I liked that."
Mr & Mrs Burton
Find this information helpful? Share with your friends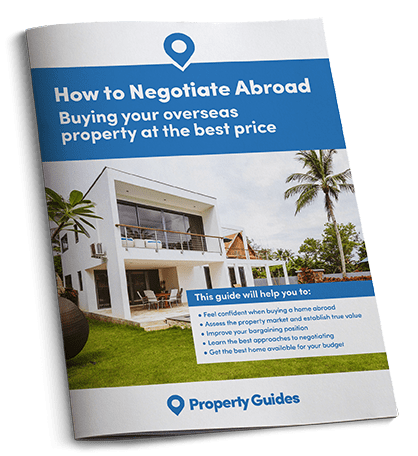 How to negotiate abroad is the guide to put you back in control:
✔

  Feel confident when buying a home abroad
✔

  Assess the local property market
✔

  Improve your bargaining position
✔

  Learn the best negotiating tactics
Download your free Negotiation Guide