Don't panic! You have plenty of time to move to Spain and continue your current rights to work, residence for free healthcare for people over pension age. Our writer in Spain explains what you have to do.
While the UK officially left the European Union on 31st January, there is a "transition period" during which you will still be covered by the Withdrawal Agreement, just as if you had been living in Spain for several years. This is currently set to end on 31st December this year. During these months, life in Europe for British citizens who are resident remains much the same.
According to the UK Government website Living in Europe, "Your current rights to healthcare in your country of residence will remain the same, as long as you remain covered by the Withdrawal Agreement. If the UK pays for your healthcare, for example through the S1 scheme, this is included."
This means that UK retirees over pension age, and those on UK benefits, will continue to receive state funded healthcare in Spain providing they remain resident in Spain.
Because there are so many UK citizens applying for health cards and other things such as Spanish driving licences (another necessity after the end of this year), there is a waiting list to get appointments. If you can pay a gestor to do it for you, it will all be done fairly quickly but if you do it all yourself, expect delays.
Confusion
Some people entitled to state healthcare are worried that this will no longer be available after the end of 2020. In fact, provided you are officially a resident in Spain and possess the little green card with your NIE number which states that you are a permanent resident and you are over 65, you will continue to receive free or subsidised health care.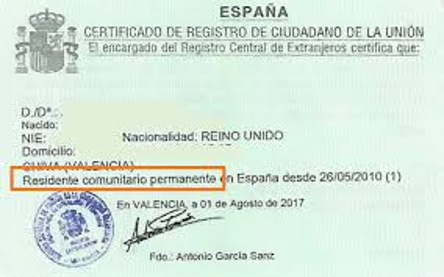 You will also need to have a health card issued in the region of Spain in which you live. Most pensioners over 65 already living in Spain have this but for those who don't and for people moving to Spain before 31st December 2020, you will need to apply for your health card, the "Tarjeta Sanitaria". You will have until June 2021 to get a health card. This also applies to people currently resident and who will reach pensionable age between now and 31st December 2020.
Applying for your tarjeta sanitaria
Step one:
Firstly, when you become a permanent Spanish resident, you will need to apply for your health card. To do this, you need to first request an application form by phone from the Overseas Healthcare Services. This is part of the NHS Business Services Authority (BSA).
NHS Overseas Healthcare Services
Telephone: +44 (0)191 218 1999
Monday to Friday, 8am to 6pm, Saturday, 9am to 3pm
Step two:
Next, you will need to take your S1 document to your nearest INSS office, Instituto Nacional de Seguridad Social (National Institute of Social Security). They will need copies and will keep one, while returning the original to the UK DWP, Department of Work and Pensions. It is advisable for you to also make sure you have at least one copy for your files as well as two copies for the INSS. Also, take your passport and of course, your NIE card.
Each person in your family will need their own S1 document. Please note: You must have already have in your possession the green NIE card. You will each be given a Social Security Number.
You can find out more in English on the Social Security website.
Step three
You must now register at your local Town Hall, Ayuntamiento. This means having your name put on the "Padrón", which is a list of everyone who lives in that district. This is important for the Town Hall as they can precisely work out the need for public services and then apply to central government for funding. You will be given a document but ask for 3 copies as you might need it elsewhere.  It is valid for 3 months.
You will need to take your NIE card, your passport and your escritura (document showing purchase of your house) or a lease agreement to identify your address.
Step four
Well, now you can go and actually apply for your Tarjeta Sanitaria!
You will head for your nearest medical centre and ask to be placed on the list of a GP. You will need to take the Empadronamiento document (padrón) from the Town Hall, your Passport and your Social Security number.
This all sounds extremely complicated but actually if you do it all in the right order, it should go smoothly.
Be aware that you will have to pay for medical services until you have registered at your local medical centre. If you are a Spanish resident your EHIC is not valid in Spain, however you can renew it if it is a UK EHIC card until 31st December 2020.