What do you need to consider when moving your goods to Spain?
When moving abroad, you will need to transport many of your possessions with you – making your decisions of how to do this and what to take incredibly important.
Prior to the UK leaving Europe, it was pretty easy to move your possessions to Spain or any other European country. Post-Brexit, things have changed slightly.
Of course, you can still move your worldly goods to your new home in Spain, but there will be rather more paperwork to do and customs forms to complete.
Get your residency first
In order to avoid paying taxes on bringing your things to Spain, you should apply for residency first. This, in itself, is quite a simple process, but there have been some delays in obtaining appointments, so make sure you plan ahead. You can find out how to apply for Spanish residency here.
Choose your removal company carefully
It is strongly advisable to use a reputable removal company.  Ideally, you should choose one that is a member of The British Association of Removers Overseas (BAR) or The Association of International Movers (IAM).
The removal company can deal with all the customs declarations on your behalf. If you have successfully applied for residency you will need to show proof to enable you to be exempt from paying import duty and VAT. It would also be a good idea to present a TIE card (residency) with a bank statement with your address.
You do not need to present proof of residency or a list of items being shipped immediately, but you must do so within 12 months of residency acceptance. Or, you could apply months before you move – the proviso being that you can prove you are actually moving to Spain. Obtaining an empadronamiento from your local town hall is usually proof enough.
What is exempt from customs and VAT?
Everything you would normally call "household items" e.g. bikes, cars and pets are all exempt from customs and VAT tax.
There is a caveat, though: you must have lived outside the EU for at least a year before moving to Spain, and everything you are bringing into the country must have been used for at least six months prior to the move, including cars. Of course, the items you are transporting must be used in the same way they were used in the UK.
Ask the right questions
When you have found a good removal company, do ask them to explain their insurance policy for moving possessions to Spain. Will the insurance cover the items once they have been delivered to you? What about storage if required before or after the move? If they are shipping to Spain by sea, do they have marine insurance?
Ideally, you want to contact them three to six months before you move.
They will arrange to visit your home to see the quantity and type of possessions to be transported and to arrange a removal date. The better companies will always be busy!
Check that the company does all packing of goods – it is better to pay a few extra pounds and get your things professionally packed. It is also worth noting that some removal companies will not guarantee goods unless they have been packed by them.
Check that quotations include all fuel costs, motorway tolls and ferry cages. We would recommend getting at least three quotes to enable you to compare prices.
The most practical and efficient way to transport your goods to Spain is by using a removals company.
Question what to take and what to leave behind
Unless you are moving to a mountainous region or the north of Spain, the climate and lifestyle will be very different from Britain. Heavy drapes and heavy furniture don't really suit modern townhouses or apartments close to the sea.
Since every square metre of space in the removal lorry will be charged, it really makes sense to only take those items that you will really need or those that have personal significance.
Outdoor furniture
You can find good furniture and attractive decorative items in Spain. When considering outdoor living, don't bother to bring your old garden table and chairs as there are plenty of stores with wide selections of garden furniture – many of the larger supermarkets also have some lovely pieces. You will be spending a lot more time outside, so it is worth investing in some good quality terrace and garden furniture.
Rugs
Most Spanish homes have tiled or wooden floors rather than carpets. However, you might want to bring your good rugs with you as it can get chilly during the winter months. Alternatively, you will find a comprehensive range of rugs in Spain to suit all budgets.
Curtains
Curtains tend to be lightweight, mostly to stop the sun pouring in on hot days, and almost all Spanish properties have shutters. Interlined, heavy curtains are not really suitable in Spain unless your home is high up in the mountains. There are many local shops which offer attractive curtains, readymade or made to measure.
Plants
Under post-Brexit rules, you can't bring plants into Spain from the UK. But anyway, plants that survived happily in a British garden may not feel quite as at home in Spanish soil.
You'd be better to go to a local garden centre after you arrive to check out what grows best in your area.
White goods
When it comes to white goods, most will work in Spain, but you may have to change the plugs or buy numerous adaptors depending on which country you are moving from, as the sockets can be different to what you are used to. The price of washing machines and the like is higher than in some other countries – the UK, for example – so if your existing machine is reasonably new, a well-known make and in excellent condition, it may be worth bringing it with you.
You may also need spare parts, so bring only internationally recognised makes. Spain now only has digital TV, so you will need a decoder. If your TV is over three years old, it is better to buy one in Spain when you arrive. Search around, as prices can vary widely.
If you currently live outside the EU, smaller electrical appliances, such as hairdryers, kettles, or kitchen equipment will work in Spain with an adaptor. You will need to buy several adaptors!
When it comes to the transport of white goods, most will work in Spain, but you may have to change the plugs or buy an adaptor, depending on which country you are moving from.
Beds and mattresses
Spanish bed sizes and pillow shape can differ from those in other countries, such as the UK. It may be practical to buy extra bedlinen at home before you leave if you are planning on bringing your own beds and bedlinen with you.
Beds and mattresses are sold separately in Spain and can be expensive. Nonetheless, if you search around, some companies offer good packages.
Take time to pack
Remember to keep essential items to hand from the beginning. Allowing for at least six weeks in transit, you will need to pack carefully – once your belongings are loaded, you can't access them!
Sort out keys for your present accommodation, car, office, etc. and make sure they are kept separate, labelled and ready to hand over to the right people before you leave.
All boxes should be clearly labelled, with lists of inventory stating exactly what is in each box. Any reputable company will ask for this list in advance.
It is important to comply with regulations when your possessions enter a new country – and your chosen removals company will be able to give you a specific list of what can and cannot enter Spain.
You will also need to:
Drain all petrol and oil out of lawnmowers and similar equipment before transportation so that they comply with fire regulations
Remove all batteries e.g. from torches and radios, as they can leak in transit and damage your equipment
Clean and paint any garden tools and furniture – items with soil on them may be denied entry at customs
It's really important to ensure that you comply with all regulations when your possessions enter a new country.
You should also think about your electrical equipment, and whether it will work in your new home. Your removals company will be able to advise you of this. Those that can't be used can be sold or given to the local charity shop.
If you are not moving directly into your new home, you will also need to discuss storage; it may be cheaper to store your goods in Spain rather than in your home country – it is worth researching this.
Pets
They are moving with you! Make sure you and they comply with all the requirements to allow them into Spain.
They must have a microchip
They must have been vaccinated against rabies
A dog must have treatment against the tapeworm Echinococcus multilocularis, where your destination country is free from it (Northern Ireland, Norway, Finland, Ireland and Malta)
They must have an EU animal health certificate if travelling from a non-EU country.
The best advice is to check and double-check the requirements on the British and Spanish government websites. A lot of the information on the Spanish one is in English.
Ask your removal company for advice too as they are frequently travelling between the two countries, bringing possessions in both directions.
If you have done your homework, it should be plain sailing!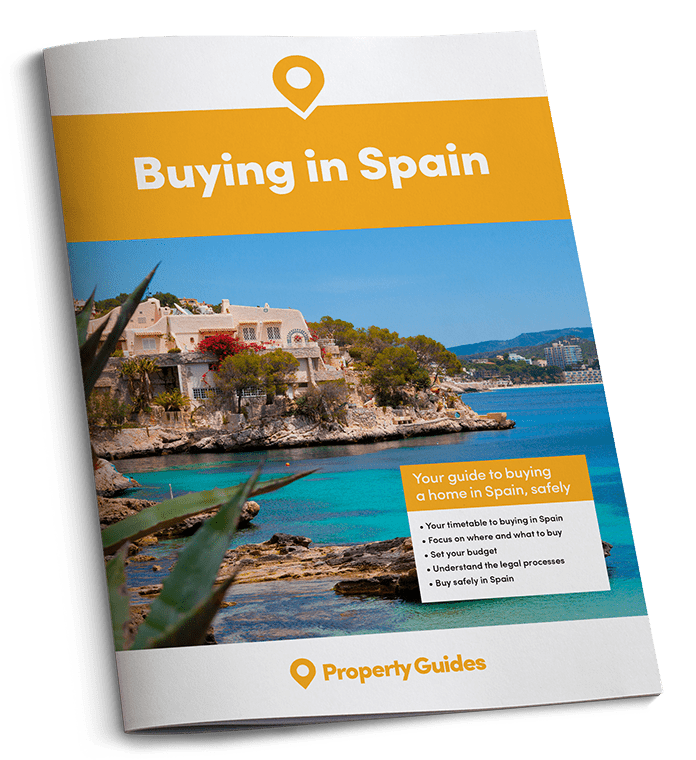 The Spain Buying Guide is a free, independent resource to help anyone who is looking to buy property in or move to Spain through each critical stage of their property buying journey.
Set up to help our readers avoid the many complexities and pitfalls of buying property in Spain, the guide takes you through each stage of the property buying process, with practical recommendations from our experts who have been through the process themselves.
✔

  Ask the right questions
✔

  Avoid the legal pitfalls
Download your free guide to buying in Spain