Types of property you can buy in Spain
Spain really does offer something for everyone – whatever style appeals to you, you will find it here. You can find fincas, farmhouses, beachside apartments, stone village houses or villas set in landscaped gardens in Spain. There's something to suit every need and budget in the varied Spanish property scenes.
Apartments – the popular choice
Most Spanish residents live in apartments; some will have one in a large town or city and another close to the sea or in the mountains, as a place to get away from it all. There was a time when apartment blocks were built without following building regulations, but those recently constructed are subject to strict rules. You will find every sort of apartment across Spain: from luxury penthouses and duplexes, to comfortable two bedroom flats and studios.
Older buildings
In older apartment blocks, the rooms tend to be larger than in modern ones, and will certainly have more spacious bedrooms, often with a laundry area. However, the older buildings may not have a lift or parking, but will usually offer good value, and you will have the opportunity to refurbish the property to suit your taste.
You will find every sort of apartment across Spain: from luxury penthouses and duplexes to comfortable two bedroom flats and studios.
New build apartments
New property developments are now required to have energy efficient heating and insulation, and come with up-to-date bathrooms and kitchens. You may have to pay extra for parking, and apartments with a sea view tend to command higher prices; you can often find one overlooking a park or other green space at a more competitive price. Some apartment blocks have shared swimming pools and gardens.
In most towns, there are elegant apartments built around the turn of the 20th Century, with high ceilings, double doors and attractive cornicing and plasterwork. These are usually located in the most sought after areas, so come with a high price tag, although in smaller towns, you can usually buy these kinds of apartment for a reasonable sum. They are light and airy; those apartments that have been renovated combine the features of Modernist architecture with modern conveniences.
Traditional villas
Villas on urbanisations are popular with both Spanish locals and expats, and can vary from quite a small property to something extensive. Most will have their own pool, and some include a summer kitchen for outside entertaining. You will find that property plots have been getting smaller in general, so an older villa could offer you much more land. Spanish villas are very different from British houses and often have steps leading to a variety of levels, (particularly if the property is built into a hillside); bedrooms may be downstairs and the living space on the upper levels.
Stone houses
Stone houses are usually located inland, in or close to a village. These will be older properties, many of which have been well renovated and are full of character. Village houses may have a small garden or terrace, with front doors opening on to the street. Some still have their original stone floors and stairs, as well as many characterful nooks and crannies. The windows tend to be small, to keep out the hot sun in summer and the cold in winter, and you'll find fireplaces in most of these houses.
Mountain properties
The mountainous regions of Spain offer an alternative lifestyle for homebuyers and, as you would expect, properties that can withstand the winter cold and extremes of weather are popular here. These tend to be old stone houses that have stood for centuries: simple, white, single storey homes, contemporary chalets and luxury properties with pools. Here, too, are white painted terraced village houses and apartments.
Coastal properties
There was a lot of uncontrolled building on Spain's coastline for many years, and the results of this development can be seen almost everywhere. Nowadays, you cannot just build what you want, where you want, so apartment blocks by the sea tend to have fewer levels, with an underground or outside parking space, a terrace or balcony, and some sort of garden. Some of these apartment blocks are very well appointed, and offer a really comfortable living space. They will, of course, cost more than the average inland apartment, but you won't have to do anything to the property, except buy some furniture and move in.
Apartment blocks by the sea tend to have fewer levels with an underground or outside parking space, a terrace or balcony and some sort of garden.
What Spanish property best suits you?
While you are considering where you want to live in Spain and the kind of property you want to live in, we suggest you consider your answers to the following questions:
What type of property would you prefer – a modern apartment, villa, townhouse or character home?
How big does your property need to be? How many bedrooms and bathrooms?
Do you want to be able to redecorate or even take on a renovation project? Or are you looking for something new?
Do you need parking?
Do you want a garden and/or swimming pool?
What type of view would you like?
What else do you need from your property?
Many of the answers to these questions will depend on your specific needs, and to help you narrow this down, our property portal can help you figure out what you are looking for. This gives you the chance to browse a selection of the different kinds of property available across Spain, as well as how much you will need to pay for those that appeal.
Find this information helpful? Share with your friends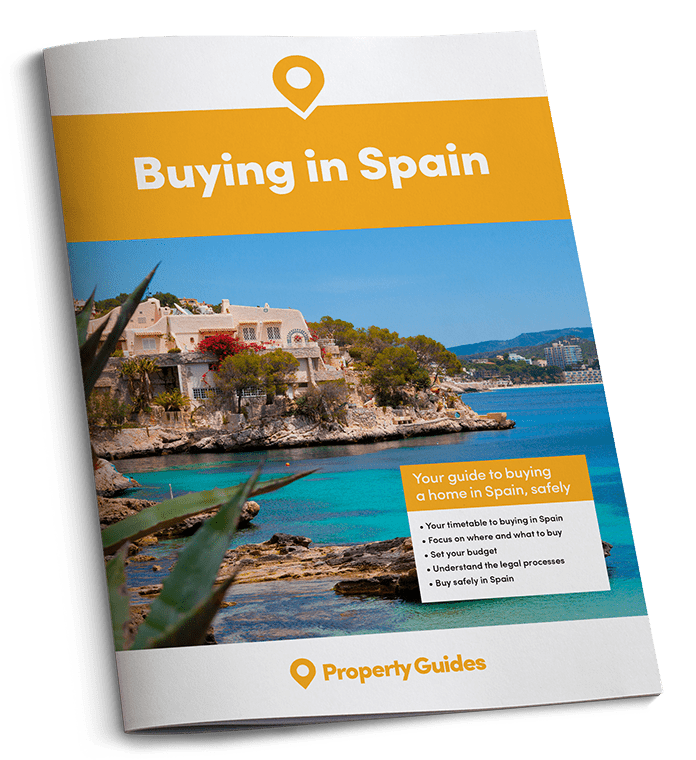 The Spain Buying Guide is a free, independent resource to help anyone who is looking to buy property in or move to Spain through each critical stage of their property buying journey. Set up to help our readers avoid the many complexities and pitfalls of buying property in Spain, the guide takes you through each stage of the property buying process, with practical recommendations from our experts who have been through the process themselves.
✔

  Ask the right questions
✔

  Avoid the legal pitfalls
Download your free guide to buying in Spain