In Part Four of our Buying Guide serialisation, we're looking at how to pay for your home in Portugal. When you're buying overseas, it's even more important to drill down into your budget: how much you can spend, what sources of finance you have access to and costs involved in buying the property. And if you missed Part Three on where to buy, make sure to have a read of that, too.
What are the key ways to raise finance?
You've a number of areas to take into consideration when looking at how to pay for your home in Portugal. These will include the following:
Funds available
Calculate the gross amount of money you have access to to pay for the home. Think about all elements: cash, savings, items you can sell, pension drawdown, investments you can cash in. You could also increase your purchasing power by buying with your family.
Pensions and investments
For anyone relocating over here permanently, a Self-Invested Personal Pension (SIPP), or a Qualifying Recognised Overseas Pension (QROPS). There are conditions that apply, including the need to be living/intending to live in Portugal permanently. Generally, you need to give it ten years before you start seeing the results.
If you have further questions about how to pay for your home in Portugal, call us on 020 7898 0549 or email portugal@propertyguides.com.
Additional finance
If you don't have the cash ready to go, you may be able to get a mortgage. Speak to your estate agent, IFA, bank or other lender to go through your different options. How much deposit will you require? How will you make the monthly repayments? Do you have a contingency plan to continue paying in the event of illness or unemployment? Equally, do you have a home in the UK that you can release funds from? This is an important part that's often overlooked in deciding how to pay for your home in Portugal.
To get a mortgage in Portugal, you'll need to have the following documents:
Bank statements from the past year
Income tax declaration for the past two years
Proof of income for the past six months
List of mortgage loans already held
Statement of your assets and liabilities, confirmed by an account
Copy of your passport
The contract and signing of the mortgage will normally happen together. It'll take place at the notary's office, with a bank employee present.
What costs should I take into consideration?
Unfortunately, once you've bought the house, you're not completely done with expenditure! You'll need to think about local property taxes and maintenance costs. Don't forget to include the cost of getting yourself and your belongings over here. Don't forget, too, that exchange rates always move, so a pension or investment coming in in pounds won't always be worth the same in euros.
There are also a number of buying costs to take into account, including:
| | |
| --- | --- |
| Property purchase tax (IMT) | This is a sliding scale, with variances for rural and urban properties, up to a maximum of 8%. Properties below €92,407 aren't charged. Above €126,403, it's 5%, and this only rises once you pass €172,348. |
| Stamp duty | This sits at 0.8% in addition to IMT. Anyone buying with a mortgage will need to pay stamp duty on the loan amount at 0.6%. |
| Notary fees | Typically, this will be between 1-2% of the property purchase price. |
| Wealth tax | There's an extra 0.7% tax on properties over €600,000 and 1% on properties over €1 million. However, this is an individual allowance, so married couples would only start to pay on a jointly owned home with a value of €1.2 million. |
| VAT (IVA) | New-build homes will have an IVA of 23%. This should be included in the purchase price, but do double-check! |
Managing your currency risk
One of the biggest unknowns when thinking about how to pay for your home in Portugal is the currency exchange rate. It's constantly moving – sometimes by several points in a single day. What does this mean for you? Well, it can well move between you putting in your offer and actually paying that amount. Remember that your offer is a static amount in euros, but how much those euros cost in pounds will never stop moving. In the last year, just €200,000 have changed value by almost £10,000.
There is a way you can protect yourself from this risk. Many of our readers use Smart Currency Exchange's 'forward contracts', which lock in the same exchange rate for twelve months as no extra cost. This means that you know exactly how much you're paying or receiving. You can find out more about how this works in the Property Buyer's Guide to Currency.
How to choose an estate agent
The final element in helping you to buy is your estate agent. With a good agent working for you, everything will go much more smoothly. You want someone who knows the popular areas to buy for Brits and understands the market.
If you're going to buy in Portugal this year but want face-to-face advice, get your free tickets to the Your Overseas Home shows throughout the UK. We'll be there, along with estate agents, removals, currency, financial and legal specialists.
Remember that they must all be registered with the AMI (Associacão de Mediadores Imobiliários). You can double-check with the IMPIC (Institute of Public Real Estate and Construction Markets) website to see if an agency is properly registered.
In terms of qualities, you'll want an agent who:
is proactive and offers a good service
answers questions promptly – send them a brief before you go out and see how quickly they respond
understands the market and the politics and planning in making things happen
An excellent agent will also help you settle in, suggesting a local doctor, school and whatever else you need.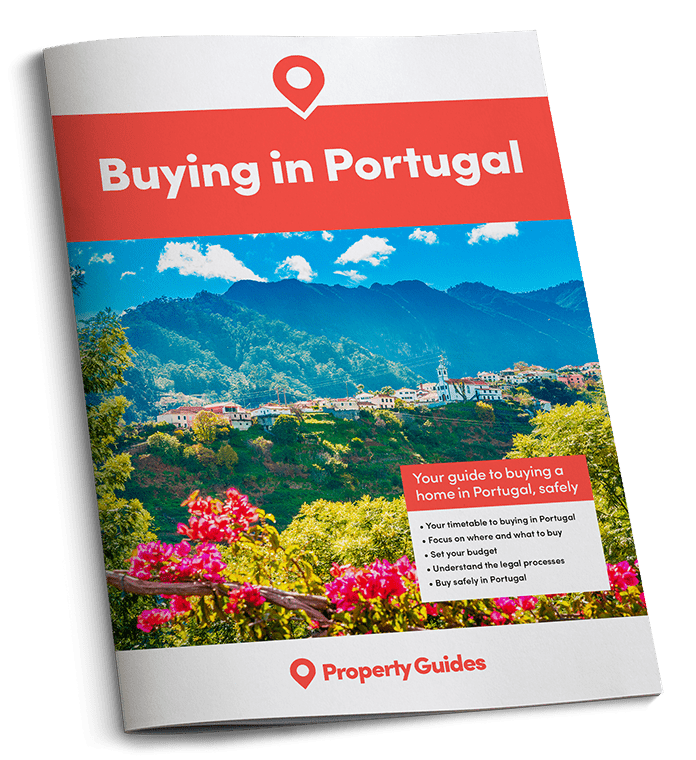 The Portugal Buying Guide is designed to support you through each stage of buying property in Portugal, providing relevant, up-to-date information and tips from Portugal property experts and expats who have been through the process themselves. It helps you to:
✔

  Ask the right questions
✔

  Avoid the legal pitfalls
Download your free guide to buying abroad