Portugal is the perfect spot for a home in the sun for families with children: it's a short flight from the UK, the weather is warm and you've got beautiful beaches, golf and other activities aplenty for all the family to enjoy together. But with so many places to choose from, where are the best places to buy a child-friendly Portuguese property?
Lagos
Lagos is the kind of place where everyone in the family can do their thing and find like-minded people. The youngest ones can paddle in safe, shallow water while the parents soak up the hot sun on a cove beach. Meanwhile, those who want to be active during their leisure time can hire a boat from the modern marina, head to a local golf course, or set off on a memorable cliff-top walk.
The natural place to head when the sun starts to ease off is the thriving old town. Here you'll find boutiques, surf shops, and a huge range of restaurants offering both traditional Portuguese and modern international cuisine.
What you'll be doing:
Literally anything you fancy! Amenities abound in Lagos and the surrounding area. There are also plenty of events throughout the year, from medieval festivals to "Instagrammable" dance music events on the beach.
Getting there:
Lagos is a one hour drive from Faro airport. You can also get there by train, in one hour and 45 minutes, which is handy if you have family and friends joining you at different times.
Property Prices:
Two-bedroom apartments with communal pools and easy beach access start at around €250,000; Family-size villas with pools from around €450,000.
Vilamoura
Vilamoura is a very much a purpose-built resort, but that has big benefits when you're keen to please the whole family. Children, and the young at heart, will particularly enjoy playing all 36 holes of themed crazy golf at the Family Golf Park, followed by a ride on the road train down to the stunning beach.
More serious sporting pursuits are in easy reach, with world-class golf clubs dotting the region, and a plethora of great routes for walking and cycling. Then, once everyone's ready to reconvene, the town's glitzy marina offers food and drink options to please everyone. There's also a chance to rub shoulders with celebrities and catch a glimpse of their yachts. This might not be Portugal's Algarve at its most authentic, but it's custom-designed to be a holiday-home paradise.
What you'll be doing:
Golfing, soaking up the sun, and choosing between an endless choice of restaurants and bars.
Getting there:
Vilamoura is a hugely convenient destination, just 30 minutes by car from Faro airport.
Property Prices:
Apartments with shared pools go from €260,000 and up. The sky's the limit for luxury villas, but four-bed properties with pools start at around €600,000.
Cabanas de Tavira
Cabanas de Tavira is a small resort village in the less well-known eastern Algarve. The place comes alive during Portugal's long, hot summer, and is as popular with tourists from Spain and Portugal as those from northern Europe.
This is a place for simple pleasures. You can enjoy long lunches while your children mix with friendly local youngsters on the well-maintained public playgrounds. Or you can take a small boat over to the family-friendly island beach – a true secret paradise. There's plenty on offer for those needing more stimulation, including nightclubs, golf courses, and all kind of other sporting facilities. The sophisticated and elegant city of Tavira is just five minutes away – perfect for culture-fixes and evening meals.
What you'll be doing:
Relaxing and enjoying each other's company. There's plenty to do in this region, should you want to, but it's also great for long relaxed barbecues and days at the beach.
Getting there:
Cabanas de Tavira is just 40 minutes east of Faro airport, by road. Alternatively, it's connected to Faro by train (use Conçeicāo station).
Property Prices:
Relatively economical: Condominium apartments with shared pools from €160,000. Family villas on the outskirts from €375,000.
Cascais
Recently described as "Portugal's answer to The Hamptons," genteel Cascais somehow manages to feel upscale yet unpretentious. Essentially a seaside suburb of Lisbon, the town is in easy reach of the capital, making days out in the city effortless.
Very much a beach town, Cascais offers miles of coastal promenading and a wide range of seascapes. The town itself is packed with restaurants of all types and for all budgets. There are also plenty of great shops to complement those in neighbouring Lisbon.
Cascais offers a mix of laid-back family life and city sophistication. Perfect for all the members of the family.
What you'll be doing:
Relaxing on the town beaches by day, walking the wide promenade in the evening, and enjoying nights out – in Lisbon or at the famous casino in neighbouring Estoril.
Getting there:
35 minutes by road from Lisbon Airport, or an easy train from Lisbon city centre.
Property Prices:
Modern apartments with shared pools from around €310,000; villas from €600,000.
Ericeira
For a more left-field holiday home destination in Portugal, take a look at Ericeira. It may not be a town you've heard of, but it's well known in Portugal as a bohemian surfing destination. It's also really easy to reach from Lisbon Airport.
Ericeira boasts both surfing beaches and calm areas where the youngest ones can paddle and build sandcastles. It's also a very appealing "foodie" destination, with some of the finest shellfish in Portugal. There's plenty of scope for fishing trips of your own, if they appeal!
The town is also conveniently located for exciting day trips. The castles of Sintra are just 30 minutes away, and plenty of golf courses dot the countryside between the town and nearby Lisbon.
What you'll be doing:
Enjoying the town's laid-back and inclusive vibe, exploring beaches, and touring the varied sights in the surrounding area.
Getting there:
Ericeira is an easy 30 minute drive from Lisbon Airport.
Property Prices:
Two-bedroom apartments from €225,000, family villas with pools from €450,000.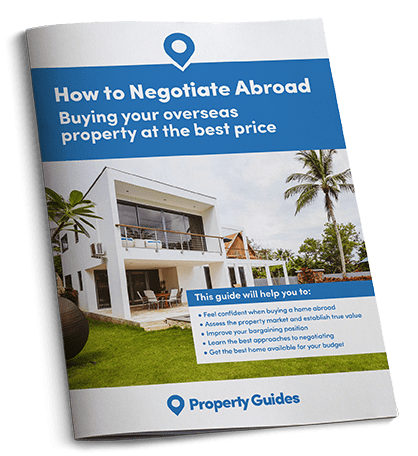 How to negotiate abroad is the guide to put you back in control:
✔

  Feel confident when buying a home abroad
✔

  Assess the local property market
✔

  Improve your bargaining position
✔

  Learn the best negotiating tactics
Download your free Negotiation Guide