Financing your property in Portugal
The decision of how you will finance your property will be the very first financial decision that you make once you know you are moving to Portugal – and there are a number of options you can choose from for this.
When assessing how you are going to pay for your property, you will need to decide whether you can do this through your own savings, through the sale or re-mortgage of your current UK property, or through one of many loan options. Unsurprisingly, the most common way of funding a property purchase in Portugal is through a mortgage and you may consider either a UK mortgage, or search for one from a Portuguese mortgage broker.
Banks require a minimum 30% deposit from non-Portuguese nationals
Choosing a Portuguese mortgage
If you choose to purchase with a Portuguese mortgage, you will need to bear in mind that banks require a minimum 30% deposit from non-Portuguese nationals; this deposit will be based on the Loan-to-Value (LTV) of the property, not its sale price. You may also find that there is less choice available to you – and this makes it prudent to discuss your options with an overseas mortgage broker when you can.
Bear in mind that options will usually change on a daily basis, and you will need to understand exactly what the requirements are for each one (particularly noting the documentation that you will need to produce, interest rates and terms of the loan – as well as the criteria you will need to achieve). We can put you in touch with a trusted overseas mortgage broker who can discuss your options with you.
Monthly repayments
One of the most important things you will need to consider is what the monthly repayment figure for your mortgage will be, and whether you will be able to afford this based on your finances. You want to make sure that your chosen mortgage option does not stretch you financially.
Think about your currency requirements
Once you have made your decision, it's at this point that we recommend speaking to a currency specialist like our partners Smart Currency Exchange; this will ensure you can immediately begin considering your currency strategy and the options available to you. They will also offer you the best available exchange rates.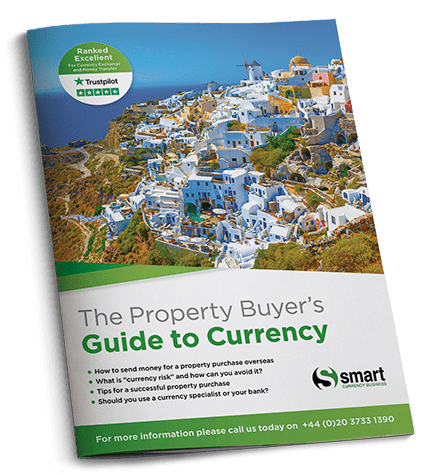 The Property Buyer's Guide to Currency will help you:
✔

  Understand the currency markets
✔

  Protect your property budget
✔

  Use a Currency Specialist
✔

  Learn from other overseas property buyers
Download the Property Buyer's Guide to Currency